Ganga finds a powerful new 'putra'
Three decades and Rs 20,000 crore later, all schemes to clean up the Ganga have little to show for result. Experts say it is because all of the Ganga river system was never looked at as a whole. Will the clean-up promise from new Prime Minister Narendra Modi deliver?
By Vibha Sharma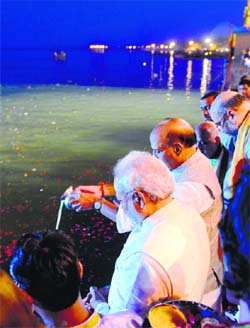 Narendra Modi and other BJP leaders perform Ganga Puja on the banks of the river in Varanasi on May 17, a day after the poll results. AFP
No one has sent me to Varanasi, nor is it my decision. I have been summoned by Mother Ganga." Expectations soared every time Narendra Modi uttered these words in the din of the election campaign, promising hope for the Ganga gasping for life.
While sceptics question if it was really Ganga or some numerological or astrological reasons that brought Modi to Varanasi — Vadodra, Varanasi, Vadnagar (his birthplace in Gujarat), all begin with a 'V' — his choosing the temple town for his constituency is the best thing to happen to the holy river in a long time.
Modi's message as it was in Hindi, "Mujhe na kisi ne bheja hai, na mein yahaan aaya hoon, Mujhe toh Ma Ganga ne bulaya hai," has now become a statement of hope for all those who thought the environmental mess in the river had become an irretrievable situation.
The bid for Varanasi may have been guided by the political strategy of striking it big in Poorvanchal, but Modi's victory declaration on Dashashwamedh Ghat — that cleaning up the Ganga and its urban environs was his topmost priority — gave rise to a new optimism.
Magsaysay award winner 'Waterman' Rajendra Singh says: "From Maa the Ganga has become a maila dhone wali maalgadi, a sewer."
It was in the early 1930s when the then Commissioner of Varanasi, Hawkins, ordered the draining of sewage water into the Ganga.
Rajendra Singh, who was a member of outgoing Prime Minister Manmohan Singh's high-profile National Ganga River Basin Authority (NGBRA), calls Modi's "Ganga beckoning" a sign of "good days" for the Ganga. "Modi called himself Maa Ganga ka beta (son of Mother Ganga). Maa Ganga is ill, very ill and I don't think a son would leave any stone unturned to find the best treatment for his mother," he says.
Manoj Mishra, convener of the Ganga Jiye Abhiyaan, is also optimistic. "For the first time there has been a commitment from the highest possible level of governance," he says.
Off the radar
This is not the first time commitment has come from the highest authority. Manmohan Singh had set up the NGBRA and declared the Ganga a national river.
The difference, says Mishra, is that "Narendra Modi's commitment appears to be his personal choice, whereas Manmohan Singh seemed to have done it under external pressure."
Rajendra Singh says the reason for his resigning from the NGBRA three months after the Uttarakhand flood disaster was that "Manmohan Singh did not have the Ganga on his mind anymore".
Responsible for the well-being of Ganga, the silence of the NGBRA — a financing, planning, implementing, monitoring and coordinating authority for the Ganga — after the 2013 tragedy proved its futility.
Notably, experts had attributed the disaster to the fury of rivers devastated by ill-planned hydel projects, roads and tourism infrastructure.
Though the NGBRA's mission included safeguarding the Ganga's drainage basin, protecting it from pollution or overuse, Rajendra Singh says the high-powered group, of which he continues to be a member, was a "mere lip service" to the cause of the holy river. "It has met only thrice since its conception on February 20, 2009," he says.
Manifesto for clean-up
The BJP manifesto has categorised cleanliness, purity and uninterrupted flow in the Ganga as a priority. It has also promised "a massive Clean Rivers Programme" across the country, driven by people's participation.
"The Ganga is a symbol of faith in India, and has a special place in the Indian psyche. It is Mukti Dayini. It is also Jivan Dayini for the parts of the country it flows in. People and cattle depend on it for agriculture, fodder and drinking water. Pure waters of the Ganga are thus essential for the spiritual as well as physical well being of India. Unfortunately, however, even after decades of Independence, the Ganga continues to be polluted and is drying," the BJP manifesto points out.
Though largely speculation, there is also talk of how the new government will plan better water management with a focused Rivers Ministry, fast-tracking programme for interlinking of rivers and bringing water on the concurrent list.
Voicing a word of caution, though, experts call the river interlinking proposal environmentally disastrous. Launched with much fanfare by Atal Behari Vajpayee in 2002, it was pushed to the back-burner by a wary UPA in the wake of ecological and feasibility concerns.
"It is not clear what the new government is planning to do. But if it takes up river linking and also river cleaning, as media reports suggest, the plan could be a non-starter. Rivers are basically a domain of the states and they will not tolerate any interference from the Centre. Moreover, rivers are affected by functioning of many ministries," Thakkar says.
"Diverting one river's waters into another river to revive it (like in the Sabarmati) is no solution," Mishra warns too.
Why efforts failed
Experts say the main reason why past efforts like the Ganga Action Plan (GAP) and NGBRA failed was that the planners botched-up in understanding what a river is. "What we really need to understand is what went wrong with the Ganga over the years. Why did our attempts at tackling the issue ever since 1974, when we brought in the Water Pollution Act, fail," Thakkar says.
Explaining what is a clean river, Mishra says a river has to be first brought back to life. "A clean river is not necessarily a restored river, but a restored river can be a clean river," he says. A river has many essentials — ecological flow, floodplains, biodiversity and seasonal variation.
Mishra says Rs 20,000 crore (the amount said to have been spent on cleaning the Ganga so far) went down the drain because planners never bothered to understand the peculiar problems of the Ganga and its several tributaries.
Merely setting up sewerage treatment plants (STPs) is not the complete answer. Even these were not sufficient in numbers or capacity to treat the billions of litres of waste poured out by the cities along the Ganga. This remedial measure addressed only one aspect, that too half-heartedly.
"We forget that each river is an individual entity, with different problems that need to be looked into with separate plans of action," Mishra says.
Singh agrees: Rivers are living, breathing and life-giving, with individualistic and diverse bio-diversity and gene pools. Therefore, the first attempt towards rejuvenating the Ganga has to begin with understanding it.
The three main sources of pollution of the Ganga and its tributaries are urban, industrial and agriculture. Besides, religion is also worsening the situation by encouraging people to add pollution to the river rather than teaching them how to take care of it, Thakkar adds.
In addition to the waste generated by the millions of people living on its banks, often drained into the river almost untreated, are the large amounts of chemicals from polluting industries and the fertiliser and pesticide run-offs from adjoining fields.
The reduction in flow because of water being drawn for irrigation and urban needs also leads to greater concentration of pollution in the water. To add to this is the relatively unknown threat from climate change.
"The GAP and NGBRA did not fail because of lack of finances, infrastructure, technology or water flow but because of their governance. Until we understand this and reverse the governance failure by giving the people a decisive role in the management of the river, there can be no hope for the Ganga," Thakkar says. Most of Ganga's tributaries are also in bad shape.
Thakkar says upstream of Uttarkashi, Bhagirathi is "relatively" in a better condition but downstream it stops flowing, submerged by dams and hydropower projects or bypassed by the tunnels for run-of-the-river hydro projects. Similar is the fate of other tributaries. "Among the five 'prayags', Vishnuprayag stands destroyed by the Vishnuprayag hydropower project. Other prayags will also be destroyed if the planned hydropower projects come up," he says.
In the plains, increasing biological and chemical pollution and dwindling freshwater flow, particularly in non-monsoon months, is aggravating the pollution load. "Forty years after the passage of the Water Pollution Act and creation of the 'pollution bureaucracy' under the CPCB and SPCBs, there is not a single example where the government can claim that a river has been cleaned up anywhere."
Way forward
Now that the political will seems to be there, action has to follow to ensure the Ganga and its tributaries can be revived, not just at Varanasi but upstream at Devprayag, Haridwar and Kanpur also and downstream till it reaches the Bay of Bengal.
"The GAP failed because the project-oriented plan failed to acknowledge the Ganga in its entirety, as a living and breathing entity," Rajendra Singh says. His solution is legislation to govern the Ganga. Major rivers worldwide have legislations governing them and there is no reason why the Ganga should not have one.
"If Ganga has to be saved, the only way forward is ensuring an Act to give it a national level status and protection. It should be accorded the highest respect by enacting a Ganga Conservation Act. We had drafted a National River Gangaji (Conservation and Management) Act, 2012, and sent to then Environment Minister Jayanti Natarajan," Rajendra Singh says, but nothing came of it.
The Act is required to ensure that whosoever abuses the Ganga, industries or municipal corporations, is held accountable. "It is required to ensure that not even a drop of untreated sewage gets into the Ganga; no more dams are built to stall its flow; and its land is not encroached upon."
Community management
Anil Joshi, a Dehradun-based environmentalist, says that to save the Ganga planners must never forget two principles: "Consumers must be equal contributors" and "equal participation with accountability". "More than 40 crore people are dependent on the Ganga. If you want to save it then ensure their equal participation. The majority of pollution comes from industries. Their owners may be big people but the system should ensure their accountability," he says.
As the Ganga is not one river, but a group of rivers, any plan should include all its tributaries and their catchment areas as well.
The Aravari in Rajasthan and Kali Bein in Punjab are two good examples of participatory management. "Until we set up participatory governance for various aspects of its management, there is no hope for the Ganga," Joshi adds.
The bottom line
Experts say whatever are the estimates of money already spent on the Ganga — Rs 2,000 crore or Rs 20,000 crore — henceforth it should be about learning from the past mistakes.
The new Prime Minister may be able to get more money from the Word Bank and corporate, but the Ganga will only benefit if people are involved, accountability is fixed and those responsible for defiling it are punished. Any revival action needs to be supplemented with strict laws and regulations fixing responsibility for every action and non-action.
Some experts also fear that Modi's fondness for corporates may end up doing more harm to the Ganga than good. Involving corporates in the Ganga clean-up may not be a good idea, they warn. The Ganga is a people's river.
Tracing the holy flow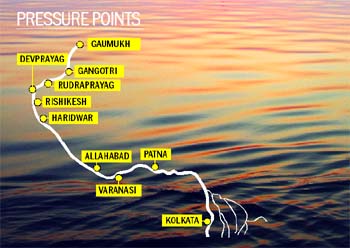 Devprayag: Originating from the Gangotri glaciers 14,000 feet above sea level, the Bhagirathi joins the Alakhnanda to form the Ganga at Devprayag.
Tributaries: From Devprayag to the Bay of Bengal and the Sunderbans delta, the river and its tributaries — Yamuna, Ghagar, Gandak, Son, Gomti and Chambal — cover a vast expanse of northern plains, including Delhi, Agra, Lucknow, Kanpur, Allahabad, Varanasi, Patna and Kolkota.
30% of India: With a basin spread over an amazing 1,016,124 square km, covering parts of India, Nepal, China and Bangladesh, it occupies 30 per cent of the land area in India.
Biodiversity: With a length of 2,525 km, it supports a rich biodiversity with 140 fish species, 90 amphibian species and five areas supporting birds found nowhere else in the world. It is home to the endangered Ganges river dolphin and the rare freshwater shark — Glyphis ganeticus.
The delta: The Sunderbans delta supports more than 289 terrestrial, 219 aquatic, 315 bird, 1,276 fish and 31 crustacean species. There are also 35 reptile and 42 mammals, including the world's last population of tigers living in mangroves.
Religion: For millions, the Ganga is the centre of social and religious traditions. Pilgrimage towns like Hardwar, Varanasi and Allahabad hold special significance.
Failed efforts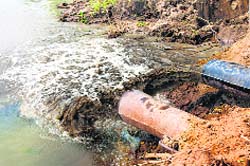 Ganga Action Plan (GAP) Phase-I: Launched in 1985 to improve the water quality. Was completed in March 2000.
GAP Phase-II: Approved in stages 1993 onwards. It covered tributaries Yamuna, Gomti, Damodar and Mahananda
National Ganga River Basin Authority: Launched in 2009. In 2011, a project with World Bank assistance for abatement of pollution at an estimated cost of Rs 7,000 crore was approved by the Centre.