Two hideouts busted in Doda, arms recovered
Doda, May 28
The Army and the police, in a joint operation, today busted two militant hideouts in the forest area of Gandho in Doda district and recovered huge cache of arms and ammunition.
LoC traders hope Indo-Pak talks will boost trade
Poonch, May 28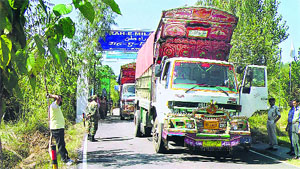 Cross-LoC traders have expressed the hope that the talks between Prime Minister Narendra Modi and his Pakistan counterpart Nawaz Sharif will boost the trade. The cross-LoC trade between India and Pakistan-occupied Kashmir via the Poonch-Rawlakote and Uri-Muzaffarabad roads was started in 2008 as part of the confidence-building measures between the two countries.

A truck from Pakistan-occupied Kashmir arrives in Poonch. A file photo

Omar to take up LoC trade with Modi
Srinagar, May 28
Chief Minister Omar Abdullah today said he would take up the demands of the cross-LoC traders with Prime Minister Narendra Modi.
Guv: Ensure timely arrangement of facilities for Amarnath yatris
Srinagar, May 28


Governor NN Vohra today gave instructions to the authorities to put in place all arrangements well in time for the comfortable pilgrimage of those who visit the Amarnath shrine this year.
Governor NN Vohra reviews arrangements for the Amarnath yatra during a meeting at Baltal on Wednesday. A Tribune photograph

Cong leaders lobbying for Legislative Council seat
Jammu, May 28
After the completion of Lok Sabha elections, state Congress leaders are indulging in hectic lobbying for the lone Legislative Council seat, left vacant following the retirement of Subash Gupta.
India, Pak can't achieve peace by ignoring K-issue: Malik
Srinagar, May 28
Chairman of the Jammu Kashmir Liberation Front (JKLF) Yasin Malik today criticised the leaders of India and Pakistan, saying peace between the two neighbours cannot be achieved by ignoring the Kashmir issue.
Awareness camp held to check female foeticide
Udhampur, May 28
To educate people about the importance of the girl child, a camp under the Pre-conception and Pre-natal Diagnostic Techniques Act was organised at Government Higher Secondary School, Dhandal, here today.
Dilapidated bridge in Handwara poses threat to residents
Handwara, May 28
The government apathy is forcing people of Mawar village in Handwara tehsil of Kupwara district to tread a dilapidated bridge, putting scores of lives in danger.
Burning of stubble polluting air
Jammu, May 28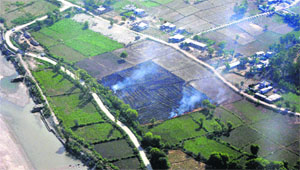 Burning of crop residue post harvest in the fields by farmers in the state has become a major source of air pollution and cause behind field fires. Officials say the use of combine harvesting technology, which has become common in rice and wheat growing areas of the country, including J&K, has become a major reason for farmers resorting to burning large quantities of straw left behind by modern machines.
An aerial view of burning of wheat straw in fields by farmers in Jammu and Kashmir. Tribune photo: Anand Sharma

Kralpora shuts against poor condition of roads
Kupwara May 28
Life was hit in Kralpora town of Kupwara district today due to a strike over poor condition of roads. Shops and commercial establishments remained closed and transport was off the roads.
Check influx of Illegal Myanmar immigrants into Jammu: VHP
Jammu, May 28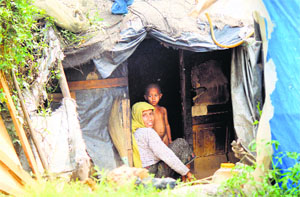 The Vishwa Hindu Parishad (VHP) on Tuesday urged the BJP-led NDA government to stop the "unprecedented influx" of illegal immigrants from Myanmar and Bangladesh to Jammu and Kashmir. Addressing mediapersons here, the state VHP patron Ramakant Dubey drew the attention of the Centre to the "unprecedented inflow" of Bangladeshis and people from Myanmar into the state in a "most systematic" and "planned manner".
Illegal Myanmar immigrants living in a cluster in the Bhatindi area of Jammu. Tribune Photo: Inderjeet Singh

9 yrs on, Wagoora school runs from rented space
Baramulla, May 28
Government Primary School at Pethgam Wagoora village in north Kashmir's Baramulla district is functioning from a rented accommodation since 2005.
Anti-Cong wave led to Azad's defeat: Experts
Jammu, May 27 Jammu and Kashmir, the home state of Congress stalwart Ghulam Nabi Azad, has proved 'unlucky' for him. Being the face of the Congress in the state, Azad had a strong place in the Indian National Congress, but his own state let him down. With a political career of more than 40 years, Azad lost the Lok Sabha polls from his native Udhampur-Doda segment with a margin of 60,976 votes to BJP's Jitendra Singh.
Support pours in for chief of doctors' association
Srinagar, May 28
Coming out in support of the Doctors' Association Kashmir (DAK) president, who has been suspended by the government, the Jama'at-e-Islami, J&K, has condemned the action, saying he has been punished for highlighting the spurious drug scam.
Omar inaugurates power dept's customer care centre
Srinagar, May 28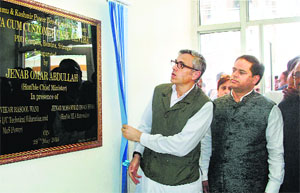 Chief Minister Omar Abdullah inaugurated the state Power Development Department's data and 24X7 customer care centre here today. "The centre has been built under Restructured Accelerated Power Development Reforms Programme (R-APDRP) and aims to tone up the power supply system in the two capital cities and other towns of the state," an official spokesman said.

Chief Minister Omar Abdullah along with Power Minister Vikar Rasool inaugurates the Data-cum- Customer Care Centre of the Power Development Department at Bemina in Srinagar on Wednesday. PTI

Chairperson of APDP to deliver lecture in London
Srinagar, May 28
Chairperson of the Association of Parents of Disappeared Persons (APDP) Parveena Ahangar has been invited to address an international conference titled "Kashmiris: Contested Present, Possible Futures" at the University of Westminster in London on June 2.
Promoted teachers adjusted in govt schools
Srinagar, May 28
The Directorate of School Education, Kashmir (DSEK), today said, "As many as 153 lecturers in various subjects have been adjusted on various posts in government schools."
Students raise Rs 1.1 lakh for HelpAge India
Jammu, May 28
Students of Jesus Care Convent School, Paloura, have exhibited an exemplary sense of social responsibility by raising a fund of Rs 1.1 lakh for the HelpAge India.
Fencing tourney starts
Jammu, May 28
The Jammu District Fencing Championship started at Dewan Badri Nath Vidya Mandir School Hall here.