Group clash
MC official given clean chit in parking lot auction case
Amritsar, May 29
A day after MC Superintendent Vishal Wadhawan booked in connection with a group clash that took place over the auctioning of parking lots, the police gave him a clean chit. This development took place after the police scrutinised the whole incident and recorded the statements of municipal corporation officials who were present on the spot.
Disciplinary action
Municipal Town Planner transferred
Amritsar, May 29
Following the Local Bodies Ministry officials conducting raids and finding 15 officials missing from duty, Municipal Town Planner Raj Kumar has been transferred to the Bathinda municipal corporation while action against others is awaited.
'Nooran' makes a mark at Cannes film festival
Amritsar, May 29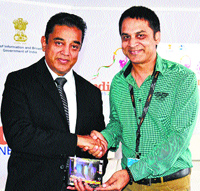 Small is big on the silver screen, at least when talking about a local act on a global stage. City-based film-maker Navtej Sandhu, back from his stint at the prestigious Cannes Film Festival, couldn't agree more. His short film, "Nooran", was screened at the Short Film Corner of the festival, one among the 34 short films selected to be officially screened at this year's festival. The proud director shares his experiences and achievement on being a part of the celebration of world's best cinema.

Film-maker Navtej Sandhu along with actor Kamal Hasan at Cannes film festival.

Ten-member gang of thieves busted
Amritsar, May 29
With the arrest of four persons, the Sadar police today claimed to have busted a 10-member gang of robbers involved in a number of burglaries in Civil Lines, Ram Bagh and Cantonment police station areas. The police recovered a country-made pistol, six sharp-edged weapons, nine mobiles, gold jewellery, besides narcotic powder from their possession. The police have also confiscated four stolen two-wheelers after the information provided by the arrested culprits during interrogation.
Residents continue to risk lives at level crossings
Amritsar, May 29
City residents are usually seen risking their lives at railway level crossings by passing through the bars when they are closed. Apart from pedestrians, two wheelers drivers and cycle-rickshaws can be seen pushing their vehicles under the bars to cross to the other side. Most of the level crossings in the city are bar type crossings, in which the height of the bars is usually three feet from the ground. It seems that people have almost mastered the art of crossing the closed bars and thus flouting norms.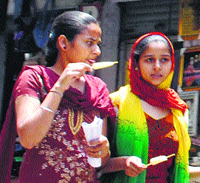 BITING COLD: Girls enjoy ice-cream to beat the heat in Amritsar on Thursday. Photo: RK Soni

Four booked in attempt to murder case
Amritsar, May 29
The Chheharta police have booked four persons, including three women, in an attempt to murder case in which Parkash Chand, a resident of Adarsh Nagar, was brutally assaulted. A case under Sections 307, 323 and 34 of the IPC has been registered against the accused, identified as Babbita, Meenu, Ria and Tinku of Adarsh Nagar, following the statement of the victim.
GNDU employee suspended
Amritsar, May 29
A non-teaching employee of Guru Nanak Dev University has been placed under suspension after he was arrested with 200 gm intoxicant powder. According to information, the Chheharta police had recovered narcotics from Kanwardeep Singh, alias Jolly, a lab technician with the physics department of the university on Monday.
108 ambulance staff on strike, company hires new workers
Amritsar, May 29
As the staff members of the 108 ambulance service are on protest for more than a week demanding better wages and good working conditions, Ziqitza Health Care (ZHL), the company managing the service in the state has recruited 300 new drivers to keep the service going.
Anxious Bhatti awaits audience reactions
Amritsar, May 29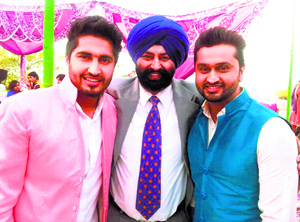 It's a double dose of anxiety for the city-based actor Arvinder Bhatti as his two movies are going to hit screens tommorrow. Playing two completely different characters in different genres — one is rom-com 'Mundeyan Toh Bach Ke Rahin' (MTBKR) starring Roshan Prince, Jassi Gill and Simran Mundi and the other is a hard-hitting drama '47 to 84', by national award winning director Rajeev Sharma. Bhatti is excited for the audience reactions.

Arvinder Bhatti (centre) poses with actors Jassi Gill and Roshan Prince during a shoot of the film 'Mundeyan Toh Bach Ke Rahin'. A Tribune photograph

Girl commits suicide by hanging herself from ceiling
Tribune News Service
Amritsar, May 29 An 18-year-old girl committed suicide by hanging herself from the ceiling in a house located in the Lawrence Road area. The police recovered a suicide note from the spot, which suggested that she had an affair with someone. However, the Lawrence Road police authorities initiated the action under the criminal procedure code.
Two thefts reported in city
Jalandhar, May 29
Thieves struck at two houses in the city last night and decamped with cash and valuables worth several lakhs. The first theft was reported at Sarafa Bazar where thieves allegedly decamped with Rs 1.50 lakh, a gold chain, $ 800 and some valuables. Darshana, a house owner, said she had gone to meet her relatives last night and when she came home this morning, she found the whole house ransacked. The police division No. 3 has been investigating the matter.
53 persons nabbed for drug peddling
Amritsar, May 29
The Amritsar rural and city police have arrested as many as 53 persons, including three women, in the past 24 hours for their alleged involvement in drug peddling and bootlegging. The city police have nabbed 24 persons and recovered more than 1kg of narcotic powder, 110 gm heroin, 100 gm charas, besides 173 bottles of illicit liquor and English wine from the accused.