World NO Tobacco Day
Over 2,430 challans for smoking issued in a year
Amritsar, May 31
The district Health Department in the past one year has issued challans to over 2,430 persons for smoking in public places. The district was declared a smoke-free zone on August 15, 2012 and since then smoking at public places is prohibited under the law.


Brick kiln workers hold protest, demand better wages
Four injured in clash at Jhander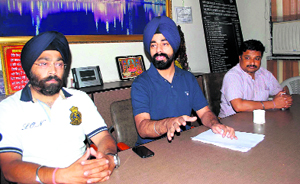 Amritsar, May 31
Four persons were injured in a clash between supporters of the brick kiln owners and the workers at Jhander village near here. The brick kiln workers association, Batha Mazdoor Union, had proceeded on to protest yesterday, demanding better wages.

Arvinder Singh Chamak (centre), president, All-India Brick and Tile Manufacturers Association, during a press conference in Amritsar on Saturday. Photo: RK Soni

Theatre workshop in city from June 6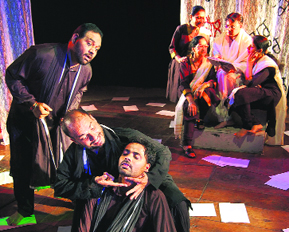 Amritsar, May 31
As summer begins, the annual theatre activities and workshops for children and young artistes from city too are in spotlight. The fact that children need more engaging ways of learning through self-experience has been highlighted by the growing popularity of the alternate ways of imparting knowledge. As a cultural hub of the region, Amritsar has lot of theatre activities, with significant institutions like the National School of Drama (NSD) and Sangeet Natak Academi holding summer workshops for youngsters.

Artistes enact a scene during a theatre workshop in Amritsar. A tribune photo
Workshop on development of scientific skills held
Amritsar, May 31
With a view to develop scientific awareness and understanding among students, DAV Public School held one-day teachers' workshop on development of scientific skills for classes VIII and XII. The workshop, held under the aegis of the DAV Centre of Academic Excellence, DAV CMC , New Delhi, saw participation of as many as 25 teachers. Rajesh Saini and Pinky Sharma from DAV Public School and Paramjit Kaur from Police DAV Public School were the resource persons for class VIII and Kabal Singh was the resource person for Standard XII.
Mass marriage
13 shelter home girls tie the knot
Amritsar, May 31
Thirteen girl inmates who had been residing in the local stay home 'Sahara' being run by the Red Cross Society today started their new lives after they became a part of families after tying nuptial knot. The Red Cross Society organised a mass marriage programme for these girls.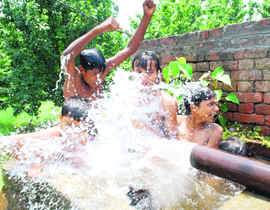 Beating the heat: Boys take shower with an irrigation pipe at a village near Amritsar. Photo: RK Soni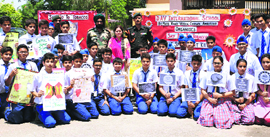 For A cause: Students of DAV International School hold an awareness rally on the World No Tobacco Day in Amritsar on Saturday. A Tribune photo

Five held for flesh trade racket
Amritsar, May 31
The city police today busted a flesh trade racket operating from a salon located in the Ranjit Avenue area here. Following a tip-off, the police nabbed five persons, including three women from the salon. The arrested were identified as Shiva Chhabra of Sandu Colony, Majitha road, and Princepal of Nivi Abadi, Shera Wala Gate.
18 health officials transferred
Amritsar, May 31
Dr Rajiv Bhalla would replace Dr Usha Bansal as the new civil surgeon of the district as per the orders of the Punjab Health and Family Welfare Department. Dr Rajiv Bhalla was earlier posted as Civil Surgeon at Mohali. The new orders state that Dr Usha Bansal has been appointed as the principal of the State Health Training Institute. The sources in the Health Department said that Dr Bhalla would join his new office on Monday. After mass transfers of civil and police administration officials in state after announcement of Lok Sabha elections, the state government had yesterday ordered transfer and reshuffling of 18 senior health officials at various districts. TNS
Feedback
Amritsar Tribune invites feedback from its readers on issues of public concern relating to Amritsar city and the nearby areas. Readers can email their views to feedback.asr@gmail.com They can also send their views to: Feedback, Amritsar Tribune, Sector 29, Chandigarh - 160029. Letters sent by post must mention 'Feedback for Amritsar Tribune' on the envelope and it should be signed and must contain the address and telephone number of the sender. It should not be more than 150 words.