Residents irked over diesel hike
Bathinda, June 1
Bathinda residents who had high expectations from the newly elected Narendra Modi's government appear to be shocked when the Central government continuing the UPA policy gave a green signal to the 50 paise per litre hike in diesel with effective from Saturday midnight. Residents are irked over the hike in price as this will increase the inflation and will lead to increase in prices of all the commodities putting burden on the common man.
Tourism information centre project may see light of the day in district
Bathinda, June 1
Almost five years after the Punjab State Tourism Ministry announced its plan to set up a tourist information centre in Bathinda to boost the tourism industry, the plan may finally see the light as the district tourism department officials are busy conducting recce of possible locations for setting up the centre.
Minor girl's rape: Protest enters seventh day
Bathinda, June 1
Farmers' protest demanding justice in minor girl's rape case entered seventh day here on Sunday. A large number of farmers were again detained today who had come here to protest outside the Inspector General of Police, IGP Bathinda Zone Paramraj Singh Umranagal's office-cum-residence in Bathinda.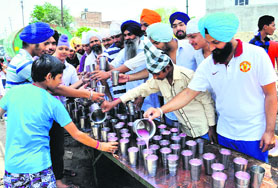 Volunteers offer sweet water on the occasion of Guru Arjan Dev's martyrdom day in Bathinda on Sunday. Photo: Vijay Kumar

RPF assistance booth lies defunct
Bathinda, June 1
On the platform No. 7 of the city railway station, a Railway Police Force assistance booth was set up to help passengers but it has been lying defunct. Notably, the booth was set up before the visit of the general manager (GM), Northern Railways, a few months ago.
Crime briefs
Husband, in-laws booked for demanding dowry
Bathinda, June 1
The women's police station has booked a resident of Muktsar for demanding dowry from his wife. In a complaint to the police, Rajwinder Kaur, a resident of Ghudda village, stated that she was married to Jagmeet Singh, a resident of Singhewala, who along with his family member tortured her and demand dowry.
5,000 students take part in painting competition
Bathinda, June 1
To mark World No Tobacco Day, Max Super Speciality Hospital (MSSH), Bathinda, held an exhibition, in which 300 paintings were displayed. The competition was organised by the hospital in 40 schools on the theme "Quit Tobacco".
Net Vibes Technologies win by 39 runs
Bathinda, June 1
Net Vibes Technologies beat Tornado during a match of the second Drug De-addiction Bathinda Premier League Cricket Tournament on Saturday. The match was played at the Police Public School ground.
Punjabi writer honoured
Bathinda, June 1
The Punjab Lok Sabhyacharak Manch today organised a felicitation ceremony to honour Punjabi writer Paramjit Kaur Sirhind. The function was organised under the chairmanship of the state head of the manch, Baldev Singh Sadaknama, renowned playwright Ajmer Singh Aulakh, Amolak Singh and poet Attarjit Singh. Dr Surjit Brar read a paper on the writings of Sirhind and praised her for presenting a true picture of the culture and tradition of the state through her writings. He also stressed the need to adopt new cultures while remaining close to the roots. — TNS
Unemployed teachers hold protest
Bathinda, June 1
Members of the Unemployed PTI Teachers' Union held a protest in favour of their demands today. Earlier, they had declared to convert their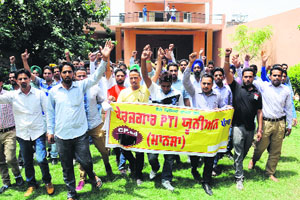 protest rally into a dharna at Teachers' Home today. They said during a meeting with Chief Minister of Punjab Parkash Singh Badal in Talwandi Sabo, they were assured by the CM that their issues would be taken up during the next Cabinet meeting. The teachers said the CM had promised them that the Cabinet would soon recruit 646 PTI teacher. The teachers threatened to intensify their stir if the state government failed to fulfil its promise. TNS
Members of the Unemployed PTI Teachers' Union protest in Bathinda on Sunday. Tribune photo: Pawan Sharma