Indira Hridayesh presents supplementary budget
Gairsain, June 9
Uttarakhand Finance Minister Indira Hridayadesh today presented a supplementary budget of Rs 3818.93 crore at the legislative session held at Gairsain. Out of Rs 3818.93 crore, a sum of Rs 3,414.34 crore has been earmarked under the plan expenditure.

Finance Minister Indira Hridayesh presents the supplementary budget during the Assembly session at Gairsain in Chamoli on Monday. A Tribune photograph
Question Hour
Three gas-based projects still non-functional
Gairsain, June 9
The state government had established three gas based projects in the state, but due to the non-availability of gas, these projects remain nonfunctional.
UKD activists for Gairsain as capital
Dehradun, June 9
The three-day protest by activists of Uttarakhand Kranti Dal (UKD) started at district headquarters campus here today. The activists demanded from the state government to declare Gairsain as permanent capital during the ongoing three-day Vidhan Sabha session in Gairsain.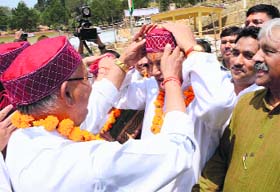 ROUSING WELCOME: Chief MInister Harish Rawat being given a traditional cap by Assembly Speaker Govind Singh Kunjwal during the inauguration of the Assembly session at Gairsain on Monday. A Tribune photograph
Government spending lavishly: MLA
Mussoorie, June 9
City MLA Ganesh Joshi after reaching Garsain for an Assembly session, termed the whole exercise as sheer wastage of hard-earned public money. Talking to The Tribune on phone he said the extravagant spending could be witnessed by the fact that most of the Congress MLA''s were arriving by Helicopters to attend the session.
BJP councillors stage protest
Dehradun, June 9
BJP councillors staged a protest against encroachment of the riverbed in Ward number 5. A memorandum was submitted to Mayor Vinod Chamoli demanding immediate stoppage on illegal mining in the rivers.
Government terminates contract with Emami
Dehradun, June 9
After dilly-dallying for more than two years, the Uttarakhand government has issued orders for the termination of contract with Kolkata based Emami Pvt Ltd, assigned the task to set up the first Ayush gram at Bhawali (near Nainital).


Workshop on essential oils, aromatherapy
Dehradun, June 9
A five-day training-cum-workshop on, "Essential oils, perfumery & aromatherapy", began here today. It is being jointly organised by the Forest Research Institute (FRI), Dehradun, and Fragrance and Flavour Development Centre (FFDC), Kannauj.

Participants in a workshop on Essential Oils, Perfumery & Aromatherapy being held at Forest Research Institute (FRI), Dehradun on Monday. A Tribune photograph
Dental surgeons demand promotion, salary hike
Dehradun, June 9
The state cadre dental surgeons have demanded promotion and hike in their salaries. The doctors have threatened to file a court case or start an agitation in support of their year-long pending demands.


Floral tributes paid to Abbas Tyabji
Mussoorie, June 9
Congress workers paid floral tribute to freedom fighter Abbas Tyabji on his 79th death anniversary here today. They gathered at Congress Bhavan and remembered the great freedom fighter.

Honour: Founder member of Abbas Tayabji Educational Trust Anil Nauriyal addresses gathering during a programme on the occasion of Abbas Tayyab's death anniversary in Dehradun on Monday. A Tribune photograph
Freedom fighter Abbas Tyabji remembered
Dehradun, June 9
People from all walks of life paid tributes to freedom fighter Abbas Tayabji on his 78th death anniversary here today. The remembrance ceremony was organised at Tasmia Academy.
Defence employees hold protest
Dehradun, June 9
The Defence Employees Co-ordination Committee under All India Defence Employees Federation (AIDEF) members observed a protest and held a gate meeting in support of their pending demands here today.


A year after flash floods, special ritual at Kedarnath on June 16
Haridwar, June 9
On June 16, exactly a year after flash floods struck revered Himalayan shrine of Kedarnath in Garhwal division of Uttarakhand, a special ritual will be done at the shrine under Mission Kaladi to Kedar by a group of volunteers.
Col Ashok Kini along with volunteers in Haridwar on Monday. A Tribune photograph
Emergency disaster control room at Pithoragarh
Pithoragarh, June 9
Taking a cue from last year's natural disaster in the upper parts of the district, Pithoragarh district administration has taken caution in this direction before arrival of monsoons this year and has set up an emergency control room at district headquarters equipped with wireless sets.
panchayat elections
Nominations of 45 candidates rejected
Pithoragarh, June 9
Nomination papers of 45 candidates contesting panchayat elections in the Pithoragarh district have been cancelled while over 784 candidates face further cancellation of their candidature due to various reasons including wrong information, said District Election Officer HC Semwal.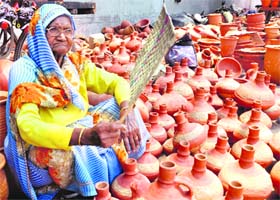 Old is gold: An old lady with her earthen pots in Dehradun. Despite increase in demand of fridges and water coolers, earthen pots are still a favourite among people. A Tribune photograph
Hoteliers oppose new registration rules in Mussoorie
Mussoorie, June 9
The hotel industry has decided to oppose the Mussoorie tourism, travel, trade registration rules, 2014, and is demanding to stop its implementation, as it would restart the license raj and detrimental to already struggling tourism industry in the state.
Lakhs take dip in Ganga on Nirjala Ekadasi
Dehradun/Haridwar, June 9
For the second consecutive day, Ganga ghats in Haridwar was thronged by pilgrims today. Devotees took a dip in the Ganga on the occasion of Nirjala Ekadasi here. As yesterday was the time for Ganga Dussehra festive bath, many pilgrims stayed on to take a dip in the Ganga.


Boat House Club gets Raj Bhavan Golf Club affiliation
Dehradun, June 9
Governor Dr Aziz Qureshi granted permission for the affiliation of the Boat House Club, Nainital, with the Raj Bhavan Golf Club, after considering the request made by the vice-president of the Boat House Club.

The 76-acre Raj Bhavan Golf Course in Nainital. A Tribune photograph

Three thieves held in bank theft case
Dehradun, June 9
Dehradun police claimed to have arrested three thieves, who allegedly broke in to the Uttarakhand Gramin Bank in Dharampur and stole laptops and other valuables worth lakhs of rupees on May 21.

The accused thieves in police custody in Dehradun on Monday. A Tribune photograph



Power supply continues to fluctuate
Dehradun, June 9
Soaring day temperatures and an acute power crisis continued on the third consecutive day in Dehradun on Monday. The frequent power cuts coupled with low voltage have made life miserable for residents in Dehradun. The frequent power cuts are also affecting government water supply in different colonies of the city.
80 officials found missing at panchayat poll training
Dehradun, June 9
Nearly 80 officials were found missing from the second training schedule organised by the district collectorate to impart training for the forthcoming panchayat elections.
Tashi, Nungshi appeal for help
Dehradun, June 9
The famous twin sisters, Nungshi and Tashi, who are on a mission to conquer the highest peaks of the seven continents to create an awareness about safeguarding the girl child, have appealed for the generation of funds to scale the last summit on their mission.


MDDA seals two illegal building
Dehradun, June 9
The officials of the Mussoorie Dehradun Development Authority (MDDA) sealed two under-construction commercials buildings. MDDA Secretary Banshidhar Tiwari said they had short-listed a few areas, where illegal constructions had been carried out.


MDDA officials seal an illegally constructed building in Dehradun on Monday. A Tribune photograph
Leopard scare in Thal
Pithoragarh, June 9
Panic struck residents of Thal town in Didihat subdivision of the district. They have demanded that the leopard which apparently killed a 30-year-old youth who was returning to his village from the Thal market on Sunday be killed.
Chetan Chauhan inaugurates cricket camp
Dehradun, June 9
Former Indian batsman Chetan Chauhan inaugurated a cricket summer camp at Sela Qui International School here today. The camp is being organised for the young cricketers between the age group of 10 to 17. The camp will conclude on June 21.


MPS College pip SGRR team
Dehradun, June 9
MPS College defeated Sri Guru Ram Rai (SGRR) PG College by 135 runs in a match during the 62nd District Cricket League here today. After winning the toss and electing to bat first, MPS College made 257 runs with Amit Bhandari scoring highest 96 runs.


Top shot: Players in action in a cricket match in Dehradun on Monday. A Tribune photograph
PCA beat Doon Global Academy
Dehradun, June 9
Pratap Cricket Academy (PCA) won the inaugural match in Vasudev Raghav memorial under-16 cricket tournament, which kicked off here today. They defeated host Doon Global Academy by 15 runs.
Creative writing workshop at ITM
Dehradun, June 9
Institute of Technical Management (ITM) organised a workshop on creative writing yesterday. Renowned poet Atul Sharma inaugurated the workshop.