Ahead of polls, govt revokes cases against employees
Considers unauthorised absence from duty as leave period
Jammu, June 9
In the run-up to Assembly elections scheduled to be held later this year, the National Conference-led coalition seems to miss no opportunity to woo 4.5 lakh government employees. Days after enhancing the retirement age of employees from 58 to 60 years, the state government decided on Monday to revoke all cases registered under the Essential Services (Maintenance) Ordinance (ESMO), 2001, against the government employees who participated in protests and strikes during 2013-14.
Skyrocketing airfares to hit tourism in Ladakh
Jammu, June 9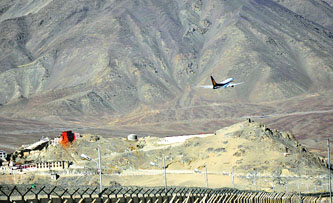 At a time when Ladakh braces to receive tourists and other visitors from all over the globe this summer, skyrocketing airfares are set to hit the tourism industry in the region as high cost of air tickets has made it as a 'costly' destination. Ladakh will host three mega festivals in the next two months.

Off it goes: An aircraft takes off from Kushok Bakula Rimpochhe airport in Leh. The Centre has been requested to ensure more flights to the Ladakh region. Tribune photo: Anand Sharma
Major fire in Pahalgam, tourists evacuated
Anantnag, June 9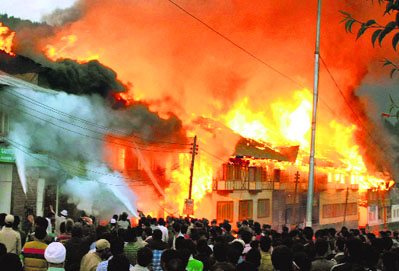 A major fire broke out at the Tourist Reception Centre (TRC) in Pahalgam today afternoon, gutting the building completely. The flames also engulfed some adjoining buildings. The firefighters were on the job to douse the flames. However, the blaze had not been controlled while the reports last came in.

Locals and firefighters try to douse flames during a major fire that gutted dozens of hotels and buildings at Pahalgam resort, 90 km from Srinagar, on Monday evening. — PTI

Blaze breaks out at scrap godown
Jammu, June 9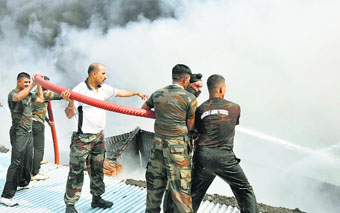 Panic gripped Bari Brahmana and the adjoining areas after a major fire broke out at a scrap and tyres godown destroying property worth lakhs of rupees. The Fire Department and the local Army unit had to deploy more than a dozen of fire tenders and extinguishers to douse the flames which continued till late this evening.

Army jawans and firefighters try to douse the flames in a scrap and tyre godown at Bari Brahmana in Jammu on Monday. Tribune photo: Anand Sharma

Mazdoor Conference demands release of 10% DA, 6th pay panel arrears
Jammu June 9
Stressing on the need for immediate release of the pending instalment of 10 per cent DA due from January and fourth instalment of the Sixth Pay Commission arrears and enhancing the medical allowance to Rs 1,000 per month, president of the National Mazdoor Conference (NMC), Subash Shastri today appealed to the Chief Minister to announce these incentives for the employees and pensioners in the next Cabinet meeting so that the salaried class and pensioners got relief in view of increasing prices of essential commodities and inflation.
Slain LeT militant was number two in group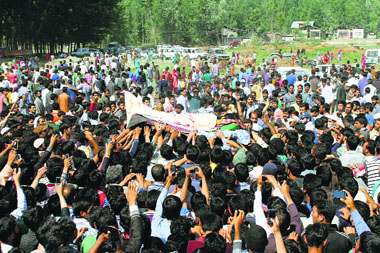 Srinagar, June 9
When two Lashkar-e-Toiba militants including the number two in the group after Pakistani militant Qasim, were killed in an encounter in south Kashmir's Pulwama district on Sunday afternoon, security forces said it was a major success in anti-militancy operations.

Locals carry the body of LeT divisional commander Bilal Ahmad Bhat who was killed in an encounter in Pulwama district on Monday. Tribune Photo: Amin War

PDP moves 2 amendments to President's address on K-issue
Srinagar, June 9
Peoples Democratic Party (PDP) moved two amendments on Monday on the motion for a vote of thanks to the President for his speech delivered to the joint session of Parliament, seeking a resolution of the Kashmir issue by the government and zero tolerance to human rights violations in Jammu and Kashmir.
INTACH Director briefs Governor on heritage conservation
Srinagar, June 9
Chairman of the Indian National Trust for Art and Cultural Heritage (INTACH) Maj Gen LK Gupta called on Governor NN Vohra at Raj Bhawan here today. Lt Gen Gupta, as per an official statement, briefed the Governor about various projects undertaken by INTACH for preservation and conservation of the state's cultural heritage.
Students of govt school near Srinagar protest 'harassment' by principal
Srinagar, June 9
Students of a government school today blocked the Srinagar-Baramulla highway for hours and allegedly threw stones at police personnel who tried to disperse them. The students of Government Higher Secondary School, Umarabad, Zainakote, on the outskirts of Srinagar were demanding the suspension of the school principal, who they said was harassing girl students.
Ravi tawi irrigation canal project
Engineers do not possess NABARD copy of project funding: Report
Jammu, June 9
The chief minister's physical verification report has revealed that the engineers of the Ravi Tawi Irrigation Canal project do not possess the copy of the order wherein the National Bank for Agriculture and Rural Development (NABARD) has sanctioned its funding the project of modernisation of the existing Raya Canal and construction of the balance works of the lift irrigation scheme.
Women, lawyers raise voice against violence
Srinagar, June 9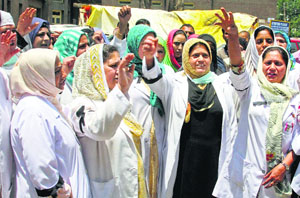 Three days after the incident of sexual abuse came to fore in Kashmir, young women activists and lawyers in the Valley have voiced their concern over the increase in atrocities against women. They said the slow process of the government was acting as a major discouragement to women from coming forward.

Medical staff of Shri Maharaja Hari Singh (SMHS) Hospital raise slogans, demanding arrest of the director, health services, Kashmir, in Srinagar on Monday. PTI

Kashmir valley witnesses surge in mental health centres
Srinagar, June 9
With mental health problems increasing among locals in the Valley, private mental health centres have come up in the city to give a helping hand to people suffering from distress and psychological disorders. As there is only one government mental hospital in Kashmir, dozens of private mental health centres have come up to counsel people suffering from depression by providing e-help and toll-free numbers.
Molestation case: Health director to sue complainant nurse
Srinagar, June 9
Director, Health Services, Kashmir, Dr Saleem-ur-Rehman today said he would file a defamation case against a nurse, who had accused him of sexually harassing and attempting to molest her, saying she has caused "irreparable damage" to his "reputation and dignity".
Nurse molestation case
BJP women activists protest against govt
Srinagar, June 9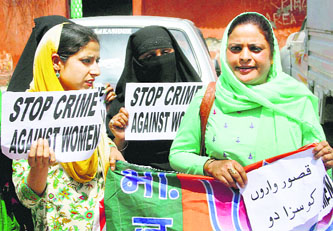 Women activists of the Bharatiya Janata Party (BJP) today staged a demonstration in the city in protest against the government for not acting fast on the sexual abuse complaint of a nurse. The activists said if action was not taken they would approach the court and threatened mass agitation.

Bharatiya Janata Party workers hold placards during a protest against the alleged molestation of a nurse by three officials of the Health Department, at Lal Chowk in Srinagar on Monday. — PTI

Met Dept predicts no relief from heat till next week
Jammu, June 9

Mercury soared to 44°C in Jammu today, making it the hottest day of this session by breaking its own record of 43.7°C on Friday. The Met Department of the state predicts no relief from the heatwave till next week. Another hottest day has been recorded in Jammu with the maximum temperature of 44°C. Weathermen announced that the heatwave would continue till the next week and the temperature was expected to oscillate between 42°C and 45°C till next week.

Hottest day at 44°C: Girls protect themselves from scorching sun by covering their faces with a scarf and using an umbrella in Jammu on Monday. Tribune photo: Anand Sharma

616th Parkash Utsav of Sadguru Kabir
Bhagat Mahasabha to hold function on June 13
Jammu, June 9
The Bhagat Mahasabha will hold a state-level function on the 616th Parkash Utsav of Sadguru Kabir at Women College, Gandhi Nagar, Jammu, auditorium on June 13. This was stated by the national president of the Bhagat Mahasabha, Prof Raj Kumar Bhagat. He said the family members of Shaheed Bhagat Amar Nath would be special invitees.
Katra villagers blame NHPC for power woes
Katra, June 9
Agitated over poor power supply, people from Thanpal, Talwara, Chilka and a large number of adjoining villages held a protest and blocked the road from Jyotipuram to Dhyangarh for around six hours today. The protesting villagers raised slogans against the National Hydroelectric Power Corporation (NHPC) and the local administration and demanded proper electricity supply. The police had to use mild force to disperse the protesters.
Joint security group reviews Rajouri, Poonch security
Jammu, June 9
Top officers of the Army, the police, intelligence agencies, civil administration and other security forces on Monday reviewed the security scenario in border districts of Rajouri and Poonch at the headquarters of the Romeo Force in Palma, Rajouri.
Paramedical staff stage demonstration
Srinagar, June 9 The paramedical staff of Government Medical College (GMC) and associated hospitals here held protests today against Director, Health Services, Kashmir, Saleem-ur-Rehman, who is facing charges of molestation of a staff nurse, and demanded his immediate arrest.
Guv reviews Amarnath yatra arrangements
Srinagar, June 9
Governor NN Vohra and chairman of the Shri Amarnathji Shrine Board chaired a meeting at Raj Bhawan here today to review yatra arrangements in view of reports received from the Board's functionaries that there was snow along both routes and at the yatra camps at Sheshnag, Panjtarni and the holy cave.
Students block road alleging misbehaviour by principal
Srinagar, June 9
Students of a government school today blocked the Srinagar-Baramulla national highway near here, alleging that their principal had misbehaved with a girl student and demanded action against him.
Khajuria community holds 'mel'
Jammu June 9
The biannual "mel" of the Khajuria community was held today at Shri Baba Ambo Devsthan Bage-e-Bahu. About 15,000 devotees from J&K, Punjab, Haryana, Himachal Pradesh and other parts of the country participated and sought the blessings of Kuldevta Baba Ambo.
Girls' batch flagged off for trekking expedition
Jammu, June 9
Principal of Shangrilla Public School, Sarwal, Surestha Khajuria flagged off the second batch of the school for the J&K Himalayan Trekking Programme being organised by the Tawi Trekkers J&K in the Moungri area of Udhampur district. The batch is exclusively for girls and the group comprises 36 students and three teachers, namely Ranjana Gandotra, Asha Sharma and Rashmi Rajdhan. Aman Arora, a trained mountaineer of the Tawi Trekkers J&K, accompanied the group as leader. Meanwhile, the adventure activities at the camp headquarters at Youth Hostel, Moungri, are in full swing with trekkers in the age group of 10 to 14 years enjoying trekking in the dense, calm and cool pine forest. TNS
Lt Gen Hooda calls on Guv
Srinagar, June 9
Northern Command chief Lt General DS Hooda called on Governor NN Vohra at Raj Bhawan today. This was his first meeting with the Governor after taking over as the chief of the Northern Command on June 2. An official spokesman said during their hour-long meeting, the Governor and Lt Gen Hooda discussed issues relating to security management in all three regions of the state, the international border, Line of Control (LoC) and the Line of Actual Control. "Lt General Hooda also briefed the Governor about continuing attempts of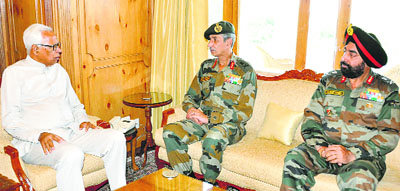 infiltration from across the LoC and the Army's planning to counter all subversive activities. He also informed the Governor about preparations underway to ensure effective security for the Amarnath yatra," the spokesman said. TNS

Northern Command chief Lt General DS Hooda with Governor NN Vohra at Raj Bhawan in Srinagar on Monday. A Tribune photograph

Lt Gen Hooda meets CM
Srinagar, June 9
Lt General DS Hooda, Commander of the Northern Command, arrived in Srinagar on Monday. He called on Chief Minister Omar Abdullah and briefed him about the security scenario in the state. Various issues pertaining to security and law and order were discussed during the meeting. General Hooda visited Chinar Corps for familiarisation and deliberations on security situation in the Valley. On his arrival, the Army Commander was received by Lieut General Gurmit Singh,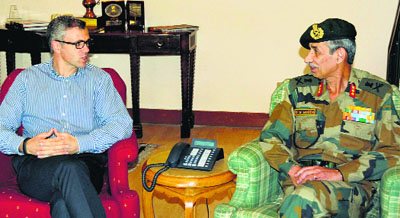 General Officer Commanding (GOC) 15 Corps Commander. A defence spokesman said he was briefed on the operational situation along the Line of Control and the internal security environment. General Hooda left for Northern Command headquarters in the afternoon. TNS

Northern Command chief Lt Gen DS Hooda with Chief Minister Omar Abdullah in Srinagar on Monday. A Tribune photograph

IITs, IIMs in every state terrible idea, says Omar
Srinagar, June 9
Chief Minister Omar Abdullah today criticised the Centre's decision of setting up IITs and IIMs in every state, terming it as a "terrible idea". He said such a move would dilute the institutions. "IITs and IIMs in every state is a terrible idea and will dilute the institutions," Omar wrote on Twitter. He recommended "making existing ones truly world class". Earlier in the day, President Pranab Mukherjee, in his address to a joint sitting of both Houses of Parliament, said the government would set up IITs and IIMs in every state. Omar commented on adjournment of the Lok Sabha on the first day, saying "the more things change, the more they stay the same". — TNS
Srinagar on alert after Karachi attack
Srinagar, June 9
Authorities at the was put on alert on Monday after the attack at the Karachi airport, which left over two dozen dead. Senior officials said a review meeting was held this morning in wake of the attack on one of busiest airports in Pakistan. The meeting was chaired by the Superintendent of Police (anti-hijacking), Srinagar airport, and attended by all stakeholders responsible for airport security. They were asked to be on alert in wake of the attack in Karachi. "Security personnel were asked to intensify frisking at the multi-level checking at the Srinagar airport," sources said. "They were asked to be more vigilant in wake of the terror attack in Karachi," they added. A senior official of the CRPF, responsible for security at the airport, said they had sensitised their men deployed at the airport. TNS
Guv to flag off walkathon tomorrow
Srinagar, June 9
Governor NN Vohra will flag off a "Walkathon --- Proudly Kashmiri-II, 2014" on the banks of the Dal Lake on Wednesday. The event is being organised by The Tribune in association with SPACE Communications and several academic institutions with an aim to creating awareness on various environment issues and to promote Kashmir's rich heritage, art and culture. An organiser of the event said the walkathon will be flagged off from the Duck Park, Foreshore Road, and culminate at the University of Kashmir. Around 2,500 students of various age groups from schools of Srinagar and surrounding areas are expected to participate in the event. — TNS
3 held with 500-gm heroin
Doda, June 9
The police today arrested three narcotics smugglers from the Pul-Doda area of Doda district and recovered half a kilogram of heroin worth crores from them. A police party deployed at Pul Doda for routine checking intercepted the Mahindra Scorpio in which the trio was travelling. The vehicle which was on its way to Jammu from Thathri. The three accused have been identified as Vishwapartap Singh, Hashim Din and Sharief, all residents of Kathua district. A case has been registered. OC
Yuva Rajput Sabha organises meeting
Jammu, June 9
The Yuva Rajput Sabha held a meeting. A large number of youth from the Rajput community from all the districts of the state participated. The youth shared their ideas for the promotion and uplift of the community. During the meeting, The Yuva Rajput Sabha also launched a membership drive for the community members. While speaking on the occasion, Rajinder Singh said there was a need to unite and work with togetherness for the uplift of the community in urban and rural areas of the state. — TNS
'Chabeels' organised on Nirjala Ekadashi
Jammu, June 9
Various social, educational and business organisations here organised "chabeels" on Nirjala Ekadashi today. Sweetened water and langars were served at these "chabeels". "Chabeels" were organised at various places on roads leading to nearby towns like Bari Brahmna and Nagrota and Jammu-Srinagar highway. Volunteers of different political parties, social and religious organisations, police, fire brigade and different muhalla committees organised "chabeels" near their respective organisations and places. — TNS
Science seminar begins in Srinagar college
Srinagar, June 9
The two-day national seminar on 'Towards New Horizons with Interplay between Physics and Computer Sciences' started at Amar Singh College in Srinagar on Monday. The seminar was inaugurated by the Commissioner Secretary, Higher Education. The inaugural session, attended by the faculty and students of various colleges from across the Valley, was followed by the technical sessions. Between 250 and 300 researchers are participating in the seminar. — TNS