NRI police station comes up at Rozgar Bhawan
Sukhmeet Bhasin
Tribune News Service
Bathinda, June 11
A police station for the Non-Resident Indians (NRI) of three districts--- Bathinda, Mansa and Muktsar-- has been set up at the Rozgar Bhawan in the city. NRIs from these districts can now file their complaints with the state police. They will also have the facility of monitoring the status of their complaints online.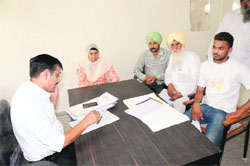 Sanjiv Mittal, SHO, NRI police station, listens to complaints; and (below right) Deputy Director Kuljit Singh at the inquiry counter of Rozgar Bhavan in Bathinda. Tribune photos: Pawan sharma
The NRI police stations are headed by IGP Gurpreet Deo in the state, while ASP Alka Meena is looking after the working of the police stations of eight districts in the Malwa area.
This police station was notified in October last year. The police station had started functioning in March this year, but the SHO took charge on May 30 after the election code of conduct ended. A board was installed only two days back.
SHO, NRI police station, Sanjeev Mittal said 40 applications have come up so far and most were regarding the matrimonial and land disputes.
He said it has now become easy for the NRIs to register a complaint as action is taken within a time-frame of 45 days. NRIs can send their complaints through e-mails at nriwingbathinda@gmail.com.
The SHO also stated that it is a temporary set-up as land for the NRI police station is yet to be allotted and it will take nearly two years to construct the building. Till then, it will operate from here.
It may be mentioned that NRI police stations have been set up in Punjab following a promise made by Chief Minister Parkash Singh Badal at an NRI convention held in the state.
But with the opening of this police station at Rozgar Bhawan, the officials of the Employment Department are at the receiving end.
With the other departments taking control of parts of the building, the Employment Department officials are facing many problems as rooms are being occupied by the other departments and their official record is lying in the open due to shortage of rooms in their own building.
Sources claimed that the Bathinda district administration has started using the Employment Bhawan office for other purposes as the government is likely to wind up the department due to financial strain. Earlier, the Public Health Department was functioning in one part of the building and now, the NRI police station has come up in Rozgar Bhawan.
Deputy Director, Employment, Kuljit Singh said they are facing many problems including staff crunch and shortage of space.
He said these departments are setting up their offices on the verbal orders of the Deputy Commissioner.
He also stated that their department will meet the expenses incurred on electricity supply. There are two other departments in the building at present, but they are getting electricity from their meter only.