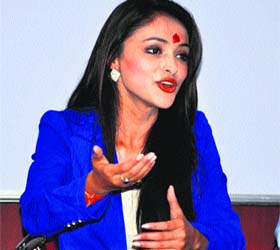 BEAUTY QUEEN: Anukriti Gusain, 4th runnerup in Miss Asia Pacific beauty competition, addresses a press conference at DIT College in Dehradun on Wednesday. A Tribune photograph
Panchayat elections
76 booths declared sensitive
Dehradun, June 11
As many as 76 booths in Sahaspur have been declared sensitive, including 35 ultra-sensitive for the forthcoming panchayat elections. In Chakrata 45 booths have been marked sensitive while 15 as ultra-sensitive.
1,167 to contest panchayat elections in Kumaon
Pithoragarh, June 11
A total of 1,167 candidates are left in the fray for 188 seats of zila panchayat member in the panchayat elections in all six districts of the Kumaon region after 147 candidates withdrew their nominations.
Agriculture, horticulture policy on the anvil
Gairsain, June 11
Chief Minister Harish Rawat today said that a promotional policy for giving impetus to horticulture and agriculture would be brought before the Cabinet in the coming days. "I believe that agriculture and horticulture hold great promise for the people of the state but unless and until we link horticulture with food processing and marketing, we cannot hope to bring a turnaround.


Traffic jams spell trouble for Doon commuters
Dehradun, June 11
Chaos and constant traffic jams have been witnessed on the city's roads in the past one week. This has been putting commuters through inconvenience. The civil and police administration, meanwhile, have been coming up with tall claims of streamlining vehicular traffic.

Road ruckus: A traffic jam at Rajpur Road in Dehradun on Wednesday. A Tribune photograph
Power generation optimum, yet residents face frequent cuts
Dehradun, June 11
Dehradun residents are facing frequent power cuts these days though hydropower projects in the state are operating at the optimum level. The state-run hydropower projects are generating around 16.42 million units per day, thus helping the department to meet the demand of electricity.


Notorious wildlife poacher Bheema arrested
Dehradun, June 11
Notorious wildlife poacher Bheema, who was arrested by Lansdowne forest division officials in Gurgaon, has been sent to 14 days judicial custody by the court of Munsif Magistrate, Kotdwar.

Bheema, a notorious poacher arrested by the forest department.
100 camera traps installed to detect tiger strength
Dehradun, June 11
The newest Wildlife Sanctuary of Uttarakhand at Nandhour is all set to reveal its tiger strength even as WWF has completed installation of over 100 camera traps for the purpose and is all set for start of monitoring works. The 2013 WWF baseline survey had revealed presence of eight tigers in the sanctuary.


Cong councillors lock office of Mukhya Nagar Adhikari
Dehradun, June 11
Congress councillors today staged a dharna and locked the office of upper Mukhya Nagar Adhikari Harshvardhan Mishra in protest against the alleged lackadaisical attitude of staff and officials of the Dehradun Municipal Corporation (DMC).
Congress councillors take up people's issues with Mayor Vinod Chamoli in Dehradun on Wednesday. A Tribune photograph

Mussoorie MC shuts down bus service
Mussoorie, June 11
The Mussoorie Municipal Council has decided to shut down its bus service in the town. Schoolchildren and the employed people are the worst affected by the decision.


The city bus service that came to a halt due to the apathy of the Municipal Council in Mussoorie on Wednesday. A Tribune photograph



damaged roads and bridges
DSO to instal trolley over Dhauli river for ration supply
Pithoragarh, June 11
The District Supply Officer will install a trolley over Dhauli river in Darma valley for transport of ration for the valley's villages for the monsoon months. The roads and bridle paths to Duktu godown of the department are in a state of disrepair, district administration sources said on Wednesday.


Rain, strong winds bring down mercury in Mussoorie
Mussoorie, June 11
A brief spell of rain and strong winds brought down the mercury, bringing respite to tourists and residents alike form the soaring temperatures being witnessed in the hill town of Mussoorie for the last 10 days.


Tourists enjoy walking during a brief spell of rain in Mussoorie on Wednesday. A Tribune photograph
ICAR's regional panel to meet on June 13
Dehradun, June 11
Regional committee of Indian Council of Agriculture Research comprising Jammu and Kashmir, Himachal Pradesh and Uttarakhand will be held in Dehradun on June 13-14. The meeting is held once in two years to deeply deliberate on various issues related to research, extension and education in agriculture and allied sectors in the three states and to evolve strategies to solve the emerging agriculture related problems of the farming community in the region.


Gurdwara Football Club win 3-0
Dehradun, June 11
The Gurdwara Football Club defeated Bajrang Football Club 3-0 in the ongoing Nemidas Memorial District Football League played at Pavilion ground here today. Nitesh scored the first goal in the 29th minute while Manish and Ram scored goals in the 44th and 56th minute, respectively.

Players vie for the ball during the district football league at Pavilion Ground in Dehradun on Wednesday. A Tribune photograph
Workshop: Vital for students to introspect
Dehradun, June 11
A 15-day personality development workshop organised by Dazzle Key, concluded at Scholar Beam School, Aamwala here today. Students of classes IV to X participated in the workshop that commenced on May 26.
18-year-old killed in road accident
Dehradun, June 11
An 18-year-old biker, Sunny Pal of Doiwala, was killed in a head-on collision between two bikes at Laltappad in Doiwala police station area here today. Three persons, injured in the accident, were admitted to Jollygrant hospital.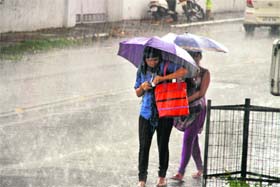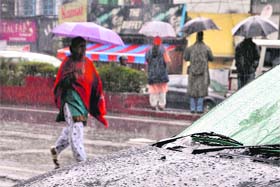 Cool spell: Rain brought down the mercury in Dehradun on Wednesday. Tribune photographs
13-yr-old boy killed in road mishap
Dehradun, June 11
A 13-year-old boy was killed in an accident when a car hit him on the Haridwar bypass road in the Patel Nagar police station area last night. Reportedly, Deepak was walking on the roadside when a speeding car hit him from the rear and killing him on the spot.
Strong winds put hurdles in controlling forest fire
Mussoorie, June 11
Forest officials are finding it difficult to douse the fire that is spreading across forests above Ghandiala-Sartali village near Mussoorie falls due to the strong winds blowing across the area.
MoU on construction of Vyasi hydropower project
Dehradun, June 11
A memorandum of understanding (MoU) has been signed between officials of Uttarakhand Jal Vidyut Nigam Limited (UJVNL) and Bharat Heavy Electricals Limited (BHEL) for the construction of the 120 MW Vyasi hydropower project in the state.