Don't become bookworm, says IAS topper from state

Srinagar, June 13
The 10 candidates from the state who have cracked the Union Public Service Commission (UPSC) examinations this year tell aspirants that the success mantra is 'not becoming a bookworm'. Abid Hussain Sadiq Bhat of Srinagar, Indian Administrative Service (IAS) examinations state topper who figures 27th, thinks that 'studying smartly' is the key to cracking competitive examinations these days.
Abid Hussain Sadiq Bhat
More rural youth aspire for civil services than urban ones
Jammu, June 13
More rural youth than urban ones in conflict-ridden Jammu and Kashmir appear to be aspiring for the Indian Administrative Service (IAS).
LJP sets target of enrolling 2 lakh members in J&K
Jammu, June 13
The Jammu and Kashmir state unit of Lok Janshakti Party (LJP) has chalked out an ambitious programme of becoming a real force in the state, highlighting the problems of Dalits and other weaker sections of the society.
SRS seeks rehabilitation for refugees
Jammu, Jun 13
Reiterating the demand for rehabilitation of PoK refugees especially from west Pakistan, Rajiv Mahajan, state president, Shri Ram Sena (SRS), Jammu and Kashmir, urged Prime Minister Narendra Modi led NDA government to settle their rehabilitation issue.
Shrine Board organises 'pratham pooja'
Srinagar, June 13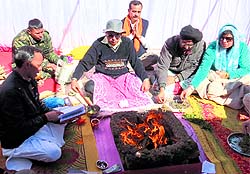 Chief Executive Officer of the Shri Amarnathji Shrine Board RK Gupta on the occasion of 'jyesht purnima' today performed 'pratham pooja' amid chanting of Vedic hymns at Chandanwari. The CEO invoked the blessings of Shri Amarnathji for the smooth conduct of the ensuing yatra and prayed for the safety and security of the devotees.



Shrine Board CEO RK Gupta performs pratham pooja at Chandanwari on Friday. A Tribune Photograph

No policy to provide basic services to urban poor
Jammu, June 13
In yet another major finding, the Union Ministry of Urban Development in its report claimed that cost escalation is the key challenge faced by Jammu Municipal Corporation (JMC) in implementing Jawaharlal Nehru National Urban Renewable Mission (JNNURM)-funded projects.
Quake with 4.6 magnitude hits Doda
Jammu, June 13
A quake measuring 4.6 on the Richter scale hit the Doda region on Friday evening. Its shocks were felt in the neighbouring Kishtwar district.
Non-migrant Pandits tell tale of neglect
Srinagar, June 13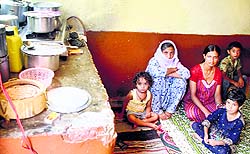 When the eruption of militancy forced the majority of Pandits to leave Kashmir around two and a half decades ago, some had preferred to stay back. While many continued to live in their ancestral homes, others got displaced within the Valley.


in despair: Non-migrant Kashmiri Pandits in the Valley complain of being ignored by sucessive state governments. A Tribune photograph

Rehab of Pandits a big challenge for Modi
Jammu, June 13
The BJP-led Central Government's proposed rehabilitation policy for displaced Kashmiri Pandits might face a stern test before it is being finally implemented as the move involves addressing various complex issues, including the safety and security of the community.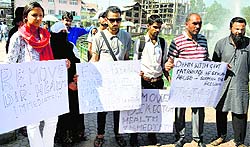 up in arms:

International Forum activists hold a protest against the alleged molestation of a nurse by three officials of the Health Department, in Srinagar on Friday. They also demanded arrest of the Director, Health Service, Kashmir. Tribune photo: Amin War

Revised package will boost rehabilitation of Pandits: NC
Srinagar, June 13
The ruling National Conference today said the indications by the Union Home Ministry to enhance the package for Kashmiri Pandits would translate into a "major impetus" to their rehabilitation efforts.
Effective implementation of NRLM in Jammu
Jammu, June 13
Mission Director National Rural Livelihood Mission (NRLM) will submit a proposal to the Divisional Commissioner, Jammu, for the exemption of stamp duty for Self Help Groups (SHGs) for sanctioning loan under the state government's scheme 'Umeed'.
Programme managers, paramedics condemn 'nominal salary hike' proposal
Srinagar, June 13
Members of the Programme Management Units and paramedics working under the National Health Mission (NHM) have alleged disparity in the recent "salary hike" proposal prepared by the state health society.
Guv opens Ladakh International Centre at Leh
Srinagar, June 13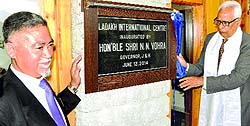 Governor NN Vohra inaugurated the Ladakh International Centre at Leh today. The centre has been conceived and established by Ambassador P Stobdan, an eminent scholar and diplomat who belongs to Ladakh, with the objective of providing a platform for holding conferences.

a new beginning: Jammu and Kashmir Governor NN Vohra inaugurates the Ladakh International Centre at Leh on Friday. A Tribune photograph

Snapshots from Czech Republic liven up Leh
Srinagar, June 13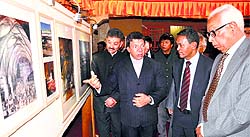 Governor NN Vohra and Ambassador of Czech Republic Miloslav Stasek inaugurated an exhibition on "Czech Castles" in Leh today. The exhibition, a part of the "2014-The year of Czech Culture in India", was held at the Leh Palace.


Governor NN Vohra at the "Czech Castles" exhibition in Leh on Friday. A Tribune photograph

PHE department directed to stop misuse of water
Srinagar, June 13
Minister of State for Public Health Engineering (PHE) Nazir Ahmad Gurezi today directed the department to gear up its field functionaries and continue seizure of line boosters to stop misuse of water.
New railway station at Kathua sought
New Delhi, June 13
Minister of State for Personnel, Public Grievances & Pensions Jitendra Singh has sought the construction of a new railway station at Kathua stating that the feasibility and technical survey for the long-pending demand had been undertaken.
67 inspectors promoted
Srinagar, June 13
The government has promoted 67 inspectors to Deputy Superintendents of Police (DSPs). The Home Department issued an order to this effect on Thursday.
Jaitley to chair Unified HQ meeting
Srinagar, June 13
Defence Minister Arun Jaitley would chair the Unified Headquarters meeting —- the top most decision-making body on matters concerning security in Jammu and Kashmir —- during his two-day visit to the state tomorrow.
Mirwaiz invited to OIC meet in Saudi Arabia
Srinagar, June 13
Moderate separatist leader and Hurriyat Conference chairman Mirwaiz Umar Farooq has been invited by the OIC (Organisation of Islamic Cooperation) to participate in its conference being held in Saudi Arabia next week.
Hurriyat decries Geelani's house arrest
Srinagar, June 13
The hardline faction of the Hurriyat Conference, an amalgam of several separatist groups, today condemned the "continuous house arrest" of its chairman Syed Ali Geelani terming it as "state terrorism".
BJP spokesperson's book released in Jammu
Jammu, June 13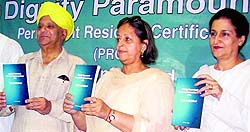 A book titled "Dignity Paramount PRC Task Unfinished" authored by BJP state spokesperson and former head of the Department of Economics, University of Jammu, Dr Nirmal Kamal, was released here today.

BJP Legislative Party leader Ashok Khajuria releases former BJP spokesperson Dr Nirmal Kamal's (centre) book in Jammu on Friday. A Tribune Photograph

Decision to review stone-throwing cases hailed
Srinagar, June 13
National Conference leader Sheikh Nazir on Friday welcomed government's decision to review cases registered against 52 youths since 2010 under various charges, including stone throwing.
Dambali festival held at Bijbehara shrine
Anantnag, June 13
Devotees today thronged the mausoleum of the 16th century saint, Baba Naseeb-ud-din Ghazi, to pay obeisance and witness age-old folk performance "Dambali" by artistes in Bijbehara town, about 45 km from the summer capital.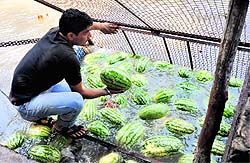 SERVED CHILLED: A vendor sells watermelon near Ranvir canal in Jammu. Tribune Photo: Anand Sharma

Kabir Jayanti celebrated
Jammu, June 13
Several programmes were held to mark Kabir Jayanti in Jammu today.
Jilted lover held for murdering woman
Srinagar, June 13
The police today claimed to have solved the murder case of a woman and arrested the jilted lover, who had strangled her to death in central Kashmir's Budgam district.
7 injured in road mishap
Samba, June 13
At least seven persons were critically injured in a road mishap near the main Samba chowk on the Jammu-Pathankot highway on Friday.