Of money & confusion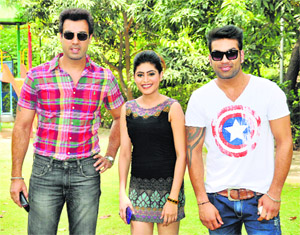 We are left with no option but to sit back, wait and display patience as all those who don't matter are the only ones voicing their opinion. The celebrities concerned are also forced to stay quiet and wait for their chance to speak up, share tidbits about the film, their role and future projects. In between, whenever Gavie Chahal and Mukul Dev get lucky with a chance like that, they grab it. And thank God they do that because otherwise the horde of 'I, me, myself' almost sabotaged the interaction. So you will see Gavie playing the protagonist and Mukul the villain in the comedy titled Paisa, Yaar N Panga, which will releases on July 11. As the title suggests, the film is about friendship, money and problems that are an offshoot of the combination.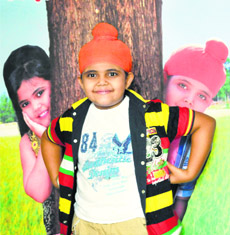 A small bundle of energy
A boy dressed as a girl is slapstick. A girl dressed as boy is clichéd. A little girl disguised as a little boy, and the cat and mouse chase that follows is pure entertainment. Comedy doesn't necessarily have to be over-the-top or borrow from gender differences. What could turn things hilarious are extremely ordinary circumstances handled by the wit of a six-year-old!





Shambavi Srivastav Photos: Pradeep Tewari

Dancing divas
While all artists are driven by passion, entertainers are driven by their sheer capacity to connect with the masses through their talent. A refreshing blend of passion and talent, city girls, Ankita Sharma, the winner of Ticket to Bollywood, telecast on NDTV Prime, and Hema Sood, who bagged the runners up trophy in the same show, share their experiences
the 'in' side


A room without a view!
Most of our homes will definitely include a space that doesn't receive natural sunlight. It may be a room without windows, a room with windows facing a building or it may be a huge basement level room. Walking into such a room can be rather uninviting and gloomy. We all know the benefits of natural light and how it affects our mood as well as living environment. In order to make the area more welcoming, we can incorporate the following steps.

Doc Talk
Hair, the story
Currently in the fashion world, hair-colouring has become one of the fastest growing trends. Hair-colouring can definitely bring a refreshing change to one's looks. But one should be fully aware of the effects of chemical therapies on hair.

Master Chef
Kool Kulcha
We have always been fascinated by the humble and ubiquitous kulcha. Ask any Indian settled abroad and he would rather have kulche chole than any pizza with all the fancy toppings. As a chef, one can't help experimenting though. So, here's a fusion kulcha dish to tempt the young and old alike.
punjabi scope
Sincerely sensible
Film: Arsho
Director: Shapinder Pal Singh
Cast: Dakssh Ajit Singh, Mannat Singh, Sonia Gill and Shakti Anand
Rating: **
You don't need a battery of high-riding actors and comedians, endless nonsensical and repetitive gags or garishly dressed up villains to put together a good or let's say a watchable film. Shapinder Pal Singh-directed Arsho is an example of a good script paving way for a good film.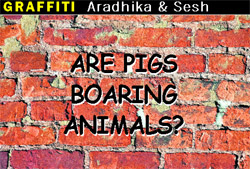 First Day First Show
A friendly message
Fugly
Four friends, three guys and a girl, run into a situation not very pleasant. Set in Delhi, the movie that explores friendship comes with a social message. The film stars Jimmy Shergill, Mohit Marwah, Vijender Singh, Arfi Lamba and Kiara Advani. It has been directed by Kabir Sadanand.
STAR TRACK
Kangana to work with Bhansali?
From critics to audiences, Kangana Ranaut charmed almost everyone with her performance in Queen. It didn't stop there. The lead actress has even impressed maverick director Sanjay Leela Bhansali, so much so that he is planning to rope her in for his next extravagant musical. There were reports that Bhansali was spotted at Moulin Rogue in Paris for gaining some inspiration for his next venture. Source close to Kangana revealed that the director was quite keen to cast her for this role.



In the murky waters


Mind of his own


Sunny on repeat mode


A secret wedding


So near, yet so far


Boy with a golden heart


Look who's back from Mauritius
chatter box
A brand new jhalak
Singer, actress and former VJ , Sophie Choudry who is part of the new season of Jhalak Dikhla Jaa has teamed up with music director and singer Raghav Sachar to create their own version of the classic song Raat Akeli Hai.



Lucky again


Daring act


Kick in some action


Welcome back


Lights, camera & action


Screen shot