last word
Sumitra Mahajan
With smile and resolve, she'll speak for Constitution
Taking over from a woman, the eight-time representative from Indore is also the longest serving woman MP. She's known by her mild and motherly manner, but that should not be mistaken for a pushover. After all, she has survived three decades of politics
By Vibha Sharma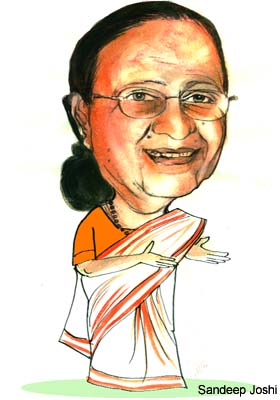 Addressing the Lok Sabha the first time as Speaker, Sumitra Mahajan made a reference to Ahilyabai Holkar, the 18th century queen of Maratha-ruled Malwa, highly respected in her lifetime and revered as saint after death.
Indore, which has sent Mahajan to the Lok Sabha for the eight consecutive term, was the capital of Ahilyabai's regime. The unmistakable break in Mahajan's voice when she remembered "revered Lokmata Devi Ahilyabai Holkar" as a "source of inspiration and an ideal" in her life spoke volumes.
Son Mandar Mahajan explains: "Ahilyabai's husband and son were killed in battleground. After her father-in-law died she inherited the kingdom, which she protected singlehandedly. She initiated plunderer tribes of Jhabua into the mainstream. There was perfect order and governance during her reign and people prospered.
"One of Ahilyabai's achievements was bringing down the mighty Peshwas to their knees without even a battle. My mother considers her the perfect example of how a person should be in public life, 'nih-swarth' (selfless) and committed," he says.
That is Sumitra Mahajan, the longest serving woman MP and now Speaker of the Lok Sabha with an ever smiling face and motherly demeanour encasing resolve and strength of character.
The challenge
Ask her about her new challenge and "Tai", as she is endearingly called, tells you how any new task is - like it was when she rolled her first "roti" or stepped out of home to enter public life. "Every new responsibility is a challenge. I hope to tackle this with the help of everyone," she says.
Would her mild nature be a handicap? After all, predecessor Meira Kumar had to handle the full rough and tumble of the House, including pepper spray. "I have been in the Speaker's panel and dealt with difficult situations many times. I am a mother who can explain with love, but can also be firm. If I am positive, people will respond positively. I have maintained discipline in my 25 years in the House and will continue to do so," she says.
The journey
From Chiplun to occupying the sixth most important position in India's "Order of Precedence" - a level shared with the Chief Justice of India - it has been a long journey indeed for Mahajan.
One of six siblings, her upbringing was "most humble", says Mandar. There was no link with politics, but the relationship with the RSS started in childhood, as her parents were active in the RSS. When she contested her first Lok Sabha election, brother Arun Sathe contested against Sunil Dutt of the Congress.
After matriculation from the village school, she moved to Mumbai for graduation. Her husband, late Jayant Mahajan, was a lawyer. She too holds a degree in law but has never practised. While in Mumbai, she worked in the office of the Accountant General for some time on a clerical post, according to close associate
Ashok Wankhede.
When her family was looking for a groom for her, her only wish was he should not be from Mumbai, as she did not want to stay in a crowded flat. She wanted a house, a joint family. Her ambition was only to be a housewife and work for society, particularly women, her son says.
But her husband, who encouraged her in politics, hoped to see her as the Madhya Pradesh CM one day. Mother-in-law Indirabai Mahajan played a crucial role in the journey, providing support at home.
Mahajan began with inspirational lectures in schools on Maharana Pratap, Shivaji and Ahilyabai. During Emergency, when Sangh leaders went underground or were jailed, she distributed rations to their families on her bicycle. The political career started when Kushabhau Thakre (then BJP president) asked her to contest elections.
After the 2014 General Election, names of veterans like LK Advani, Murli Manohar Joshi and Karia Munda were doing the rounds for the post of Speaker. Many senior BJP leaders were lobbying for various posts, but not Sumitra Tai. Wankhede says she told him if after winning eight elections she was still expected to lobby, she was not interested.
What worked for Mahajan was support from Narendra Modi, who wanted a woman to succeed Meira Kumar. Her record as parliamentarian, a clean image and the RSS connection clinched the job.
The politician
Soft-spoken Mahajan is known to pack a punch when needed. During the 2009 elections, many party men worked against her, foremost among them Kailash Vijayvargiya, a powerful minister in MP. She managed to win by a slender margin of 11,500 votes. But the smart politician in her realised it was time to patch up. The move paid off, and the margin this year was 4.67 lakh votes.
Though Mandar's bid for the Assembly ticket is said to have been sabotaged by Vijayvarghia, he says there is no issue. "It is just that Vijayvarghia's style of politics is different from my mother's. She is unfit for today's times," he says.
So what exactly is Mahajan's style of work? "She knows her limits and never crosses them. She will never step away from rules to help anyone, including me or my brother (Milind Mahajan)," he says.
A grassroots leader, she has risen from the ranks. In 1982 she became a corporator in Indore and in 1984 deputy mayor. In 1988 she unsuccessfully contested the Assembly elections. But the fighter in her persisted. She used her connections with the RSS and former PM Atal Behari Vajpayee to get the Lok Sabha ticket in 1989, defeating former Congress MP chief minister Prakash Chandra Sethi to become a minister of state in the Vajpayee Cabinet.
"She shared good relations with RSS founder Deendayal Upadhyay, Atalji and Advaniji. She was part of their campaigns," says 70-year-old Indore-based Bhaluchandra Mondhe who has known her for almost four decades.
A mother, a friend
For Mandar, a chief flying instructor at Indore Flying Club, and Milind, a software engineer, she is the "best mother in the world".
"Despite her busy life, she was actively involved in the household and our studies. She is an excellent cook. Her specialties are gujiya and sev. If my sister-in-law is not well or the housemaid is on leave, she just takes over," Mandar says.
While proposing her name, Modi said her name "Sumitra" suggested she would be a friend to all. Indeed, she has friends in all parties. When she became Speaker, many of her visitors were from the Congress.
Yet, the 315 new MPs would be well advised not to take her mild manner for granted, and remember she is an ardent admirer of Ahilyabai, who knew how to defend her kingdom. Wielding a warm smile and a huge heart, Mahajan is also expected to defend the Constitution with the ferocity of a warrior.