River safety
UttarakhanD
Not heeding to warnings reason for fatalities
Adventure sports at Rishikesh and Uttarkashi draw tourists in hordes, but many lives are lost due to negligence.
Gaurav Talwar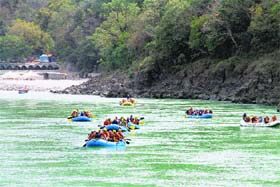 The issue of riverfront safety in Uttarakhand has again come to the fore after the drowning of two Russian tourists in the Bhagirathi river on the Gangotri highway in Uttarkashi district last week.
Every year in Uttarakhand, people, especially tourists, lose their lives by drowning in rivers due to their negligence or due to government's failure to put in place safety measures along banks.
As the season for adventurous sports on the Ganga sets in, famous hubs like Rishikesh, and Uttarkhashi draw a huge number of tourists to experience the thrills of whitewater rafting and kayaking.
Predominantly, the cases of river drowning are limited to few districts such as Dehradun, Tehri, Pauri, Hardwar and Uttarkashi as the Ganga flows through these districts. Most fatal incidents take place in Rishikesh. Some cases of drowning are also reported from lakes in Nainital but the numbers are negligible.
About 21 persons drowned in the Ganga in the last three years in the Laxman Jhula police station area in Rishikesh. In Hardwar, 100 people, most of them tourists, drowned in the Ganga from 2012 to May 2014. About 53 persons were washed away in the gushing waters in the Muni Ki Reti police station area of Rishikesh between 2010 and 2014. "Most people died due to carelessness as they ignored the warnings on the signboards," a police official says.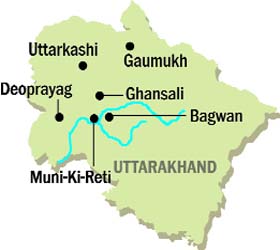 Dharmendra Bhandari, who is associated with rafting business in Rishikesh, says: "There are a number of dangerous stretches on the Ganga like Mala Khunti, 10 km before Shivpuri village in Rishikesh and Kodiyala. There are no warning signboards here, or are very small and not noticeable due to which tourists tend to step into the treacherous waters."
In March 2013, the death of 23-year-old Prashant Pandey, a tourist from Delhi, while rafting in the rapids near Rishikesh, forced the authorities to stop rafting in the Ganga. The authorities claim that rafting companies do not use proper gears and life jackets and the head gear is not of the desired quality. Due to this, victims are either fatally injured or they drown.
At least five young lives were lost this year just because they could not control the adrenaline rush and stepped into the Ganga for bathing, ignoring the complex currents of the river.
Experts say rapids and rip currents are the two major dangers associated with any river. In Ganga, the volume of water changes the nature of these rapids every day. "Rapids are classified from class I to class VI. Class I is the most easy and safe, and class VI is the most dangerous. On the Ganga, most of the rapids fall in the class III category. Mishaps occur due to the negligence of tourists who disregard instructions and precautions," says Mudit, an adventure sports expert.
"A mantra that can save lives is that a river should not be compared to a swimming pool. Even the best of swimmers have a hard time tackling the complex currents of river waters," he adds.
"Safety in place"
"Drowning takes place when vehicles plunge into rivers, or during adventurous sports activities and due to negligence when people step into river for bathing or taking pictures. We have installed safety chains at a number of places in Rishikesh and Hardwar. Signboards have been installed. The 'Jal Police' is deployed at danger spots."
Ram Singh Meena, ADG (law and order)
"Spreading awareness"
"The government is doing everything for ensuring riverfront safety for tourists. We are installing signboards on riversides and running local awareness programmes and training programmes for adventure sports organisers to minimise fatalities."
R Rajesh Kumar, MD, garhwal mandal vikas nigam
"Respect power of water"
"Tragic incidents can occur anywhere in the world. We must respect the power of water and should not try to get into rivers without taking safety measures or consulting river guides. Most incidents occur due to negligence. The government learns from every incident and steps are taken to improve river safety."
Dinesh Dhane, Tourism minister
Major tragedies
June 10, 2014: Two Russians drowned in the Bhagirathi after their Tempo fell into a ditch. About 10 Russians were injured in the accident.
May 2014: A 48-year-old Russian adventure sports enthusiast drowned after his boat capsized on the Ganga in Uttarkashi; two youths from Uttar Pradesh slipped into the deep waters while bathing in the Ganga in Rishkesh and drowned.
March 17, 2013: 23-year-old Prashant Pandey from Delhi was killed during rafting in the Ganga near Rishikesh.
2013: A 40-year-old rafting guide drowned in the Ganga near Rishikesh after saving six tourists from Delhi, when the raft carrying them overturned. The mishap occurred at Shivpuri.
June 10, 2013: A 30-year-old woman tourist from Delhi drowned in the Ganga at Rishikesh when her raft overturned.
2012: Two women drowned in the Bhagirathi in Joshiyara area of Uttarkashi district while they were bathing on the occasion of Basant Panchami.
November 10, 2007: Two persons were washed away during the testing of water gates at the Maneri-Bhali hydro electricity project in Uttarkashi.
2006: Three persons were washed away when water was released from the site of the Maneri-Bhali hydro electric project.
Danger spots
The 135-km stretch between Gaumukh and Uttarkashi is full of dangerous rapids although it is a favourite stretch for foreign tourists.
A majority of mishaps have taken place between Kodiyala and Muni-ki-Reti.
The 32-km stretch between Ghansali and Gadolia on the Bhilangana river.
The 17-km stretch between Bagwan and Deoprayag on the Alaknanda.
Stretches along the Alaknanda, Dhauliganga and Kali rivers.
Dos
Keep numbers of tourist information offices or police station handy; or dial toll-free 108 for ambulance.
Reduce speed at bends and curves.
Before undertaking high-altitude treks, inform local authorities such as the SDM, police or tourism office.
Hire services of registered travel agents, guides and operators.
Don'ts
Stand at the edge of a cliff or on any boulder near a river bank for taking pictures. A misstep can mean death.
Overtake vehicles at bends.
Speed and travel at night. Hill roads are slippery in the rains and there is danger of landslides and rock-falls.
Rafting without proper kits and crash helmets in non-registered rafts is dangerous. The raft should have a river guide, insurance cover and a rescue raft for at least six riders. Rafting is not allowed beyond rapid class-II grade.
Be coerced into shopping or sight-seeing tours by touts, taxi drivers or strangers.
Cross river in 'jhulas' or streams on foot.
Paragliding warning
Flying in old paragliders, with uncertified pilots, is dangerous. One can break one's leg or even die in a mid-air collapse.