Close-In Warfare System on INS Vikramaditya next year
Will have anti-missile defence system after three years
Ajay Banerjee
Tribune News Service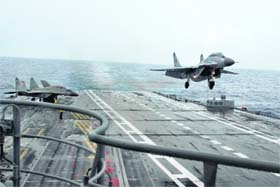 A fighter jet takes off from the newly inducted aircraft carrier INS Vikramaditya.
Goa, June 15
As euphoria over the newly inducted aircraft carrier INS Vikramaditya settles down, it is the time for the Navy to equip the warship with two sets of weapons and missile systems.
INS Vikramaditya does not have the Close-In Warfare System (CIWS) and the long range missile firing capability that can pick out targets up to 100 km.
The CIWS is slated to be fitted in April-June 2015 at the Karwar naval base. Sources say the Navy is looking at two options, either the Israeli Barak or the Russian Shitil missiles.
The CIWS system is needed on board large warships as the last protection layer against incoming missiles as well as aircraft. It is like the ships own air-defence system. When deployed, a carrier does not float alone but moves around with a small flotilla of warships. The Navy is banking on ships in the flotilla for air defence support and also for long range missile firing. Some of the Indian warships carry the sea version of the 290 km range hypersonic missile (BrahMos).
The Long Range Surface-to-Air Missile (LR-SAMs) can be fitted on the warship when it goes for its first re-fit after three years. Fitting the LR-SAM will be a complex procedure and it will entail some cutting through the deck, a period of eight-nine months has been factored in for this, sources said.
The LR-SAM, a joint venture between the Israelís IAI and Indiaís DRDO, is still being tested. A series of tests are slated between November and March at the integrated test range, Orissa. The LR-SAM has been designated Barak-8 by the IAI. This can be housed in vertical launch units.
Each such unit will hold eight missiles. The warship could carry up to 32 or 48 LR-SAMís
The Israeli company is working at the front section of the LR-SAM, including its seeker head that guides the missile and the warhead. The DRDO is working at the rear section - the rocket motor, the thrust vector control and fins that can be folded.
Meanwhile, the Navy has joined hands with the Aeronautical Development Agency (ADA) to set up a shore-based test facility to train pilots. At present, the Navy has around 10 qualified pilots.