Live from the field…
When Punjabi singers Jassi Gill, Ammy Virk, Hardy Sandhu and Girik Aman play football, what do you expect? A Goal of a different kind!


Russia wouldn't have seen it this far. Divock Origi from Belgium sent the ball flying to the net in the 88th minute of the match in Brazil. We cheered, posted it on facebook and twitter. The FIFA is only rising like the humidity, and there is no way we see either of the two subsiding anytime soon.
Spooky toppings
Akshay Akkineni grew up with films all around him. With celebrated film editor and eight time national award winner Sreekar Prasad for father, he sure has large shoes to fill in.
Imran's good looking friend...
Well, that's the compliment and an alternative name that the new comer Akshay Oberoi has received by none other than his best buddy's maamu, Aamir Khan.
Vir does a DK Bose once again?
Vir Das' song Bhaag DK Bose along with Imran Khan in Delhi Belly was a chart buster and went on to become a cult song. While the song did extremely well, it was initially surrounded by a lot of controversies pertaining to the play of words in it.
Sweet gesture
Superstar Aamir Khan, known for shunning award shows, received a packet of sweets instead of a trophy at the Star Parivaar award show for his debut TV venture Satyamev Jayate.
Special touch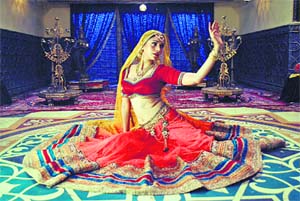 Known for being the guiding force behind showcasing beautiful B-Town dancers from Madhuri Dixit to Aishwarya Rai, Masterji aka choreographer Saroj Khan has roped in Aditi Rao Hydari to do a special song for her in Mrinal Kulkarni's Marathi period film called Rama Madhav. An insider reveals, "Set in 17th century, based on the life and love story of the legendary warrior of the Maratha empire Peshwa Madhavrao and his wife Rama, the film has its historic, old world appeal. The characters and their costume etc are like it was in the 17th century.
Maleficent does Jolie proud
Angelina Jolie-starrer Disney fairytale Maleficent has crossed the $ 500 million mark at the box office, making it the highest grossing film of her career.
JLo, Maksim spotted together
Singer Jennifer Lopez and dancer Maksim Chmerkovskiy, who have sparked romance rumours, were spotted at a nightclub. The 44-year-old star and Chmerkovskiy, 34, who was recently seen as a judge on an Indian dance reality show, spent some time with the singer after a concert of Lopez on June 21.
Young and still going strong!
Popular TV soap opera 'The Young and the Restless' was the big winner at the 41st Daytime Emmy Awards by bagging four of the main honours, including Outstanding Drama Series.
Tom is at war!
Hollywood star Tom Cruise will reportedly star in Star Wars: Episode V11 in a cameo role. The 51-year-old actor, who is close friends with the film's director JJ Abrams, met him over the weekend to discuss a role, reported Contactmusic.
Comfortably cool
Her collection inspired from the miniature paintings was very well-received by fashion followers and critics. Aartivijay Gupta is known for her love for quirky prints and this time she presented a mix of the same, using miniature paintings as the backdrop. As she makes a fashion forecast here, she says comfort is what shouldn't be compromised for style ever.
Chhota Bheem comes calling!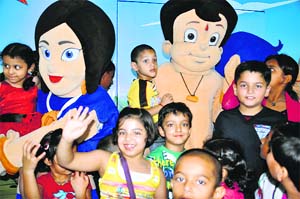 Make your child's dream come true of meeting Chhota Bheem and his friends this summer. DLF City Centre Mall is proud to present '31 Days at Dholakpur' with Chhota Bheem activity from June 20 to July 20, 2014. The iconic animation character Chhota Bheem and his popular friends have been brought alive exclusively for Tricity residents.
Children enjoy with their favourite cartoon characters

More than skin-deep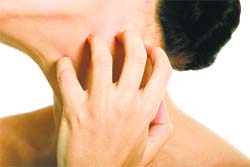 If you notice that you or any of your family members have a darker and thicker skin on the neck or other skin folds, just do not ignore as it can be a sign of things to come. Patches of dark skin around the neck may force one to cover up the neck, even in the hot season. Some think that since the neck has many folds, dirt and dust gets stuck there! This dark, leathery skin should not be brushed off as a skin imperfection. In fact, it is a skin marker associated with a tendency of weight gain (obesity), skin tags, and later in their life an increased chance of developing insulin resistance and diabetes.
Top pop
Here is a much required breather from the electronic dance music singles, which have been ruling the music charts for the last few months. So, now you may leave the dancing to the clubs and give in to the pop balled titled Ghost, a debut single by British singer-songwriter, Ella Henderson, that was released on June 8 as the lead single from her upcoming debut studio album, Chapter One (2014). While the song was been written by Henderson, Ryan Tedder and Noel Zancanella, it has been produced by Tedder and Zancanella. The song debuted at number one in Ireland and the United Kingdom.
Long live the mango
A lot of nature's bounties have short, seasonal spells. Once gone, we invariably wait for a year before savouring their goodness again. Luckily, many of them can be preserved in some form or the other. It's a delight to enjoy a strawberry jam or a peach preserve, long after we have bid farewell to these luscious beauties. Raw mango is another versatile fruit which morphs into countless forms, to be preserved and enjoyed forever. Here is a Gujarati style chhunda, tangy with the kick of heeng and delicious with rice, rotis, poories, ...almost everything!
Daddy's girl
Actress Pooja Banerjee, the Perizad in Nikhil Sinha's Hatim, is still very much a daddy's girl! Understandably, she has planned a gift for her dad who is going to retire soon. Pooja says, "I have seen my father work really hard. He invested a lot of his time on us and whatever I am today is because of him. His place in my life is priceless. So for quite some time I was thinking of a gift that would make him happy." And the pretty girl finally decided to give a car to her father. "Post his retirement I want him to relax and sit back, so a car is definitely going to make him happy. I can't keep that as a surprise because I need to discuss the model and technicalities with him."
The year ahead
If your birthday is June 24...
Astro Turf
ARIES: New business deals offered to you are worth considering. Artists get acclaim for their work and make good money. If married, you draw closer to your spouse.