Modi to address soldiers at Chinar Corps HQ
Srinagar, July 3
On his maiden visit to the Valley after becoming the Prime Minister, Narendra Modi would be addressing nearly 1,000 soldiers at Army's 15 Corps headquarters at Badami Bagh here tomorrow.
Security agencies gear up for Modi's visit
Jammu, July 3
Ahead of Prime Minister Narendra Modi's visit to Jammu, various agencies including the Jammu and Kashmir Police today held a mock drill at the technical airport here. Modi is visiting the state for the first time after becoming the Prime Minister and various agencies, including the J&K Police, are leaving no stone unturned to ensure his hassle-free trip.
People of Katra jubilant as PM to flag off direct train service today
Katra, July 3
Cloudy sky with a light drizzle added to the cheer of the locals, shopkeepers and pilgrims in Katra, who are ecstatic ahead of the visit of Prime Minister Narendra Modi to the town.
Minister, MP not invited for Uri II project inauguration
Srinagar, July 3
Senior J&K Minister and Member of Legislative Assembly from Uri Taj Mohiudeen and Member of Parliament from the area Muzzaffar Hussain Beigh have not been invited for the inauguration of the Uri II Hydroelectric Power Project.
PDP biggest hurdle in state's political transformation: Omar
Srinagar, July 3
Chief Minister Omar Abdullah, who is also the working president of the ruling National Conference, today accused the leaders of the main opposition Peoples Democratic Party of being the "biggest hurdle" in bringing socio-economic and political transformation to the state.
Grand Mufti cautions Centre against separate settlements for Pandits
Srinagar, July 3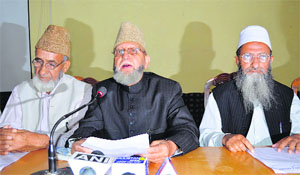 A day ahead of Prime Minister Narendra Modi's visit to the state, Kashmir's Grand Mufti Bashirudin has warned New Delhi against any step to create separate settlements for migrant Kashmiri Pandits wishing to return to the Valley.

Grand Mufti Bashiruddin addresses a press conference in Srinagar on Thursday. Tribune Photo: Amin War

Mirwaiz urges Modi to tread Vajpayee's path
Srinagar, July 3
On the eve of Prime Minister Narendra Modi's Kashmir visit, the moderate Hurriyat Conference led by Mirwaiz Umar Farooq on Thursday issued a policy statement, urging the government to tread the path of former Prime Minister Atal Behari Vajpayee, who had proposed talks and a solution to Kashmir "under the ambit of "insaniyat" (humanity).
Hurriyat warns PM not to fiddle with Art 370
Srinagar, July 3
Ahead of Narendra Modi's visit to the Valley on Friday, the hardline faction of the Hurriyat Conference led by Syed Ali Shah Geelani today cautioned the Prime Minister against taking any step towards abrogating Article 370 and warned any attempts to "fiddle" with it would have "serious consequences".
Don't go near Chenab for 2 days: Dulhasti
Jammu, July 3
The Dulhasti power station management has warned residents of Kishtwar, Doda and Ramban districts not to move near the Chenab from the morning of July 5 to the night of July 6 as gates of the dam will be opened for periodic reservoir flushing.
NCST vice-chairperson calls on Governor
Srinagar, July 3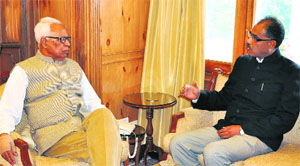 Ravi Thakur, vice-chairperson, National Commission for Scheduled Tribes (NCST), met Governor NN Vohra at Raj Bhawan on Thursday. They discussed issues relating to enhancing attention on advancement of welfare of tribal societies, most of which lived in remote and difficult mountainous areas close to the border.
Governor NN Vohra with Ravi Thakur, Vice Chairperson, National Commission for Scheduled Tribes, at Raj Bhawan in Srinagar on Thursday. A Tribune photograph

Storm hits power supply in Kupwara
Kupwara, July 3
Many areas of Kupwara district, including the district headquarters, have been are groping in the dark since Wednesday evening. Power supply was disrupted around 8 pm following a storm.
Fire at Samba power station, supply snapped
Samba, July 3
The power supply to the town was snapped today after fire broke out in the main receiving station at the Samba power house here this morning.
Govt flayed for ignoring demands of PoJK refugees
Jammu, July 3
The Jammu and Kashmir Sharnarthi Action Committee (JKSAC) has criticised the National Conference-Congress regime for ignoring the demands of refugees from Pakistan-occupied Jammu and Kashmir.
This Ramadan, imported dates find favour in Valley
Srinagar, July 3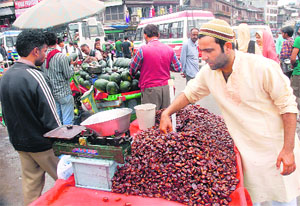 The month of Ramadan has also got some good news for traders selling dates, for it is considered as the prophetic way of breaking fast in Ramadan, thus surging the sales. With imported dates from Pakistan and Middle East flooding Kashmiri markets, locals and dealers say that dates from these countries are gaining popularity among the local population here with no demand for other dates.
A vendor sells dates on roadside during Ramadan in Srinagar on Thursday. Tribune photo: Yawar Kabli

Efforts to uplift artisans hailed
Srinagar, July 3
The Kashmir Chamber of Commerce and Industry (KCC&I) today hailed the efforts of the Financial Commissioner, Industries and Commerce Department and the J&K Bank towards the uplift of the artisans' community.
Meeting reviews status of development programmes for Scheduled Tribes
Srinagar, July 3
National Commission for Scheduled Tribes (NCST) Vice Chairman Ravi Thakur today held a meeting with the heads of various departments of the state government to review the status and implementation of development programmes, recruitment policy and safeguards concerning the Scheduled Tribe community of the state.
Martyr Usman remembered
Rajouri, July 3
A function was organised at Brig Mohd Usman's memorial near the Line of Control at Jhangar in Noushera on the occasion of his martyrdom day on Thursday.
Hizb posters tell panches to resign
Pulwama, July 3
Posters of the Hizbul Mujahideen surfaced today in the Tral area of Pulwama, threatening the panches and sarpanches to resign immediately.
Bhandari takes charge of Srinagar Sector CRPF
Srinagar, July 3
KS Bhandari has taken over charge of Srinagar Sector CRPF. He has replaced PK Singh, who has been shifted to the Special Director General's office in North East Zone.
9,344 pay obeisance at cave shrine
Srinagar, July 3
On the sixth day of the ongoing Amarnath yatra, 9,344 pilgrims paid obeisance at the holy cave shrine. Till date, 70,500 devotees performed darshan of the ice lingam.
3 more pilgrims die en route Amarnath shrine
Srinagar, July 3
Three more pilgrims, including a sadhu, died today en route to the Amarnath cave shrine, taking the death toll in the ongoing yatra to eight, officials said.
Traders booked for violating packaged commodity laws
Srinagar, July 3
During market inspections in the city, field executives of the Legal Metrology Department under the supervision of the Deputy Controller, Kashmir, booked several erring traders for violating packaged commodity laws.
Angry man murders son, arrested
Udhampur, July 3
Notwithstanding the 10-year imprisonment for killing her daughter, Kali Dass, a resident of Pinger village in Ramnagar tehsil of Udhampur district, has been booked for allegedly murdering his son this time around.
Cheat apprehended, Rs 2.35 lakh recovered
Rajouri, July 3
The police here today claimed to have apprehended a cheat, which was involved in siphoning of Rs 2.35 lakhs from the account of one Prithvi Raj.
ATMs sans guards invite robberies
Jammu, July 3
Banks in the city are inviting robberies at their automatic teller machines (ATMs) themselves as most of do not have security guards.
Exclusion of 50 temples from ambit of Bill sought
Jammu, July 3
Opposing any move to include all the Hindu shrines in the Kashmir valley in the Kashmiri Hindu Shrines and Religious Places (Management and Regulation) Bill-2009, the Dharmarth Trust and other religious bodies, who are managing 50 religious places in the valley, have demanded their exclusion from the ambit of the Bill.
Unemployed dental surgeons threaten stir
Jammu, July 3
More than 300 unemployed dental surgeons have threatened to go on hunger strike against the failure of the government to fill the vacant posts in the Health Department, despite assurances given by it. They have also demanded the establishment of a separate directorate for dental health in the state.
Children workshop ends
Jammu, July 3
In connection with the concluding of the 20-day-long summer children theatre, dance and painting workshop, the J&K Academy of Art, Culture and Languages organised a valedictory function at KL Saigal Hall.
Air Force takes out motorcycle rally on road safety
Jammu, July 3
The Jammu Air Force Station organised a lecture on "Road safety" for schoolchildren. A large numbers of schoolchildren participated in the event enthusiastically. Children expressed their imagination and knowledge on the road safety by drawing beautiful posters.