THE much anticipated Union Budget presented by the Modi government has focused on income tax sops, reviving growth and creating jobs through revival of investments in manufacturing and infrastructure, fiscal prudence and continuation of the welfare theme. It played safe without disturbing the status quo in policy and targets too much, but did signal a difference in approach with a shift towards investments and asset creation over the entitlement-based social focus of the previous UPA regime.
Facing the burden of high expectations emerging from a resounding mandate for the Modi government, the budget has desisted from burdening the common man already reeling under the onslaught of high inflation and offered some relief in the form of income tax breaks and concessions on housing loans, which will boost savings and consumption.
The budget is focused strongly on reviving an economy which has seen growth dip below 5 per cent for two years running. Prime Minister Narendra Modi and Finance Minister Arun Jaitley have promised an economic revival, greater number of jobs, lower inflation, more amenities, better infrastructure and more responsive governance.
Having come to power on the wave of a more aspirational India, the budget acknowledges the growing expectations of the youth, "the exasperation with status quo" and the emergence of a neo middle class. By itself, whether the broad contours of the economic policies of the UPA are continued or not, the key difference will be the implementation on the ground and how the prospects of the economy are revived or not.
With the economic progress and transformation of Gujarat having been the USP of Modi, much will ride on whether the same can be replicated across the country, which will be a much more difficult task. A weak economy and high inflation were one of the important reasons that catapulted Modi to power and the first budget hopes to start a journey to raise growth rates to 7-8 per cent in three or four years.

INCOME TAX/HOME LOAN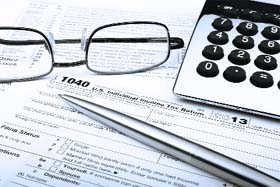 Exemption up

Threshold exemption on income tax raised to Rs 2.5 lakh from Rs 2 lakh. Deduction under 80-C for investments raised from Rs 1 lakh to Rs 1.5 lakh. Exemption under home loan raised from Rs 1.5 lakh to Rs 2 lakh. Savings from a minimum of Rs 5,150 to a maximum of Rs 46,000, depending on tax bracket.
Why: Sop for the middle and salaried class, hedge against inflation, reduce burden on common man.

What UPA did
Income tax exemption was last raised by the UPA in 2012 (when Pranab Mukherjee was finance minister) from Rs 1.8 lakh to Rs 2 lakh.
FISCAL DEFICIT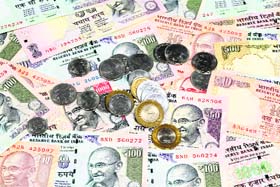 Ambitious target

Finance Minister Arun Jaitley has accepted the challenging fiscal deficit target of 4.1 per cent for the current year set by his predecessor. Fiscal deficit for the next two years at 3.6 per cent and 3 per cent, broadly following UPA numbers.
Why: Need for fiscal consolidation and not wanting to spend more than you earn. Jaitley also mentioned the need for inter-generational equity, of not passing on debt for future generations.

What UPA did
In the interim budget presented in February this year before the general election, Finance Minister P. Chidambaram had reduced the fiscal deficit to 4.6 per cent.
MGNREGA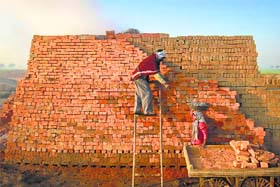 Tightening screws

Restructuring of the job guarantee scheme is proposed, wherein wage employment would be provided under the MGNREGA through works that are more productive, asset creating and substantially linked to agriculture and allied activities. Rs 34,000 crore provided, up marginally by Rs 1,000 crore from the last budget.
Why: The government wants to curb misuse of the scheme and make it more productive.

What UPA did
It was the UPA government's flagship scheme to provide a legal guarantee of 100 days of wage employment to every rural household.

JOB CREATION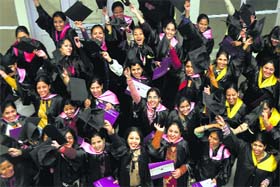 Push to labour-intensive industry

Job creation being one of the prime concerns of the economy has got a big boost. The budget has focused on education and skill development, along with the expansion of labour-intensive sectors such as textiles, tourism, food processing, roads, real estate, footwear, stainless steel and small and medium enterprises which create jobs. Manufacturing, which is getting more and more automated, does not create as many jobs.
Why: Job creation has been an electoral promise, with millions of young people joining the workforce creating employment opportunities has been a major challenge.

What UPA did
It had launched a national manufacturing policy to create 100 million jobs in a decade, besides a skill development programme.

INVESTMENT CLIMATE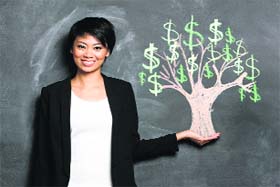 Measures to improve the investment climate include increase in FDI limits for defence and insurance, easing norms for FDI in real estate and e-commerce, clarity on retrospective taxation, ease of doing business, reducing tax litigation.
Why: FDI is important to finance investments, which leads to more growth.

What UPA did
Opened FDI in many sectors like telecom, pharma, civil aviation, and multi-brand retail.
AGRICULTURE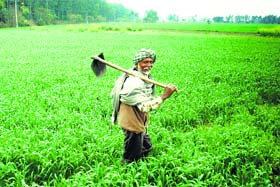 Marginal increases
A target of Rs 8 lakh crore has been set for agriculture credit during 2014-15. Interest subvention scheme for short term crop loans where banks are extending loans to farmers at a concessional rate of 7 per cent to be continued.
Rs 1,000 crore for irrigation, agri-research institutes, new horticulture and agriculture universities, Price Stabilization Fund to control prices, accord priority to reforms in food sector, including restructuring of the Food Corporation of India (FCI).
NABARD operated the Rural Infrastructure Development Fund (RIDF) out of the priority sector lending shortfall of the banks, which helps in creation of infrastructure in agriculture and rural sectors across the country. The budget proposed to raise the RIDF corpus by Rs 5,000 crore from the target given in the interim budget to Rs 25000 crore in the current financial year.
To meet the need for scientific warehousing infrastructure in the country, the Finance Minister proposed an allocation of Rs 5,000 crore for 2014-15.
The share of long-term investment credit in agriculture is going down as compared to short-term crop loans. This is severely hampering asset creation in agriculture and allied activities. To set up a Long Term Rural Credit Fund in NABARD and provide refinance support to cooperative banks and regional rural banks an initial corpus of Rs 5,000 crore has been proposed.
A Short-Term Cooperative Rural Credit Refinance Fund was announced in the 2008-09 budget with an initial corpus of Rs 5,000 crore. To ensure increased and uninterrupted credit flow to farmers and to avoid high cost market borrowings by NABARD, Jaitley has proposed an amount of Rs 50,000 crore for the STCRC Fund during 2014-15.

What UPA did
The agricultural GDP growth increased to 3.1 per cent during the 2004-09 period, and further to 4 per cent in the first four years of UPA-II and 4.6 per cent in 2013-14. Record food grain production in the country of around 263 million tonne happened during the current year. This is much higher that the food grain production of 255.36 million tonne during 2012-13. Agricultural credit had touched Rs 7.35 lakh crore, exceeding the target of Rs 7 lakh crore.

INFRASTRUCTURE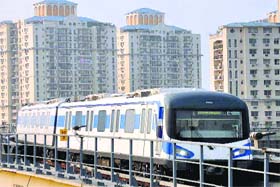 Boost to real estate
The big thrust of this budget was to enhance capital expenditure and kickstart growth. Reviving coal supply for thermal projects, the tax holiday for the power sector, allocation of over Rs 37,000 crore for roads, focus on developing airports under PPP for Tier I and II cities, Rs 50,000 crore for urban renewal projects, Rs 7,060 crore for developing smart cities, boost for the real estate sector through real estate investment trusts are some of the measures to bring in investment.
Why: Creating assets in infrastructure boosts growth, creates jobs and gets economic activity moving. Good infrastructure is a prerequisite for higher growth.

What UPA did
In the last two years of UPA rule, 29,350 MW of power capacity, 3,928 km of national highways, 3,91,434 km of rural roads, 3,343 km of new railway track gave a boost to infrastructure. 19 oil and gas blocks were given out for exploration and seven new airports were under construction.

MANUFACTURING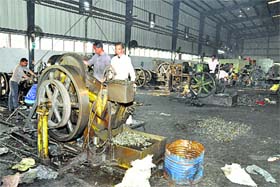 Protection to domestic industry
A huge boost has come for manufacturing, which has been in the doldrums for the past few years. Push for domestic manufacturing by increasing customs duty in sectors like stainless steel and electronic goods. Sops for producing TVs in the country, investment allowance for new investments, Rs 10,000 crore fund for small and medium enterprises to boost entrepreneurship.
Why: Manufacturing has been the Achilles heel of the economy and has pulled down GDP growth. Is a major job creator and more domestic manufacturing reduces imports, like in defence.

What UPA did
The UPA government in the interim budget had slashed excise duty on sectors like auto, consumer durables and capital goods to boost demand. This was extended by six months even before the latest budget.
CONSUMER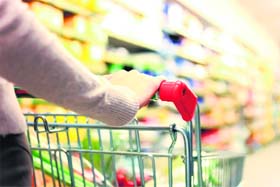 Notional gain
Soaps will become cheaper as glycerine used in them has seen a cut in import duty.
Traditional colour television and LED/LCD TVs below 19 inches, personal computers, low-cost foot-wears, LED lights, RO water purifiers will become cheaper.
But the budget has increased import duties on electronic goods to promote domestic manufacturing and also levied a 3 per cent education cess to restore parity. Electronics not manufactured here will become more expensive. Colas are more expensive with an additional duty of 5 per cent.
Cost of HIV/AIDS medicines and diagnostic kits for AIDS, TB and malaria will go down with full exemption from customs duty.
Excise duty on branded petrol has been reduced to Rs 2.35 per litre from Rs 7.5 earlier. Sports gloves will be cheaper.
Why: The focus is on domestic industry and SMEs.

What UPA did
Automobiles and consumer durables were made cheaper. This package has been extended by the BJP for six months. Loading of rice was exempted from service tax. Services provided by cord blood bank exempted from service tax.
SOCIAL SECTOR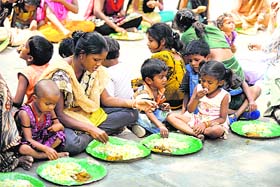 Education
The budget has provided for increase in higher education, school education and literacy sector also. The budget for all three taken together will witness an increase of 12.3 per cent from Rs 74,621 crore (RE) in 2013-14 to Rs 83,771 crore. Special focus is on the education of girl child, to provide the residual one lakh girls' toilets and drinking water facilities in schools which will benefit 100 lakh girls in the first phase.
The budget provides for Rs 28,635 crore for SSA and Rs 4,966 crore for RMSA, benefiting nearly 23 crore children in schools.
5 IITs, 5 IIMs and the National Centre for Himalayan Studies in Uttarakhand announced. A provision of Rs 500 crore has been made for the new IITs and IIMs.
Food security
Rs 1.15 lakh crore allocated for food subsidy in 2014-15 to ensure wheat and rice at reasonable prices to the weaker sections of society. It includes a provision of Rs 88,500 crore for implementation of National Food Security Act.
The government said it would, when required, undertake open market sales to keep prices under control. Besides, Rs 500 crore had been allocated for Price Stabilisation Fund for market intervention. It aimed to reduce transportation and distribution losses in the PDS.
In an analysis, India Ratings said allocation has been increased quite sharply for social infrastructure, ranging between 8.4 per cent and 360.3 per cent in this budget compared to FY14. It added India could reap the demographic dividend only if a large section of population was able to contribute productively.
Why: Welfare schemes are crucial for vast tracts of the Indian population, which is also an important constituency.

What UPA did
This was the UPA's strength. The expenditure on health and family welfare reached Rs 36,322 crore from Rs 7,248 10 years ago. Similarly, the expenditure on education reached Rs 79,451 crore from Rs 10,145 crore 10 years ago. UPA brought in the National Food Security Act, which assured food to 67 per cent of the population households. The UPA launched the Nirbhaya Fund with a non-lapsable grant of Rs 1,000 crore. Aadhar was also launched under the UID programme under which 57 crore numbers were issued for financial inclusion and direct benefit transfer.
Tourism and culture: E-visas at nine airports to promote tourism; launch of 'Prasad', a national mission on pilgrimages, and 'Hriday', a national Hertiage City Development and Augmentation Project in six cities, including Amritsar and Mathura.
Swacch Bharat Abhiyan: To target total sanitation by 2019, the year of 150th birth anniversary of Mahatma Gandhi.
Shyama Prasad Mukherji Rurban Mission: To develop infrastructure, economic activities and skill through PPP mode. Deendayal Upadhyay Gram Jyoti Yojna: Aimed at 24x7 power to all rural homes.
Education: Rs 500 crore for new teachers training programme and Rs 30 crore to initiate a school assessment programme.
Higher learning: Five IITs and IIMs each, and a Jai Prakash Narayan National Centre for Excellence in Humanities to be set up. Launch of 'Digital India' scheme to provide broadband connectivity at village level, National Rural Internet and Technology Mission and E-Kranti for government services' delivery.
Health and family welfare: Four new AIIMS, 12 government medical colleges, two National Institutes of Ageing in Delhi and Chennai, a national level research and referral institute for higher dental studies and 15 model rural health research facilities.
Girls: Rs 100 crore for 'Beti Bachao, Beti Padhao' scheme and campaign to sensitise people on concerns of girl child and women.
100 'smart cities': Rs 7,060 crore for the project to create satellite towns and modernise mid-sized cities.
Renewable energy: Rs 500 crore for ultra-mega solar power projects in Rajasthan, Gujarat, Tamil Nadu and J & K. Rs 500 core for solar drive agricultural pump sets and pumping stations and 1 MW solar parks on banks of canals.