For India, the Cup that doesn't cheer
While the biggest party in the world of sport rocks Brazil, Indian fans try to find alien teams to cheer for. Sadly, the Indian team is not likely to ever figure in the FIFA World Cup. Here's why
By Rohit Mahajan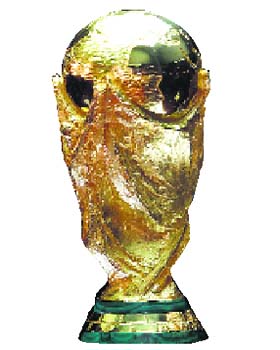 A Kashmiri Raina in the Spanish football team? It's a delightful tale of inspiration — an immigrant's son picks up football in an alien land and, possessed of genius in the sport, rises to represent football's champion team. There's a minor flaw in the story, though — it's untrue. Pepe Reina, the 'Kashmiri' in question, is 200 per cent Spanish. If there's a Kashmiri link in this goalkeeper's story, it's just that his name sounds similar to a Kashmiri name — Reina, Raina. This inspired someone to create an Indian backstory for Pepe 'Raina'. It was received with much pride by Kashmiris, and many believed it to be true.
There's indeed a need to believe such a story — exclusion from the world's biggest party, the World Cup in Brazil, isn't a pleasant thing. Indians want to be able to relate to someone in the World Cup — this partly explains India's long-time support for the 'brown/mixed' teams like Brazil and Argentina.
Indians themselves don't have the ghost of a chance of ever playing in the World Cup. Our team is ranked 154th in the world. Only 32 teams from across the world get a place in the World Cup, and merely three Asian teams have made it this time. India are ranked 28th in Asia, among 46 teams. We're inferior to even conflict-torn nations like Afghanistan, Iraq or Palestine. The Maldives, with a population less than half of Chandigarh's, is ranked 24th in Asia.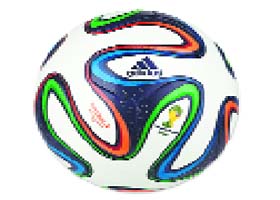 Some people wonder why we're not in the World Cup; it's more pertinent to wonder why we've slipped so much in Asia, where ours was once the top team.
India now struggle to beat even Nepal, Bangladesh and Afghanistan. The situation was not always so dire — India won the gold medal in the Asian Games in 1951 and 1962, and the bronze in 1970. India were fourth in the 1956 Melbourne Olympic Games and second in the 1970 Asian Championship.
Then began the slide that has not been arrested yet. When the world football rankings were set up, the Indian team was ranked 100th; now the number hovers around the 150th spot.
"The cause of our fall is no secret," says PK Banerjee, captain of the legendary Asian Games team of 1962. "We don't have a programme to develop young talent. The world's best teams have talent scouts who pick up young boys and train them for years. It's a long-term investment, and we've not made that investment. All we've had is the Tata Football Academy in Jamshedpur. It's clearly not enough."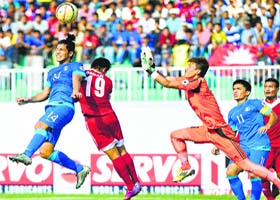 The Indian football team struggles to merely stay afloat in Asia — playing in the World Cup is the stuff of fantasy. PTI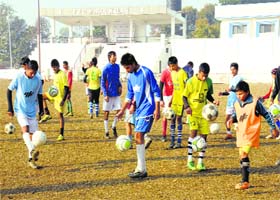 Football is popular in Punjab, but with no big club in the region, players have nowhere to go.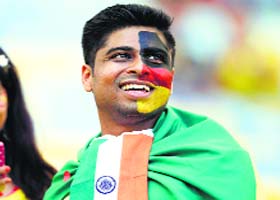 There's no India in Brazil, so an Indian fan sports German colours on his face before the final against Argentina. AFP
The other Asian countries, meanwhile, invested deeply in football. The continent's economic powerhouses like Japan and South Korea, for instance, poured money into football and have been rewarded. The oil-rich West Asian countries are crazy about the sport, and they've become strong. Indian sport never had much money before the economy was liberalised. Even cricket tasted really big money only after 1991.
It's not just football that's suffering
It must be emphasised that football's problems in India are no different from problems faced by other sports. The biggest problem is that India is not really a sporting nation, for obvious reasons. The UN estimates that a quarter of the world's most undernourished people live in India; 40 per cent of Indian children are undernourished. When you're living on the edge, barely putting food on the table, sport would be the last thing on your mind; it would be a pointless waste of energy and resources. Sport is a luxury.
In the current World Cup, there are only two countries whose per capita income is less than India's $1,499 — Cameroon ($1,271) and Ivory Coast ($1,175). For some other countries represented at the World Cup, the figures could come as a bit of a surprise for Indians — $5,700 for Algeria or Argentina's $14,760, Ghana's $1,800 and Nigeria's $3,010.
How do players from impoverished nations get to play with the best in the world? In the case of Ivory Coast, Didier Drogba, their best-known player, was sent to France at age five to live with his uncle, a professional footballer. George Weah of Liberia, arguably Africa's greatest player, was born and raised in a slum, and escaped poverty because football took him to France at age 22.
The stories of Drogba and Weah have been replicated a hundred times — across Africa and South America, young footballers are discovered by talent scouts. They're given the best facilities and opportunities to develop their talent. If this happens at a young age, they also get the nutritional boost absent at home.
The UN has set the minimum daily energy requirement for humans at about 1,800 kilocalories. The per capita consumption for India is 2,300 kilocalories. The figures for some countries better than India in football are 3,360 for Kazakhstan; 3,230 for Morocco; 2,910 for Malaysia; 2,710 for Nigeria; and 2,850 for Ghana.
However, there are many countries that are better than India at football but have lower calorie consumption, like Zambia (world No. 76, calorie consumption 1,890), Congo (84; 1,590) or Angola (93; 1,950). Is it possible that the disadvantage of the lower food energy intake for players of these nations is offset by some genetic advantage?
That brings us to a rather delicate factor, for it involves genetics and race. Are Indians genetically unsuitable to excel in sports that require a very high degree of athleticism?
"When it comes to sports where skills are of the greatest importance (archery, shooting), Indians are doing quite well," says Dr PSM Chandran, sports medicine expert. "But football and athletics? We don't have anyone. Is this due to genetics? Let alone India, you won't find a great Indian footballer/athlete abroad, even from among immigrants living abroad for three, four generations."
This could be a cultural issue. Indian immigrants carry their fondness for studies abroad with them; you rarely find them in the humanities or joining sport. But Dr Chandran suspects that there could be a genetic reason, too.
Could genetics be the reason sportspersons from even impoverished parts of Africa and South America do well at the global level?
Legendary athlete Michael Johnson once said: "Difficult as it was to hear, slavery has benefited descendants like me. I believe there is a superior athletic gene in us." This stereotyping is widely debunked, but its supporters point out to certain facts — like the sprints in athletics are dominated by athletes of African heritage. The world's best sprinters are likely to have originated in west Africa, the world's best middle and long distance runners are likely to come from east Africa. The world's best swimmers are never from Africa (if they are, they invariably are white Africans).
Dr Chandran thinks Indians aren't flexible or strong enough. "I've never seen an Indian player doing a backflip after scoring a goal," he says.
But what about, say, Lionel Messi doing so well in football? At 5'7'', he's no giant, but he's the best in the world.
"That's all very romantic, little Messi beating the giants," says football analyst Novy Kapadia. "Messi is an exception that proves the rule. You do need a big defender — all teams in Brazil have one. You can't have a 5'8" player trying to outjump a bigger player."
Kapadia points to a larger problem. There are not enough Indians playing sport seriously in the first place. "We've failed to make use of India's diversity and population, and spread the game all over India," he says. "It's the failure of the All India Football Federation (AIFF), and that of the local associations." Association officials are politicians and businessmen, professional squatters who do little but hold on to their positions for decades.
An individual's motor abilities are best developed at a very young age; the best footballers start very young. In India, there's little or no basic training to little kids. "Our focus on training begins when the kid is a teenager," says Chandran. "How can we expect him to run, move or dive like a player who's been doing it since the age of five?"
"India needs to concentrate more on starting from the basics. The system needs to re-develop, with involvement of more youth," says Tejinder Kumar Sharma, former international player.
"The AIFF focuses on I-League and the second division clubs don't get even the allowance for travel to play their matches," says Kapadia. "Our national team is chosen from 10-12 clubs, 40-50 of whose main players are foreigners!"
Kapadia is worried about the shrinking talent pool. "Can you believe, East Bengal nowadays fields a team in which there is only one Bengali," he says. "Cricket is edging out football in Bengal too."
Football is forbiddingly competitive
India has produced some world-class sportspersons — hockey and cricket players, and in the recent years there have been shooters, wrestlers, boxers and archers. This last wave has been created by the increased sports budgets of the government, by sponsors keen to invest in sports other than cricket. However, worldwide, these are niche sports and are not hugely popular like football. More significantly, they don't require a very high degree of athleticism.
Indians don't excel in sports which demand great athleticism, if we omit stray individual athletes. We look much worse in football because football is the world's favourite sport. It's the number one sport in Europe, South America, Asia and Africa. Almost all the countries in the world play it seriously, unlike, say, hockey or cricket or archery. India's sporting limitations are most cruelly exposed through football because it's the most competitive sport in the world.
Football is the sport of the commoner across the world; most Indian footballers are from the less privileged classes of society (hence poorer nutrition levels, too). But cricket is the foremost vehicle for social mobility, for playing football (or most other neglected sports) never made anyone really rich and famous.
In our highly stratified society, being a footballer provides less social cachet than being a cricketer. Cricket was patronised by kings and princes; it became an aspirational sport, football could not.
Rich kids now do follow football, but only European football. They want the Arsenal jersey or the Nike ball, but they don't watch Shillong Lajong or Rangdajied United. They have their eyes on Manchester United or Barcelona or AC Milan.
Some European clubs have opened shop in India, looking beyond their own saturated and downturn-hit markets. They're here for economic reasons, but they're also doing a job the AIFF never did — promoting football as an elite, chic sport. Will they also do the more important job the AIFF never really did, that of introducing football to kids in a systematic manner?
"The grassroots level soccer (8-12 years) needs to revive under the guidance of professionals," rues Harjinder Singh, former India captain. "Soccer is becoming a money-minting business, with industrialists and small venture groups running the ruling bodies."
Every four years, says Kapadia, he's asked why India isn't in the World Cup. "I tell people — if you really care, ask me every four weeks, not four years," he says.
Middle-class Indians wonder why India isn't playing in the World Cup. They must learn to answer it themselves thus: "It's so because we discourage our children from becoming professional sportspersons, force them to focus on studies."
For this reason, 20 years on, Indians would still be seeking Spanish Rainas to love.
(With inputs by Deepankar Sharda)
Where India stands
The World Cup finals have places for only 32 teams, which qualify through their continental qualifying tournaments. One place is reserved for the host nation. For the 2014 World Cup, the distribution was:
Europe: 13 berths
Africa: 5 berths
Asia Oceania: 4 berths
South America: 4 berths, plus host Brazil
North and Central America and Caribbean: 4 berths
For winners of playoffs between teams from Oceania, Asia, the Americas and Caribbean: 1 berth
India is ranked 28th in Asia. To qualify for the World Cup, the team must be able to compete with the top-4. The four teams that qualified from the Asia Oceania region are Australia (world ranking 62), Iran (43), Japan (46), South Korea (57)
Asia's best team, Iran, is ranked a lowly 43 in the world. This gives an indication about how competitive football is, and how tough it's to qualify for the World Cup
State of Indian football
Football in India is organised by the All India Football Federation (AIFF), which was founded in 1937. The main competitions run by the AIFF are I-League, Federation Cup, Durand Cup and the Santosh Trophy.
The I-League, set up in 2007, suffered adverse publicity in 2012 when some coaches said interference by the sponsors for profit was undermining football
Clubs, ranking
Registered professional clubs 81
India's global ranking 154
Ranking in Asia 28
2017 U-17 World Cup
India would hold the Under-17 World Cup in three years. Being hosts, India automatically get to play. Preparations have begun, but it would be tough to rise to international standards
Indian Super League
This year AIFF and IMG-Reliance will launch the eight-team Indian Super League (ISL), to be run on the lines of cricket's IPL. As India is a footballing nonentity, observers fear the ISL would be able to attract only retired players, or players not wanted anywhere else.
Critics point out that no country has two competing leagues — the ISL would be a direct threat to the I-League.
The root of the trouble
Age fudging in junior football
No efforts to raise playing standards by amateur clubs, states
Lack of coaches, infrastructure, planning, vision and implementation of schemes
Sports Authority of India has schemes, full-time coaches, but no results
AIFF grassroots plans still-born
Little opportunity for senior team to gain experience
Absence of professionals to manage/train at grassroots level
No professional academy for grassroots level players (8-10 years)