M A I N N E W S
Linking rivers: Centre says can't go ahead without states' nod
Tribune News Service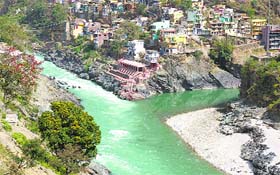 New Delhi, July 17
The newly elected BJP-NDA Government today made it clear that the much-touted river linking project will not be carried out without the concurrence of the riparian states or beneficiary states.
This is a major relief for states like Punjab which have a running feud with its neighbours over river water sharing. Among other states Karnataka and Tamil Nadu are locked in dispute over sharing of waters of the Cauvery.
"We will take up the river-linking projects only when the state concerned gives it concurrence. Without concurrence of states, we will not take up any such project," Water Resources Minister Uma Bharti told Lok Sabha during the Question Hour.
She assured the House that the principle of states' concurrence would not be violated at any cost.
In his budget speech, Finance Minister Arun Jaitley talked about linking of rivers saying "an effort to link the rivers can give rich dividends to the country. It is time that we made a serious effort to move in this direction. To expedite the preparation of the Detailed Project Reports (DPR), I propose to set aside a sum of Rs 100 crore".
Uma Bharti today said the Centre had identified three projects for interlinking of rivers and all such initiatives will be taken only when the concerned state governments give their concurrence. Bharti said based on concurrence of the states concerned, three links namely Ken-Betwa link, Damanganga-Pinjal link and Par-Tapi-Narmada link have been taken up for preparation of detailed project report by the National Water Development Agency (NWDA)
A total of 30 inter-state links have been identified under the National Perspective Plan (NPP), Bharti said adding that approximately 35 million hectare of additional irrigation potential and 34,000 mega watts hydro power generation are the likely benefits envisaged under the NPP apart from the incidental benefits of flood moderation, navigation, drinking water supply, fisheries, salinity and pollution control.
The minister said out of the 46 proposals of intra-state links received by NWDA, only those project have been taken up for preparation of DPR which have the concurrence of states.
What's river-linking
It envisages linking rivers to transfer water from surplus to deficit areas
Aims to save people from drought and floods
In Feb 2012, SC gave its go-ahead to river interlinking and asked for its speedy implementation
Advantages
Additional irrigation potential and hydro power generation
Flood moderation, navigation, drinking water supply, fisheries, salinity and pollution control.
46 proposals of intra-state links received by the National Water Development Agency
A total of 30 inter-state links have been identified
Disadvantages
Environmental costs (deforestation, soil erosion)
Rehabilitation is a difficult task
Social unrest caused by forced resettlement
Strained relations with neighbours (Pakistan, Bangladesh)

We will take up the river-linking projects only when the state concerned gives its concurrence. Without concurrence of states, we will not take up any such project.

— Uma Bharti, Water Resources Minister