BSF foils intrusion in RS Pura
Jammu, July 18

The Pakistan Rangers sprayed machine gun fire on BSF posts in Arnia till midnight on Thursday after the BSF pushed back a group of eight to 10 suspected militants from the Bakarpur post area in the RS Pura sector around 9.30 pm. This encounter was followed by intermittent gun battle till 6 am today.

BSF men in a bunker along the border in Jammu.

High Court orders diversion of funds for de-weeding of Dal Lake
Srinagar, July 18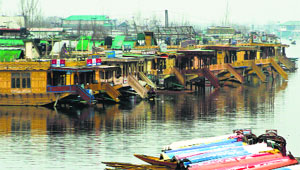 In a crucial decision aimed at preserving the fragile ecosystem of the Dal Lake in Srinagar, the Jammu and Kashmir high court has directed the authorities to divert funds for carrying out de-weeding operations in the lake, suspended due to funds crunch.
Court to rescue of Lake: Houseboats moored on the Dal Lake in Srinagar. Tribune Photo: Yawar Kabli

Anti-Israeli protests spark clashes in Kashmir
Srinagar, July 18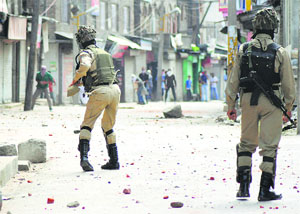 Anti-Israeli protests broke out across the Valley after mid-day prayers on Friday, sparking clashes with security forces at several places, including the city here. The protests took place at dozens of locations in the region, including the districts of south and north Kashmir. In the summer capital here, the largest demonstration was held outside the Jamia Masjid in the old city where several hundred youth shouted slogans in solidarity with the Palestinians and in favour of al-Qaida and Taliban, eye-witnesses said.

Youths throw stones at security personnel during a protest against Israeli military operations in Gaza, in Srinagar on Friday. Tribune Photo: Yawar Kabli

Cong convention in Jammu; Soni to get feedback on alliance with NC
Jammu, July 18
The Congress is going to hold a day-long convention at Jammu tomorrow to get feedback from grassroots workers on the pre-poll alliance with the coalition partner National Conference (NC) ahead of the forthcoming Assembly elections.
Sopore residents oppose shifting of SKUAST Horticulture Dept
Baramulla, July 18
The Sher-e-Kashmir University of Agricultural Sciences and Technology (SKUAST) is planning to shift the Department of Horticulture from its north campus at Wadoora in Sopore to its main campus at Shalimar in Srinagar.
Surgery performed on pilgrim at 9,000 feet
Srinagar, July 18
The Directorate of Health Services, Kashmir, came to the rescue of an Amarnath pilgrim by performing thrombolysis surgery on him at an altitude of 9,000 feet.
Houseboat owners to set up septic tanks to check pollution
Srinagar, July 18
Around 900 houseboats, a majority of which are moored on the Dal Lake, are in the process of introducing septic tanks to prevent the flow of untreated human waste into the water.
Wearing kurta pyjama? Stay out of Jammu Club
Jammu, July 18
The Jammu Club is not allowing entry to members and guests wearing kurta pyjama, salwar kameez or lungi. Guards at the gate stop them and ask them to change their attire. There is relaxation for those wear white or light pastel shade kurta pyjama with waistcoat.
Mubarak Singh is new DC Samba
Samba, July 18
Mubarak Singh today took over the charge of Deputy Commissioner (DC), Samba, from RK Varma, who has been transferred and posted as special secretary to the government Health and Medical Education Department.
Udhampur turns into garbage dump
Udhampur, July 18

Udhampur has turned into a garbage dump with litter scattered across the city following the strike by safai karamcharis of the Udhampur Municipal Council since the last 15 days. Heaps of garbage could be witnessed at every nook and corner of the city leaving people suffocated. There is also an apprehension of epidemic as foul smell continues to emanate from these dumps.
People walk past a garbage-strewn street in Udhampur. A Tribune photograph

AAP blames govt, Army for death of youth in Tosamaidan
Srinagar, July 18
The Aam Aadmi Party (AAP) today blamed the state government and the artillery unit of Army for the deaths taking place at the Tosamaidan firing range in central Kashmir's Budgam district.
State Morcha demands special grant for Jammu roads, writes to Gadkari
Jammu, July 18
The Jammu State Morcha (JSM) has expressed dismay over poor road connectivity in the state and demanded special grant, exclusively for the region, for building of roads and other infrastructure.
HC forms two-member panel to carry out inspection
Srinagar, July 18
Following the allegations that a luxurious five star hotel in Gulmarg was raising illegal constructions in the area, the Jammu and Kashmir High Court today constituted a two-member panel to carry out on the spot inspection of the area.
Drug abuse goes on unabated in Samba
Samba, July 18
Drug trafficking has been going on unabated in Samba town. Youths in the town have been using sleeping pills, painkillers, cough syrups, cannabis and its derivatives, including charas, ganja and bhang, to which they have easy access.
Handwara shuts against police officer's 'highhandedness'
Handwara, July 18
A complete shutdown was observed here today against alleged "highhandedness" of a police officer. The government and private offices in the area witnessed thin attendance as traders threatened to continue their strike if Deputy Superintended of Police Tanvir Ahmad Jeelani was not transferred at the earliest.
Chinar Bagh a shambles, courtesy official apathy
Srinagar, July 18
Though the government spent a huge amount on constructing Chinar Bagh three years ago, the place today has become a breeding ground for dogs due to lack of maintenance.
Minister: Speed up MGNREGA work
Srinagar, July 18
Minister for Rural Development and Panchayats Ali Mohammad Sagar on Friday directed the officers to speed up the implementation of MGNREGA so that more and more people living in rural and far-flung areas of the state got benefit from it, besides ensuring asset creation.
Regularise de-sealed units, urge traders
Srinagar, July 18
The Kashmir Economic Alliance (KEA), an amalgam of various traders' bodies, on Friday urged the government to regularise 42 business establishments that had been de-sealed earlier.
House panel takes up pleas
Srinagar, July 18
A meeting of the Committee on Petitions was held under the chairmanship of MLA Syed Bashir Ahmad here on Friday.
Committee reviews R&B Dept working
Srinagar, July 18
The Department Related Standing Committee-III of the Jammu and Kashmir Legislative Council on Friday reviewed the functioning of the R&B Department under the chairmanship of MLC Ghulam Nabi Monga.
Villagers block Jammu-Poonch road for 2 hours over power cuts
Poonch, July 18
Villagers from Kanoyian and its adjoining areas blocked the Jammu-Poonch highway for about two hours protesting against the Power Development Department (PDD) authorities for not providing regular power supply here today.
Three killed in road accidents
Srinagar, July 18
Three persons, including a boy, have been killed in separate road accidents in Kargil and Kulgam districts, the police said on Friday. A vehicle fell into a river at Tangol in Kargil district after its driver lost control over the vehicle, a police spokesman said.
Youth killed as ox hits bike in Rajouri
Rajouri, July 18
A youth was killed while the two pillion riders were injured seriously when their motorcycle was hit by an ox on a sharp curve near the Gurdwara on the Jammu-Poonch highway about 12.30 am today.
Tribute paid to Nelson Mandela on birth anniversary
Jammu, July 18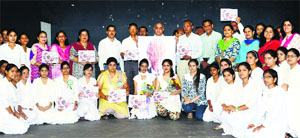 An inter-college symposium on the life and contributions of great South African freedom fighter Nelson Mandela was organised at Government College for Women (GCW), Parade, in collaboration with the Gandhi Global Family, J&K, on the 96th birth anniversary of Mandela.
In remembrance: Students from various colleges pose for a photograph after participating in the inter-college symposium on the life and contributions of Dr Nelson Mandela at Government College for Women, Parade, in Jammu on Friday. A Tribune photo

Telephone helpline begins for complaints against profiteers
Jammu, July 18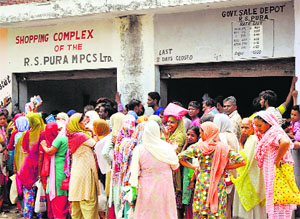 The Consumers Affairs and Public Distribution (CAPD) Department has started a helpline for consumers to lodge their complaints against hoarders and profiteers in the city. Officials said the helpline numbers — 1967 (landline users) and 0191-2502609 (for mobile phone users) — had been started as despite regular drive launched by the CAPD and Legal Metrology Department in the city, traders continued to be deceive residents by selling sub-standard commodities or indulging in hoarding.

People await their turn at a ration depot in the RS Pura area of Jammu on Friday. Tribune photo: Inderjeet Singh

Intra Kashmir varsity sports fest from Aug 5
Srinagar, July 18
The first Intra Kashmir University Sports Festival will be organised in the main campus of Kashmir University, Government Women's College on MA Road and the Government College for Women at Nawa Kadal on August 5.
Minister inaugurates 'incomplete' Olympic-size swimming pool
Jammu, July 18
After a gap of more than four years, the only Olympic-size swimming pool of the state has been inaugurated by Raman Bhalla, Minister for Youth Services and Sports, after renovation. Apart from the pool, the other basic infrastructure has not been renovated and made functional on the pool premises.
Release of pending salaries sought
Jammu, July 18
The Jammu and Kashmir Medical Employees Federation (JKMEF) today demanded the release of salaries of 2,211 female multi-purpose health workers (FMPHW) engaged on a contract basis. The health workers have not been paid salaries for the last 18 months by the state government.
Summer theatre workshop ends
Jammu, July 18
In connection with the conclusion of the 20-day-long summer theatre workshop, the Nirvana Academy, a cultural club, organised a function at Pammy Art Academy, Sanjay Nagar.
JU holds extension lecture for faculty
Jammu July 18
An extension lecture was organised by the Directorate of Distance Education (DDE) University of Jammu, for its faculty.
Girl found dead at home in Budgam
Srinagar, July 18
A teenage girl has been found dead under suspicious circumstances at her house in Budgam district of central Kashmir, the police said on Friday.