Bridge over troubled waters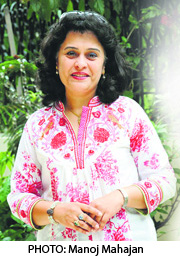 Rashmi Anand, the saviour of women's rights, suffered a decade of domestic violence herself before she took to the pen
While the world stands shell-shocked over the MH 17 tragedy, it is time again to remember our brave heart, Neerja Bhanot — the youngest recipient of India's highest civilian award for bravery, the Ashoka Chakra. Neerja gave up her life trying to save the lives of hundreds of passengers on board a hijacked Pan Am aircraft in 1986. This year's recipient of The Neerja Bhanot Award is Rashmi Anand, who continues to work relentlessly on issues of gender and domestic violence. Before Rashmi emerged as a saviour of women's rights, she herself suffered domestic abuse for 10 long years. But, she didn't come out of it alone; while emerging from the violence, she managed to give strength to hundreds of other sailing through similar high tides.
Star track
At the India Couture Week…
Ace designer Rohit Bal's romance with ivory was the highlight of his show at the India Couture Week. Models sporting traditional ensembles in the milky colour made the collection look subtle and soft. The designer showcased an out-and-out traditional, yet understated line. The women mainly wore bandhgala anarkalis in ivory and gold. Bal, however, brought some colour in men's outfits by opting for hues of pink, red, yellow and blue in sherwanis and turbans. "This is my favourite colour and has always been and that is why the collection has ivory all over. I love it and hence used it for the kind of elegant look I wanted," the designer said.
Just for kicks!
From working as a confidence booster to warding off unwanted layers of fat, kickboxing means different things to different people. Little wonder tricity fitness enthusiasts are lapping it up as the new 'it' thing!
Fitness is a way of life. And, catering to the fast-growing tribe of fitness freaks there are all kinds of workouts being dished out. One in particular is enjoying immense patronage from Chandigarh folks and it happens to be a favourite of celebrities like Chitrangada Singh, Bipasha Basu and Malaika Arora Khan. Even super fit Akshay Kumar and Sunil Shetty love this sport.
THE FOODIES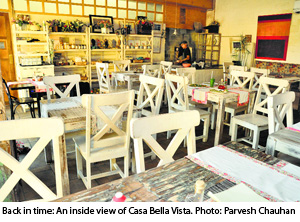 Vegan haven
Casa Bella Vista offers a host of vegetarian dishes that are a treat for the palate
Rummage incites ravage. Handpick any life instance. Try rummaging through pages of a book to find those lines that arouse unworthy emotions. Try rummaging through your fridge in the dim AM lights. Or try, if you fancy, finding a restaurant with no address, no boards and no invites, on a growling stomach — courtesy the old friend, grapevine.
first-day-first show
A murky world
Hate Story 2
Directed by Vishal Pandya and produced by T-Series Films, Hate Story 2, is a Bollywood erotic thriller that stars Surveen Chawla, Jay Bhanushali and Sushant Singh in pivotal roles. It is the sequel to the 2012 hit Hate Story, starring Paoli Dam and Gulshan Devaiya. The film traces the journey of Surveen Chawla, who crosses all boundaries to take revenge on the murderers of her lover. The film delves into the murky world of Mumbai's dirty politics.
Punjabi scope
Can't Katchup at all!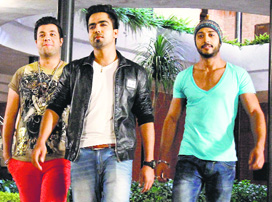 Yuppie…this is the first word that comes to mind after you've understood the basic storyline of the Punjabi film Yaaran Da Katchup! Three friends get together after seven years in Pattaya and a series of events follow. Once you get to know the storyline there is nothing more you will ever come to know, such as why is the director showing the roundabout of Chandigarh when the boys are supposed to dance around in Pattaya?

BEING FRIENDS: Varun Sharma, Hardy Sandhu and Anil Juneja

Retail therapy
Actress Keeya Khanna is not finicky when it comes to shopping. She shops when she is happy and she shops when she is sad
Pink shirt top, floral jeans, a piece of golden jewellery gleaming around her neck and the irresistible pout, Keeya Khanna is all smiles as she pauses for the lensmen at inauguration of the showroom of Shopper's Stop. Oh yes, she is completely at home as she loves fashion. "Fashion for me is about comfort and style. I don't really go by trends. And I love colour," says the actress. "In fact, my taste for fashion keeps changing," she adds after a pause.
Chatter box
Bonding over ice-cream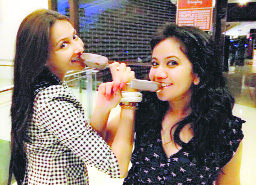 Rishina Kandhari, who is seen as a nurse in The Villain, and Roopal Tyagi, who plays Gunjan in Sapne Suhane Ladakpan Ki, are apparently the best of friends. And, guess what? Both of them happen to have a weakness for ice-cream. Rishina Kandhari says, "Ice-cream is my weakness; I can have them at any given time of the day. If I have good company like Roopal's, then I end up eating even more!" Roopal Tyagi adds, "I am on a diet, but can't control my ice cream cravings.

Sweet Cravings: Rishina Kandhari & (R) Roopal Tyagi
Astro turf
ARIES: Be true to your ideals and don't sell yourself short for money or glamour. Monetary issues can dictate what you need to concentrate on.
The year ahead
If your birthday is July 19...
You'll meet people who will stimulate your creative nature and desire to show others how lively you are. You'll be very extroverted in this period and others will find your happy-go-lucky ways contagious. You'll have no inhibitions in saying what you think. This '1' energy may diminish your ability and desire to handle details, preferring instead to paint with a broader brush.
Master Chef
Spilling the beans
Sprouted beans are a very common ingredient in the food of most East Asians and Southeast Asians. The sprouted beans actually have greater nutritional value than the original moong beans. They also require a very short cooking time and in fact can be eaten raw. Here is a quick recipe of 'sprouted dahi wada', which requires no frying.