At the India Couture Week…
Ace designer Rohit Bal's romance with ivory was the highlight of his show at the India Couture Week. Models sporting traditional ensembles in the milky colour made the collection look subtle and soft. The designer showcased an out-and-out traditional, yet understated line.
The women mainly wore bandhgala anarkalis in ivory and gold. Bal, however, brought some colour in men's outfits by opting for hues of pink, red, yellow and blue in sherwanis and turbans. "This is my favourite colour and has always been and that is why the collection has ivory all over. I love it and hence used it for the kind of elegant look I wanted," the designer said.
Even though some male models sported outfits in different colours, the pale colour stood out in the designer's show. He displayed a monotone, subdued collection, giving the jewellery a chance to stand out, especially long hanging earrings.
The designer said he wanted the jewellery to be noticed as it was a very important part of his line.
When asked about the inspiration behind his no-bling line, he said, "It is simplicity of thought, philosophy and existence. I wanted understated elegance in my collection and I am really happy with the end result." Day three at the fashion week ended with his show last night, which was preceded by designers Monisha Jaising and Varun Bahl's line. Monisha put up her World Bride collection, displaying marriage of contemporary and traditional elements for a bridal look, whereas Varun's India Moderne saw the designer add a modern touch to the Indian wear, with kurtis worn with pants and a special focus on the net work. — PTI
Of new found love
Former Girls Aloud star Cheryl Cole has allegedly told husband Jean-Bernard that he will never have to work again. The 31-year-old singer recently married her French boyfriend of three months in a secret ceremony, and later confirmed that she has officially taken on his surname, reported a publication.
Franck Twister, who is a business partner and close friend of Jean-Bernard, said, "They became inseparable, laughing and joking away like little children. She has a strong accent but he is fluent in English so they have no problem communicating. I could tell that he loved her from the way he acted around her. It was definitely love," he said. Twister went on to claim that the X Factor judge "doesn't want him to carry on working". "He may involved in restaurants and bars but he's never going to do a 9-5 job," he added. — PTI
No touring for Adele
Oscar-winning singer Adele is not planning a world tour in 2015, according to a senior executive at her record label. Martin Mills, chief of Beggars Group, which owns Adele's record label XL, said that there was "no truth" in rumours that the singer would be returning to the live arena next year in support of her forthcoming third studio album. The 26-year-old singer recently teased that her new album will be titled 25, keeping in line with her previous records 19 and 21. A message on the World Music Awards' official Twitter feed had claimed that the award-winning star would take to the road next year in support of the new record. Adele's spokesperson refused to comment on the reports.
The singer has worked with Ryan Tedder for the new collection, with the OneRepublic front man saying "she is sounding even better than ever". It will be the first new material released by Adele since her James Bond theme Skyfall back in October 2012, which won her a Golden Globe, an Academy Award, a Brit Award and a Grammy Award. — PTI
A tell-all on Lady Gaga
Lady Gaga's former assistant Jennifer O'Neill has signed a deal to pen a tell-all book about the musician. O'Neill, who had sued the Poker Face hit maker for $ 393,000 in unpaid wages, is getting $ 1 million from Atria Books. The book will focus on her years with the hit maker, which were from 2009 to 2011, reported a publication.
In 2011, O'Neill sued Gaga for $393,000 in overtime back pay. O'Neill had revealed that she was required to share a bed with Gaga as the singer hated to sleep alone and that meant that she could be woken up in the middle of the night to change the DVD in the player. The suit was settled out of court in October 2013. Terms of the settlement were not disclosed. Gaga, on her part, called Neill "a hood rat" who was trying to get the money that she did not earn. — PTI
Meet Abhay Deol's latest co-star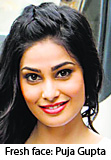 After a mega search for the leading lady opposite Abhay Deol in SNAFU, the makers have zeroed in on Puja Gupta. More than 50 fresh faces were auditioned over 20 days. Each member in the unit used their contacts and connections to contribute to the hunt. The director, Sethu Sriram really liked Puja for the role but had two more names in mind. He discussed the situation with Abhay and in a joint call, Puja Gupta got the highest votes. Puja essays the role of Aaniya, who shares the centerstage with Abhay, closing business deals for him. She is an ambitious corporate high-flyer who hails from a small town and moved to the city of dreams to pursue her career.
After winning the Miss India crown in 2007, Puja made her debut in Bollywood with F.A.L.T.U helmed by Remo D'Souza and most recently she was seen in the rom-com Go Goa Gone. Director Sriram said, "It's a relief that the hunt is over. This role is very critical to the storyline and the girl had to do much more than singing, dancing and looking good. After a lot of deliberations we have decided upon Puja.
Aaniya is an ambitious small town girl so we needed the vulnerability of a small towner along with high glam quotient who would be a head turner. I have auditioned a lot of promising fresh faces and a few upcoming names, some of them were brilliant but Puja fits the bill naturally. With all humility, I want to thank Abhay who helped me in streamlining the process."
The cast has started shooting for the film.
Watch out for Sid
Newbie Sidharth Malhotra is only three films old, yet he has emerged as one of the most successful actors among the new generation of Bollywood actors.
Born and brought up in Delhi, Sidharth came to Mumbai to become an actor. The young actor has no family in Bollywood or backing in the industry. He has made it big in the industry on his own. The actor has been versatile in his choice of roles, genres and production houses.
He says, "I am so happy that my hard work for Ek Villain has paid off. I did not expect to make it so far so soon and I am very grateful and happy for the team's success."
There is a lot of excitement for Sidharth's future projects and people are looking forward to watching more of him on the big screen. What can we say... we have our eyes on him!
Huma Qureshi in Mumbai Saga
Huma Qureshi has bagged the female lead role in Mumbai Saga opposite John Abraham. The movie is directed by Sanjay Gupta and John will play an underworld don in the film.
Island hopping
Ranbir Kapoor flew Katrina Kaif off to another island in France from Corsica for her 31st birthday and returned to their respective shooting locations on July 15.
Not again
John Abraham has aborted his home production project in which he was supposed to play naval officer KM Nanavati because he is doing Soni Razdan's film on the same topic.
Sallu still likes SRK
Salman Khan says that he likes Shah Rukh Khan even though they don't talk to each other or get along anymore. He can't stand people talking ill of SRK. They used to be best friends once upon a time.
Next step
Siddharth Anand's next film after Bang Bang will be a stylish action thriller with Akshay Kumar which the star will also co-produce.
Bang Bang gets ambitious
Bang Bang, the much awaited action entertainer of 2014, will release in three different languages, Hindi, Tamil and Telugu, on October 2. The Hrithik Roshan and Katrina Kaif starrer is being directed by Siddharth Anand. The film promises to be a mix of high voltage action with romance and the sizzling chemistry of the lead pair was clearly visible on the first poster of movie which was unveiled a few days back.
Vijay Singh, CEO, Fox Star Studios, said, "Bang Bang is a true blue entertainer, and we are going to have the widest possible release for the film. We are releasing the film in Hindi, Tamil and Telegu. The buzz on the film is tremendous and we are going out to market and distribute the film day and date worldwide."
Sonakshi in the league
After Abhishek Bachchan, Akshay Kumar and Honey Singh, actress Sonakshi Sinha is the latest Bollywood celebrity to own a team in the World Kabaddi League. The event kickstarts on August 9 in London and will be taken across three continents.
Ranveer rubs Zoya the wrong way
Apparently Zoya Akhtar is not very pleased with Ranveer Singh as he has been talking about his role in Dil Dhadakne Do. He recently briefed his character to media.