always active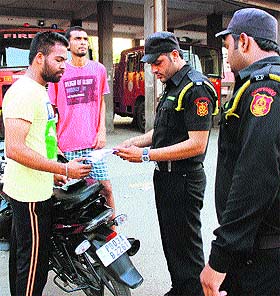 Police check a vehicle at Fire Brigade Chowk in Bathinda on Sunday. photo: vijay kumar
ASI among four booked on charge of murder
Bathinda, July 20
The thermal police have registered a case against four persons, including a property dealer and an Asistant Sub Inspector (ASI) In a youth's murder case that took place in 2012 following the directions of the Punjab and Haryana High Court. The police have started probe into the matter.
Power pangs: Urban power consumers complain more than rural counterparts
Bathinda, July 20
Urban power consumers have been complaining more about the power pangs and cuts than their rural counterparts. While the urban feeders receive up to 300 complaints every day, the number is dismally low for the rural consumers who prefer fixing problems with their own jugaad (innovations).
Excise Dept destroys 125 boxes of liquor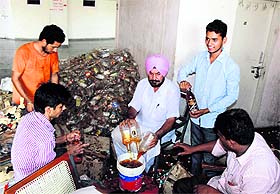 Bathinda, July 20
To destroy the seized liquor, the Excise Department today siphoned off 125 boxes of liquor, containing nearly 9 litres each, in the sewerage pipes in the District Administrative Complex (DAC). It is worth mentioning that some days ago also, the department had destroyed many liquor boxes and dumped them into the sewerage pipes.

Officials of the Excise Department drain out the seized liquor at the District Administrative Complex in Bathinda on Sunday. photo: vijay kumar
Corporation 'wakes up', paints speed-breakers
Bathinda, July 20
The Municipal Corporation Bathinda (MCB) seems to have woken up from the deep slumber and applied a white coat of paint on the recently built speed-breakers in Model Town Phase-I. The speed-breakers were creating trouble for the motorists, especially the two-wheelers, as riders fell off due to lack of any signs on the humps.
Govt Rajindra College 'dependent' on temporary teachers
Bathinda, July 20
Government Rajindra College, which opens its gates to thousands of students every year, is shockingly, highly dependent on its temporary teachers. As per the data available, the number of guest faculty lecturers and part-time teachers is almost equal to that of permanent teachers in the college.
Open House response
Passengers demand surveillance system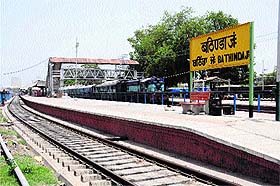 Despite repoted terror threats, Bathinda railway station has an inadequate surveillance system. The metal detector installed at the entry point is a mere showpiece. The platform does not have the required number of CCTV cameras. Some cameras are lying defunct. The authorities have not deployed adequate staff for checking the lady passengers.




A view of Bathinda Railway station. A File Photo
amar nath yatra conflict
Budhlada observes bandh to protest Amarnath clash
Mansa,July 20
A complete bandh was observed in Budhlada town of Mansa district on Sunday to protest against the Jammu and Kashmir government for not taking action against the persons involved in a clash with operators of community kitchen (langar) on the Amarnth yatra route.
Next generation patient-specific knee replacement introduced
Bathinda, July 20
Max Super Speciality Hospital (MSSH), Bathinda has introduced the next generation patient-specific knee replacements, the first in Malwa region on Sunday. The technique requires a patient to have an MRI scan of the affected leg prior to the surgery. Through this scan, a three-dimensional image of the patient's knee is developed. These images are then sent to the knee lab in the USA, where they use a specialised technology to develop patient-specific knee implants, which are delivered to the hospital.
Soft tissue balancing makes knee replacement easier
Mansa, July 20
Soft tissue balancing through computer navigation in total knee replacement (TKR) surgery has revolutionised the lives of patients undergoing knee replacement.
crime briefs
Three held on gambling charges
The Cantonment police have arrested three persons — Jawahar Lal of Dhobiana Basti, Gopal Malhotra of Paras Ram Nagar and Ajay Kumar of Guru Ki Nagari, on charges of gambling. The police recovered Rs 12,540 from them. A case has been registered under the Gambling Act in this regard and all the accused have been released on bail.
Mehta elected president of Residents' Welfare Association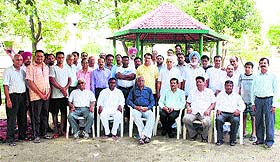 Bathinda, July 20
Raj Kumar Mehra has been unanimously elected as president of the Residents Welfare Association of Vishal Nagar, Phase I, during a general body meeting held at community park on Sunday.



Managing committee of Residents' Welfare Association, Vishal Nagar, Phase I, was elected on Sunday in Bathinda. photo: vijay kumar
Residents to celebrate Teej in different style
Bathinda, July 20
People living in trans-railway line areas are going to celebrate Teej festival using crane machines, instead of trees, to swing at. Artificial rainfall and snowfall would also be made to highlight the importance of disappearing green cover.
No end to mishaps, 8 hurt again in city
Bathinda, July 20
The numbers of road accidents appear to be increasing day-by-day in the city. Today itself, eight persons were reportedly injured in various road mishaps in the city.