District Consumer Forum building in a deplorable condition
Bathinda, July 14

Heaps of garbage are lying close to the boundary wall of the District Consumer Forum building and stray animals can be seen roaming inside the building. With no financial aid from the state government, the forum is operating from a residential building.



The District Consumer Disputes Redressal Forum building in Bathinda. A Tribune photograph
Patients protest transfer of Civil Hospital psychiatrist
Bathinda, July 14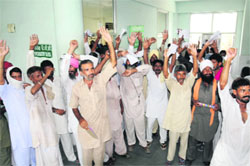 Patients at the Bathinda Civil Hospital protested the transfer of a psychiatrist of the hospital to Ghudda village today. They seemed confused when they reached the office of the CMO, Bathinda, and then suddenly started raising anti-government slogans.




Patients protest at the Civil Hospital in Bathinda on Monday. Tribune photo
NCLP staff sans salaries hold strike
Jalandhar, July 14
Angered at not getting their salaries for the past 18 months , the NCLP staff today began an indefinite strike outside the DC office in Jalandhar.
Roadways employees organise gate rally
Jalandhar, July 14
On the call of protest given Punjab Roadways Joint Action, Punjab Roadways employees of depot I and II today staged a gate rally against Punjab Government's anti-roadways policies.
Students protest withdrawal of fee concession
Bathinda, July 14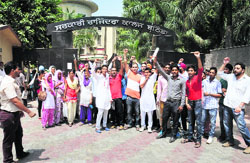 Following the decision of the government to withdraw the fee concession extended to the students belonging to the SC category, representatives of various sections of society staged a protest today.



Members of the Punjab Students Union (Shaheed Randhawa) protest against the government outside Rajindra College in Bathinda on Monday. Tribune photo: Pawan Sharma
Administration starts using EBT system
Bathinda, July 14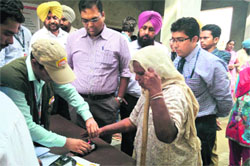 The district administration has started using the electronic biometric transfer (EBT) for disbursement of pensions to retired employees, widows, homeless children and physically challenged persons.




Deputy Commissioner Dr Basant Garg starts the procedure of using the EBT system at Harnam Singh Wala village in Bathinda on Monday. A Tribune photograph
College organises course on computer skills for staff
Bathinda, July 14
University College of Computer Application, Guru Kashi University, Talwandi Sabo, started a short duration course on 'Efficient and Effective Use of Computer' for the university faculty and staff members.
CUP to hold interviews for admissions from July 16
Bathinda, July 14
After announcing the results of the fifth online entrance test held on June 28 on the city campus of Central University of Punjab, Bathinda, along with 11 nationwide centres, the university is now preparing for the final interviews to be held from July 16 onwards.
Heavy vehicles on Bhagu Road trouble commuters
Bathinda, July 14
Heavy traffic flow on Bhagu Road poses a risk to the lives of commuters. The extra rush is due to the district administrations' new move that has diverted the rush of heavy vehicles from the main GT Road towards this narrow road.



Traffic diversions on Bhagu Road near St Joseph's School where heavy vehicles have started plying in Bathinda. Tribune photos
Grant sanctioned for renovation of police stations
Amritsar, July 14
The Police Department has finally taken notice of the deplorable conditions of various police stations falling under the jurisdiction of the city police here. It has sanctioned a grant of Rs 3 lakh to each police station for its repair, renovation and providing basic amenities.
Chauggitti, Noorpur areas report Hep A, diarrhoea cases
Jalandhar, July 14
Following the confirmation of hepatitis A and E cases in the Chauggitti area and various other water-borne diseases in other parts of the city, Deputy Commissioner of Jalandhar, KK Yadav, has ordered an inquiry into the matter.
Woman booked for abetment to suicide
Bathinda, July 14
The police have booked a woman on the charge of abetment to suicide. In a complaint to the police, a resident of Bangi Nihal Singhwala, Gulzar Singh, had stated his son Jagsir Singh was married to Gurmail Kaur, of Akalian Kalan village.
15-year-old held for kidnapping minor girl
Bathinda, July 14
The Bathinda police today held a 15-year-old boy, a resident of Ghuman Kalan village in Mansa district, for kidnapping a 13-year-old girl. The girl is a student of Class VII at Police Public School.