Jaundice cases grip village
Aparna Banerji
Tribune News Service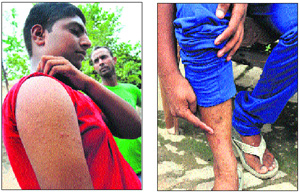 Residents show skin problems they have got due to bad water at Noorpur village in Jalandhar. Tribune photos: Malkiat Singh

Jalandhar, July 25
Months after water-borne disease outbreaks in other areas of the city have spread and died out, a section of Noorpur village in Jalandhar reels under the disease.
The prime cause of the trouble in the village is lack of drainage of used water which, villagers allege, has happened due to the stopping of the drainage pipe by the Akali-backed sarpanch of the village who, they allege, he is peeved because they did not vote for Akalis.
Outbreak
Residents in about 80 houses, spread across four to seven streets in Noorpur village, suffer from jaundice and typhoid and it is only today – after months of raids and inspections in various areas – that health teams made their maiden visits to this ignored section of the district. About 15 to 20 patients (collectively) of jaundice and typhoid were found by health teams today. Many others complain of digestive disorders or persistent fever.
Water sanitation
The two halves of Noorpur village are separated by a road. Villagers living to the right side of the Dhogri Road are the worst affected and allege that the water pipe carrying waste water out of their side of the village has been blocked.
Right at the approach of the village, there is a pond in which all the waste water of the village collects. This pond has turned into a sewage swamp due to the constantly accumulating waste water for the past some years. It is bordered with waste dumps. The problem has now intensified due to the increased height of the drainage pipe. There is no exit left for excess water to be drained out.
As a result, drains of dirty, mosquito infested water now line the streets and homes of the village, clogged up for months.
Ignored
Raiding teams of the Health Department visiting Noorpur some days ago gave a complete miss to this side of the village and reported that there was no case of jaundice at Nooorpur. While villagers had approached the Civil Surgeon Dr RL Bassan on the issue some days ago, no one turned up and it is only after some media report that health teams visited today.
"Even for that, we have been reprimanded. The sarpanch's men came to us this morning and asked us why we were calling the media," said a resident.
Resident Asha's 12-year-old daughter Pallavi, resident Raj's husband Yunus Masih, Pardeep Kumar, Gyan Chand and Amandeep, among others, were found to be suffering from jaundice today.
Paying for water supply
Amandeep said a few years ago the life of his daughter Alisha had also been claimed by the disease. Though politicians promised a compensation of Rs 10,000 back then, till date the money hadn't come. Even water supply arrangements — submersible pumps — were installed through money (over Rs 20,000 each) contributed by villagers themselves. These pumps ensure water supply to four streets of the village.
Resident Sanjeev Kumar said, "We are all daily wagers. Someone does manual labour, another works at a factory. Residents contributed a whopping Rs 1,000 to Rs 1,500 per home to arrange a water pump. Every other person is also afflicted with skin problems."
Sarpanchspeak
Sarpanch Ram Lal termed allegations of any political motive involved in the issue as totally baseless. "For the past 20 years, the village's water sanitation problems have been ignored. I am the only one who has initiated efforts to drain out standing water. I had even got a resolution passed to build a drain by the Dhogri Road to carry out excess water. While a drain for the other side of the village was built, on this side it couldn't be built due to the implementation of the model code of conduct earlier this year. The work on that has started today."
"My aim is to make the pond completely dry and also get a tube-well installed for villagers. Villagers themselves dump polythenes and waste into the drains which adds to clogging. The work on the upcoming drain will be completed in coming 15 days. None of the government grants for development work have arrived either. I would need money to get work completed," he added.
Civil Surgeon Dr RL Bassan said, "I had received a complaint from villagers and it was for the third time that I sent a health team to check the area today. But formerly other residents had been taking teams to their own areas so this area was visited today only. We shall be sending teams again to the area and proper medical assistance shall be provided."
Health teams had told residents today that sampling would also be done from the area in the coming days.
Residents also alleged that the local government (dispensary) doctor at the village had been giving them the same medicine (tablet) for various ailments and they were not being treated properly.
Fact file
Lack of water drainage causes trouble to residents
Residents allege sarpanch ignored them
Sarpanch terms allegations baseless, says he is deeply concerned about sanitation and water supply
Sarpanch says villagers need to keep their surroundings clean