6.5 lakh slum dwellers in J&K
Jammu, August 6
The slum dwellers in Jammu and Kashmir have increased by 2.88 lakh between 2001 and 2011 with the slum population crossing the staggering 6.5 lakh mark, this has been revealed in the Union Urban Development Ministry report.
After BJP state unit's opposition, Shah's visit to Kathua cancelled
Jammu, August 6
The much publicised visit of BJP national president Amit Shah has reportedly been cancelled after the state unit of the party has registered its resentment over allegedly ignoring local leadership while finalising the high-profile visit.
PDP committed to equitable growth of all regions: Mufti
Jammu, August 6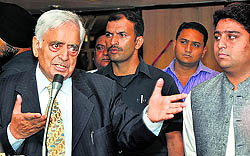 Continuing its efforts to woe the people of Jammu province ahead of the forthcoming Assembly poll in the state, Peoples democratic Party patron Mufti Mohammad Sayeed today said his party would accommodate aspirations of all the regions and sub-regions of the state in its vision document.


PDP patron Mufti Mohammad Sayeed interacts with some prominent citizens of Jammu on Wednesday. Tribune Photo: Inderjeet Singh

Come clean on illegal appointments: Karra to govt
Srinagar, August 6
Senior Peoples Democratic Party (PDP) leader and Member of Parliament Tariq Hameed Karra has asked the state government to come clean on the reports of alleged backdoor and illegal appointments being made in various departments.
Demands of dental surgeons, forestry graduates genuine: AAP
Srinagar, August 6
The Aam Aadmi Party (AAP) has urged the government to address the demands of agitating dental surgeons and forestry graduates without any delay.
Students' union extends support to agitating dental surgeons
Jammu, August 6
The Jammu Joint Student Union (JJSU) extended its support to the agitating Dental Surgeons Assocation (DSA), J&K.
Minority community activists record horrors of brutal killings
Jammu, August 6
It is often said that Kashmir's worst days are behind it, but the painful truth about forgotten massacres in the last two decades still haunts 3.5 lakh displaced Kashmiri Hindus who left the Valley after the start of militancy in 1989-90.
Kashmir not prepared to handle endemic like Ebola, warn docs
Srinagar, August 6
Kashmir being one of the most favourite international tourist destinations, doctors here have warned that the Valley is more vulnerable than any other state to pandemic viruses like Ebola, which has so for claimed more than 900 lives in West Africa and is spreading to other countries as well.
CM inaugurates 200-bed additional block at Lal Ded Hospital
Srinagar, August 6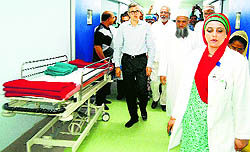 Chief Minister Omar Abdullah today inaugurated 200-bed additional block at Lal Ded Hospital here today. An official statement said the project started in 2008-09 would give boost to healthcare services.


Chief Minister Omar Abdullah along with State Health Minister Taj Mohiuddin inspects a maternity hospital after its inauguration at Hazuri Bagh in Srinagar on Wednesday. PTI

Kashmiri youth's family denies his involvement with ISIS
Srinagar, August 6
In the uptown Jawhar Nagar locality in Srinagar, a business family is concerned about reports stating that their son has joined the Islamic State of Iraq and Syria (ISIS).
Police recovers militant's body in Baramulla district
Srinagar, August 6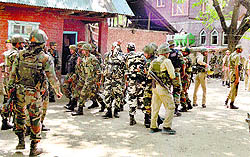 A body of a militant was recovered from a house in north Kashmir's Baramulla district during a search operation today. The police said the slain militant, identified as Mudasir Ahmad Sofi, had snatched the rifle of a policeman in Pattan a few days ago after hitting him with an axe.


Security personnel during a search operation in Baramulla district on Wednesday. A Tribune photograph

Lakhanpur toll post officials 'harassing' industrialists
Jammu, August 6
A meeting of the Bari Brahmana Industries Association (BBIA) was held under the chairmanship of its general secretary to discuss the alleged harassment being faced by the industrialists at the Lakhanpur toll post.
'Charri Mubarak' heads for Amarnath shrine
Srinagar, August 6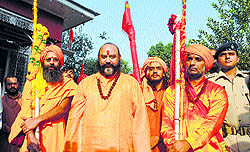 The 'Charri Mubarak (holy mace of Lord Shiva)' started its journey to the cave shrine of Amarnath from the Dashnami Akhara here today. Led by custodian of the mace Mahant Dependra Giri, a group of sadhus started their journey early morning from the Dashnami Akhara.


A group of sadhus, led by Mahant Dependra Giri (centre), carries the 'Charri Mubarak' from Srinagar to the Amarnath shrine on Wednesday. Tribune photo: Amin War

Jammu varsity to make 14th convocation a grand event
Jammu, August 6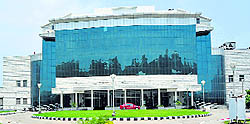 Despite warning of agitation by students of 2006-2012 batches against the University of Jammu (JU) authorities for not inviting them to the 14th convocation of the varsity to be held on September 1, the university authorities are making all out efforts to make the convocation a grand event.
The General Zorawar Singh Auditorium of the University of Jammu, where the convocation will be held on September 1. Tribune photo: Inderjeet Singh

MC seals two buildings
Jammu, August 6
Enforcement staff, led by the Chief Enforcement Officer, of the Jammu Municipal Corporation (JMC) sealed Plot No 31-A, Gandhi Nagar, owned by Sangeet Kapoor, wife of Baldev Kapoor, who was converting the residential building into a commercial one by violating land use rule.
Governor releases book on nanotechnology
Srinagar, August 6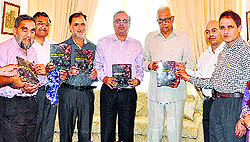 Governor NN Vohra released a book titled "Nanotechnology: The Science of Small" at the Raj Bhawan here today. The book has been written jointly by Shah Mohammad Ashraf, Assistant Professor in the Department of Physics, National Institute of Technology, Srinagar, and KA Shah, Head of Department of Physics at Government Degree College for Women, Anantnag.
Governor NN Vohra at a book release function at the Raj Bhawan in Srinagar on Wednesday. A Tribune photograph

Under Operation Sadbhavana, Army treated 1.78 lakh people in Valley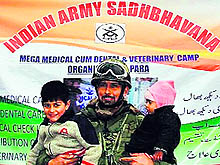 Srinagar, August 6
Under its 'Athrot' programme, which is part of the Operation Sadbhavana, the Army in Kashmir claims to have treated over 1.78 lakh people who visited medical camps organised by the force during the financial year 2013-14. While blaming separatists and militants for the rise in drug addiction in Kashmir, the Army said it had so for treated 106 such cases at its two newly established drug de-addiction centers in Srinagar and Baramulla.
People told not to move near Chenab
Jammu, August 6
The management of the Dulhasti Power Station today cautioned people of Kishtwar, Doda and Ramban districts not to move near the Chenab river from 10 pm on August 8 to August 9 midnight as the gates of the Dulhasti dam will be opened for periodical reservoir flushing.
Guv urges IAS probationers to understand people's issues
Srinagar, August 6
A group of four Indian Administrative Service (IAS) probationers of the 2013 batch, who have been allotted the Jammu and Kashmir Cadre, called on Governor NN Vohra here today.
Drowned student's body recovered from Tawi
Jammu, August 6
Army divers today finally managed to retrieve the body of Class VII student, who got drowned in the Tawi on Monday afternoon, from the Phalian Mandal area.
Girl mauled to death by leopard
Srinagar, August 6
A 12-year-old girl was mauled to death by a leopard, while a bear was shot dead by security forces in separate incidents in Kupwara district of north Kashmir, police and wildlife officials said yesterday.
Woman jumps to death with child in Chenab
Batote, August 6
A woman allegedly committed suicide by jumping into the Chenab along with her two- year-old son at Maitra in Ramban today.
Army saves man from drowning in Rajouri
Jammu, August 6
With timely action by the Army, a man was saved in Rajouri district, while medical aid was provided to victims of an accident on the Surankote-Poonch highway.
Police official arrested for molesting minor
Anantnag, August 6
A police official has been arrested for alleged sexual assault on a 13-year-old girl in Daksum village of Kokernag in south Kashmir's Anantnag district.
Constable arrested for 'molesting' girl
Srinagar, August 6
A police constable was stripped off his clothes and beaten up by locals in the old Srinagar city for allegedly molesting a girl.
First J&K woman cop conquers Mt Menthosa
Srinagar, August 6
Stanzin Youthog, a woman official of the Jammu and Kashmir Armed Police, became the first woman mountaineer from the state to successfully conquer 6,443-m-high Mount Menthosa in Lahaul and Spiti, Himachal Pradesh.
Mountaineering expedition flagged off
Jammu, August 6
The GOC of the Nagrota-based White Knight Corps, Lt Gen KH Singh, today flagged off a mountaineering expedition of the Ace of Spades Division to the 6,240 metres tall Mount Zago Kangdi in the Siachen glacier region from Nowshera in Rajouri district.