Unplanned development goes on unabated at Jammu varsity
Jammu, August 7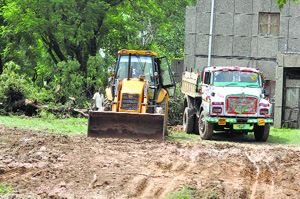 In a sharp contrast to its resolve to construct multi-storey buildings to deal with the problem of shrinking space on the campus, unplanned development goes on unabated in the University of Jammu. The new in the series is that the upcoming centre for IT-enabled services and management in front of the Chemistry Department, that too, on a congested place which will only give a scruffy look to the existing structures.

A JCB and a truck at the construction site on the campus of the University of Jammu. Tribune photo: Anand Sharma

Navodaya Vidyalaya Samiti mulls panel inspection system
Jammu, August 7
In a bid to ensure proper supervision and monitoring of activity of Jawahar Navodaya Vidyalayas (JNVs), the Navodaya Vidyalaya Samiti (NVS) in its Perspective Academic Planning 2014-15 has mooted a system of the panel inspection of every Jawahar Navodaya Vidyalaya to achieve the same.
Cong veteran Karan Singh's elder son to join PDP today
Jammu, August 7


Vikramaditya Singh, elder son of veteran Congress leader Karan Singh, is all set to join the Peoples Democratic Party (PDP) on Friday. PDP patron Mufti Mohammad Sayeed and president Mehbooba Mufti would be present at the function in which Vikramaditya, grandson of last Dogra ruler Maharaja Hari Singh, will be formally inducted into the party.

Vikramaditya Singh

'State must step in to improve inter-department coordination'
Jammu, August 7
After claiming lack of coordination between the Jammu Municipal Corporation (JMC), Jammu Development Authority (JDA), District Development Board (DDB) and Town Planning Organisation, the Ministry of Urban Development in its report has stressed on state-level interventions to improve the coordination between these departments.
New hope in offing for 14,000 underprivileged children

Srinagar, August 7
Finance Minister Abdul Rahim Rather on Thursday launched a support programme for underprivileged children funded jointly by the Jammu and Kashmir Bank and the Punjab National Bank (PNB) MetLife India.

Finance Minister Abdul Rahim Rather with Jammu and Kashmir Bank chairman-cum-CEO Mushtaq Ahmed and senior officers of PNB MetLife India at the launch of a scheme to improve education, in Srinagar on Thursday. Tribune photo: Amin War

Harsh Dev flays govt for 'total collapse' of Central scheme
Jammu, August 7
The Jammu and Kashmir National Panthers Party (JKNPP) today flayed the coalition government for "total collapse" of the Rashtriya Madhyamik Shiksha Abhiyan (RMSA) in the state and depriving millions of eligible students of the benefits envisaged under the flagship scheme.
Social Welfare Department prepares draft Act on autism
Srinagar, August 7
The Social Welfare Department has prepared a draft Act on autism, which has been sent to the Law Department for presentation in the state Assembly. This was informed by Mohammed Shafi Rather, Commissioner for Persons with Disabilities and Commissioner/Secretary to Government, Social Welfare Department, during the inaugural ceremony of a three-day workshop on autism and child and adolescent psychiatry here today.
No fiscal crisis: Finance Minister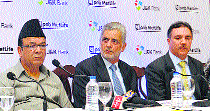 Srinagar, August 7
Breaking his silence on the issue of a fiscal difficulties, Finance Minister Abdul Rahim Rather on Thursday dismissed the claim that the state had been facing a financial crisis due to delay by the Centre in approving the state's annual plan.

Finance Minister Abdul Rahim Rather addresses a press conference in Srinagar on Thursday. Tribune Photo: Amin War

BJP looks to Gujjars for support
Jammu, August 7
With its eyes firm on the target of "44 plus", the BJP has decided to focus on the ethnic groups of Gujjars and Shias in the state to make inroads into the Muslim majority areas of Jammu and Kashmir.
'Abused' by minister, PHE chief engineer resigns
Srinagar, August 7
A Chief Engineer has resigned after reportedly being abused by senior minister Muhammad Ramazan Choudhry during a review meeting in Srinagar on Thursday.
Pulwama college being run from under construction building
Pulwama, August 7
Administration apathy has forced Government College for Women, Pulwama, to operate from an under construction building. The college runs from a single shabby room of an under-construction building. The students alleged that besides shabby classroom, their studies were also being affected by noise originating from the machinery being used in the construction work.
Assembly website to have speeches of Geelani, Lone
Srinagar, August 7
The Legislative Assembly's official website will host speeches of prominent separatist leaders from the Valley, including Syed Ali Shah Geelani and Abdul Gani Lone, during their tenures as Members of Legislative Assembly.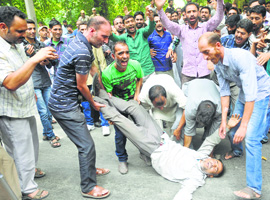 Cops lathicharge, detain protesting PHE employees
Srinagar, August 7
Employees of the Public Health Engineering (PHE) Department were lathicharged by the police here today and lodged in the Kothi Bagh police station, as they tried to march towards the Chief Minister's residence on Gupkar Road, Srinagar.


Public Health Engineering Department employees help an injured colleague during a protest in Srinagar on Thursday. Tribune photo: Amin War

Search operation near LoC continues
Srinagar/Kupwara, August 7
The massive search and combing operation along the Line of Control (LoC) in the Tangdhar sector of frontier Kupwara district continued for the second day today.
Karra seeks direct flights to Jeddah, Dubai from Srinagar
Srinagar, August 7
Senior Peoples Democratic Party (PDP) leader and Member of Parliament Tariq Hameed Karra has sought direct Air India flights from Srinagar to Jeddah and Srinagar to Dubai.
Companies supply 'substandard' bread at higher price
Jammu, August 7
With the Consumer Affairs and Public Distribution Department (CAPD) remaining in "slumber", bread companies continue to play with the health of the people by supplying substandard breads and that too on exorbitant rates.
Sikh body urges govt to hold gurdwara panel elections
Srinagar, August 7
The Sikh community in Jammu and Kashmir has urged the government to conduct Gurdwara Parbandhak Committee elections across the state. The All Parties Sikh Coordination Committee (APSCC), Jammu and Kashmir, in a statement here asked the state government to "wake up from the slumber and conduct elections for the Gurudwara Parbandhak Committees across the state".
Omar inaugurates three power receiving stations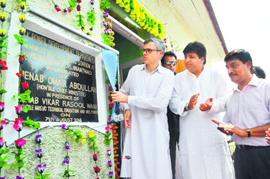 Srinagar, August 7
Chief Minister Omar Abdullah on Thursday inaugurated three electricity receiving stations in south Kashmir as part of a programme launched by the government to upgrade the power distribution and supply system in the state. "The Chief Minister inaugurated three power receiving stations at Dandipora and Marhama in Anantnag and Khallen in Pulwama districts of south Kashmir.

Chief Minister Omar Abdullah inaugurates an electricity receiving station at Marhama in Anantnag district of south Kashmir on Thursday. Tribune photo: Amin War

Residents protest against power dept
Jammu, August 7
Miffed over the alleged failure of the Power Development Department (PDD), residents of the Gadigarh area today staged a protest against the department by blocking the Satwari-RS Pura road here.

A traffic jam on the Satwari-RS Pura road due to a protest by Gadigarh residents in Jammu on Thursday. Tribune photo: Inderjeet Singh

ReT teachers protest delay in disbursement of dues
Srinagar, August 7
Rehbar-e-Taleem teachers in the Devsar area of south Kashmir's Kulgam district today protested the delay in disbursement of their salaries by the Education Department.
Muttahida Mahaz urges India, Pak to reduce defence spending
Srinagar, August 7
The Awami Muttahida Mahaz (AMM), an amalgam of several mainstream political parties, today urged both India and Pakistan to stop spending billions of rupees on arms and instead speed up the efforts for improving bilateral ties and addressing the Kashmir issue.
No respite from heat in Kashmir
Srinagar, August 7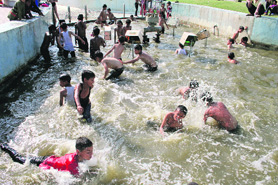 With no let up in scorching heat across Kashmir, residents are finding it difficult to cope up with the prevailing weather conditions. Officials of the weather department also said there would be no let up in the prevailing heat wave Kashmir in the coming days. However, the temperature will gradually start decreasing from the second week of this month.

Children take a dip in a fountain for some relief from the heat in Srinagar. Photo: Yawar Kabli

Science exhibition begins
Jammu, August 7
A two-day-long 4th district-level Science Exhibition-2014 under the Innovation in Science Pursuit for Inspired Research (INSPIRE) Award Scheme of the Government of India, Ministry of Science and Technology, got underway at Government Girls Higher Secondary School, Shastri Nagar, here today. As many as 130 science models from Jammu district and 11 science models from Udhampur are being displayed at the exhibition, which is being organised by the District Institute of Education and Trainings (DIET), Jammu. Earlier, Joint Director, Elementary Education, Directorate of School Education (DSE), Jammu, Saif Ali inaugurated the exhibition. He inspected the science models displayed by the students and appreciated their scientific skill. Speaking on the occasion, Saif impressed upon the students to develop scientific temper for progress and prosperity of the country in the present era of science and technology. TNS
Schoolteachers meet Guv
Srinagar, August 7
A delegation of the teachers and other staff members of two Kashmir University primary schools at Anchar Soura and Shanpora Habak led by Maroof Hussain called on Governor NN Vohra, Chancellor of Kashmir University, here on Thursday. Both these schools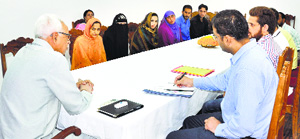 were established by the Kashmir University Alumni Association more than a decade ago. The delegation apprised the Governor of the uncertainty of their tenures and the hardships being faced by them. The Governor assured the delegation that their grievances would be taken up with the Vice Chancellor. TNS

Governor NN Vohra with a delegation of the staff of two Kashmir University primary schools at Raj Bhawan in Srinagar on Thursday. A Tribune photograph

Security man succumbs to injuries
Srinagar, August 7
An ex-serviceman working as security guard at a hospital who was wounded in a suspected militant attack last week succumbed to his injuries in a Srinagar hospital on Thursday. Nazir Ahmad Shah of Kupwara district, who was working as inspector with a private security firm at Shri Maharaja Hari Singh Hospital, was shot at from point-blank range on July 31 while he was purchasing medicines from a shop outside the hospital. "Shah succumbed to his injuries," a hospital official said. No militant outfit had owned responsibility for the attack on the security guard so far. TNS
Omar tells youth to shun violence
Srinagar, August 7
Chief Minister Omar Abdullah has exhorted the youth to shun the path of violence and adopt peaceful ways of expressing their resentment against the government as violence during the past over two decades led to destruction. "The path of violence leads to destruction and devastation. Shun the path of violence and instead choose other means to register protest and fight for rights," Omar told the youth yesterday. He was talking to mediapersons after inaugurating a building complex of the Lal Ded Maternity Hospital. He said militancy led to heavy damage and destruction for more than two decades. TNS
Ghazi Ghulam Nabi calls on Governor
Srinagar, August 7
Noted poet and writer Ghazi Ghulam Nabi called on Governor NN Vohra here on Thursday. Nabi presented to the Governor a copy of the revised edition of "Phool Khila Kashmir Ka", a volume of his poems. The poems are on universal brotherhood and communal harmony. Nabi also discussed with the Governor the need for intellectuals to play a larger role in fostering peace and harmony in the state. The Governor complimented Nabi for writing a meaningful volume of poems and appreciated his serious concern for the maintenance of peace and harmony. TNS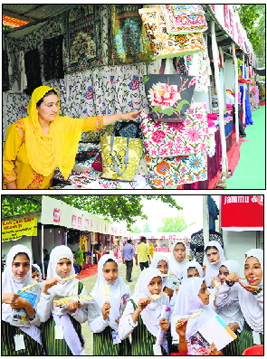 Colourful Extravaganza: (Top) A woman adjusts handicraft items; and (below) a group of children enjoy ice-cream during a handloom and handicraft exhibition-cum-sale in Srinagar on Thursday. More than 40 stalls of various crafts have been set up by the Jammu and Kashmir Women's Development Corporation. It aims to provide opportunity to the Self-Help Group unit holders mostly comprising women to showcase and market their products tribune Photos: Yawar Kabli

Show-cause notice for NC ex-MP
Srinagar August 7
The National Conference (NC) has issued a show-cause notice to former MP Abdul Rashid Shaheen for issuing "baseless and unacceptable" statements against the party leadership. It has given Shaheen a week to respond and clarify his stand, failing which strict disciplinary action will be initiated against the former MP. NC provincial president Nasir Aslam Wani said in a press note that the rank and file of the party were united under the leadership of party president Farooq Abdullah and working president Omar Abdullah. He said Shaheen's utterances were figments of his imagination and could perhaps have been motivated by personal ambitions and interests. TNS
Minor fire in Directorate of School Education
Srinagar, August 7
The Director, School Education, Kashmir, has constituted a departmental inquiry committee headed by Joint Director (EE) to inquire into the fire incident that broke out in some sections of the Directorate of School Education, Kashmir office, here today. The committee has been directed to submit its report within a week. The Director School Education also informed the police after the incident for investigating the matter. The Director, School Education, has clarified that the entire record of the Directorate office is safe. TNS
Vohra apprised of problems faced by B.Ed colleges
Srinagar, August 7
A deputation of the Association of Recognised Private B.Ed. Colleges led by RS Chib called on Governor NN Vohra here yesterday. The deputation apprised the Governor of the pressing difficulties that were being faced by the private B.Ed. colleges in the Jammu region. After hearing the deputation, the Governor observed that an urgent report would be asked for from the University of Jammu. The deputation included M.S. Katoch, Kamal Gupta, Ankush Mahajan, Sanjay Mahajan, Rahul Kapoor and Parmesh Mahajan. — TNS
92.7 Big FM conducts singing contest
Jammu, August 7
The 92.7 Big FM conducted city finals of the Benadryl Big Golden Voice Season-2 today at Government College for Women, Gandhi Nagar Auditorium. Dr Kiran Bakshi, Principal of the college, was the chief guest. Vikrant Sharma, programming head, 92.7 Big FM, was also present on the occasion. Seven shortlisted contestants exhibited their talent of singing before the audience. They were judged by the veteran singers of Jammu namely Suraj Singh and Jatinder Kaur. The hosts of the city finale were RJ Manas and RJ Sarang. — TNS
Ghulam Ahmad Bhat calls on Guv
Srinagar, August 7
Social activists Ghulam Ahmad Bhat (a Kabir Purasakar awardee) and Mir Audil Farooq called on the Governor NN Vohra here today. Bhat and Mir apprised the Governor of the problems faced by residents of Srinagar and Budgam districts such as poor maintenance of road network and erratic power supply. — TNS