Not just for a kick
Celebrated author Chetan Bhagat calls himself a people's person, who catches the pulse of youth by being with them. His latest screenplay for blockbuster Kick has proved his Midas touch once more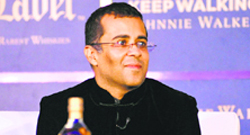 He's changed what and the way young India reads. If imitation was the best form of flattery, he would certainly walk away with most flattered award as he has spawned not only host of clones but almost a production line of stories set in IITs and IIMs. Chetan Bhagat, the million copy writer, has several reasons to be kicked and keep his readers kicking. But right now it's the flick Kick that ought to give him the adrenaline rush. Nah, the blockbuster that is all set to enter the ~200 crore club, is not based on one of his books.
Curiosity empowered this cat!
Ankit Fadia has truly been a geek on the loose. The teen, who broke into his girlfriend's hotmail account, has travelled miles ahead. Far enough to have 100 countries, a Stanford degree, 16 books find space in his resume. While the terms ethical hacker, an author, a computer security consultant keep pushing grounds for identity.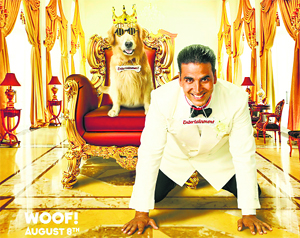 first-day-first show
Low on entertainment
Directed by debutant duo Sajid-Farhad, the film Entertainment, is a Bollywood slapstick comedy starring Akshay Kumar and Tamannaah Bhatia. The film has been produced by Ramesh S Taurani of Tips Industries Ltd.
Nothing great
Entertainment is an important factor for the success of a Bollywood film, but not the only factor.

A still from Entertainment

punjabi scope
A perky affair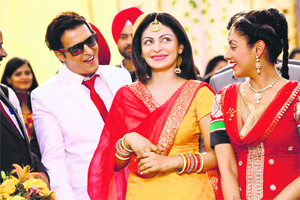 Film: Aa Gaye Munde UK De
Director: Manmohan Singh
Cast: Jimmy Shergill, Neeru Bajwa, Gurpreet Ghuggi, Rana Ranbir, Binnu Dhillon, Om Puri, Guggu Gill, Navneet Nishan, Khusboo Grewal
Rating: ***
There are certain things that you must know about this film. One, Aa Gaye Munde UK De (AGMUD) has been directed by a man who revived Punjabi cinema — Manmohan Singh.
GOOD FUN: A still from Aa Gaye Munde UK De

Reaching out
It's not just the actors and directors, Bollywood distributors too are now looking towards Punjabi cinema. Latest Punjabi flick Phir Aa Gye Munde UK De is venturing into a new territory.
it's rocking
A real dawat
Sung by Sonu Nigam, Shreya Ghoshal and Keerthi Sagathia, the song Mannat from the film Dawat-e-Ishq is a dawat for all those of you who are die-hard romantics. While Sajid & Wajid have given the music of the song, its lyrics have been penned by Kausar Munir. The song has also become the new romantic anthem. Here's what Chandigarh folks have to say.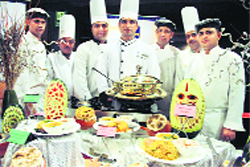 Dum mast mast!
Innovation is the key; if your curious mind leads you to trace beloved biryani's inception, chances are you'd stumble upon theories of Turkish invaders introducing Pilaf to India, and we, doing what we know best, localised the flavours and called it biryani, deriving it from the Persian word 'beryan' (roasted).
mouth watering: The team of chefs at Best Western Maryland

Palate for art
Nothing comes close to good food and great music. Taking a cue, Oregano at JW Marriott, in collaboration with Artfile, presents Soulful Saturdays, an all-new take or rather an artistic addition to the Italian dining experience. "They say that aroma heightens the senses and flavour of the food. We believe that food, music and art put together in a coherent way does volumes to the dining experience," Manmeet Singh Sehgal, director, JW Marriott, explains the concept that has tested waters with a couple of performers already.
Taste & tell
From experimental measures popping up as the dish of the day to largely attended ball room events, food festivals have come a long way. Long enough to have done travelling through the familiar terrains of Kashmir, Hyderabad, Awadh or Rajasthan. If there's a comfort in the familiar, there's a kick in the unfamiliar.
Hyatt Regency, Ludhiana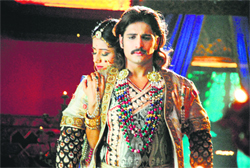 CHATTER BOX
300 up for Jodha Akbar
Zee TV's hit historical show Jodha Akbar, which stars Rajat Tokas and Paridhi Sharma, celebrated the completion of 300 episodes recently. The cast and crew, many of whom stay in Karjat where the shoot takes place, feel the hardwork has been worth it.

history revisted: A still from Jodha Akbar

The year ahead
If your birthday is August 9...
Astro Turf
ARIES: The need is to be vigilant, as someone at office might try to harm your interest or reputation. Call friends you haven't seen for a long time. Drive carefully, especially two wheelers.