M A I N N E W S
Congress, Akali Dal share honours in Punjab
Sarbjit Dhaliwal
Tribune News Service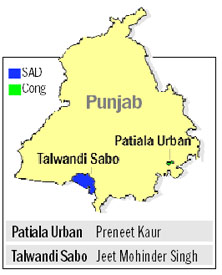 Chandigarh, August 25
There were no big surprises in the Patiala and Talwandi Sabo by-poll results for which were declared today. These were on the expected lines. However, the results saw complete marginalization of the Aam Aadmi Party (AAP) in these by-elections and the victory margin of SAD candidate Jeet Mohinder Singh in Talwandi Sabo.
Congress nominee Preneet Kaur won Patiala seat, a party bastion for the past five decades, while SADís Jeet Mohinder Singh retained the Talwandi Sabo seat.
Earlier, as a Congress candidate Capt Amarinder Singh, husband of Preneet Kaur, had won from Patiala three times in a row. This time the seat has gone to his wife. Jeet Mohinder retained the Talwandi Saho seat from where he was elected thrice earlier. But he had won earlier as a Congress candidate. This time he won as a SAD nominee. His victory margin of more than 46,000 votes has stunned the Punjab Pradesh Congress leadership which worked tirelessly, hoping to make the poll battle tough for him.


We are for clean politics and do not want to win elections by using money and muscle power. We will continue to fight our own way to cleanse the Punjab politics and will never use foul means to win elections. ó HS Phoolka, AAP leader
---
The SADís Hindu card failed to achieve the desired result in Patiala. After suffering defeats in Patiala, the SAD had this time nominated Bhagwan Dass Juneja, a Hindu candidate. He had a solid background as a social worker. However, the strategy failed to click. What should cause worry to the SAD leadership is that it has lost ground in urban areas.
In the Lok Sabha elections, the SAD and its ally BJP suffered defeats in Amritsar, Jalandhar, Ludhiana and Patiala. The party also lost Assembly by-poll in Patiala.
Aam Aadmi Party (AAP) suffered a big setback in Patiala as well as in Talwandi Sabo. In fact, no one had expected that the AAPís popularity graph will come down so much so soon.
In the LS polls, AAPís Dharmvir Gandhi, who was elected MP, had got 35,674 votes in this Assembly segment leaving behind SADís LS candidate Deepinder Singh Dhillon. In this by-poll, the AAP candidate polled a little more than 5,700 votes and lost his security deposit. AAPís top leaders, including Arvind Kejriwal, had campaigned in Patiala. Preneet Kaur has vastly improved her vote share. She got nearly 12,000 more votes this time compared to she got in the Lok Sabha elections. Even Akali Dal has improved its vote share by more than 13,000 votes compared to the parliamentary elections.
In Talwandi Sabo, AAP finished poor third and its candidate Baljinder Kaur got 13,899 votes. Even if the votes of AAPís rebel candidate Balkar Singhís are added to the votes secured by Baljinder Kaur, the figure comes close to 20,000.
The by-poll results are a setback for PPC chief Partap Singh Bajwa and PPP leader and Congress ally Manpreet Singh Badal. Bajwa stayed in Talwandi Sabo to lead the campaign. However, the party has suffered one of the worst defeats there. Capt Amarinder Singh proved his might by comprehensively defeating SAD in Patiala city.