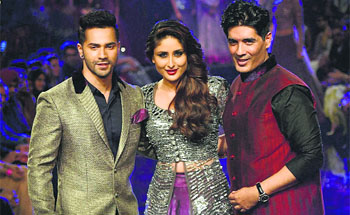 A lasting impression
As this edition of the Lakme Fashion Week wraps up, we give you a ring-side view as what made a new entry on the ramp and what took a backseat. And, also who were better than the best this season.



(L-R) Varun Dhawan, Kareena Kapoor Khan and Manish Malhotra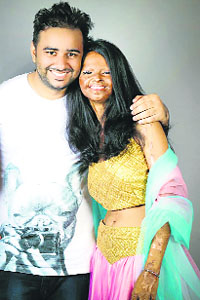 Beyond beauty
"'You don't look good. Cover your face!' I had to change that. I had to make the world not identify their face with sadness." Rahul Saharan, a 24-year-old freelance photographer from Delhi, has been working with the NGO, Chaaon, for the past two-and-half years, but says his moment of reckoning came only on the fourth of August this year. The freelance fashion photographer conducted a photo shoot for five acid attack victims—Rupa, Ritu, Sonam, Laxmi and Chanchal—giving these girls a brand new shot at confidence.







finding meaning: Rahul Saharan and Laxmi

Book in advance
The torturous weather cannot be reason enough to curtail dispersal of knowledge.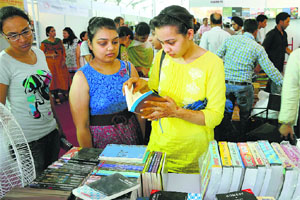 Or so it seems at the first edition of Panjab University Book Fair 2014. Organised by AC Joshi Library, Panjab University, the five-day book fair features a total of 40 publishers from India and abroad, including Modern Publishers from Jalandhar, Karger Publishers from Switzerland (featuring books on human biology, amongst others), S Chand Publishers, Cambridge University Press and Ahmadia Muslim Jama from Delhi, which stood out amongst the rest for its collection of books on Islam and Muslim teachings.
Students at the Panjab University Book Fair

Take one
My Dream Academy opened doors of its new premises for its students and other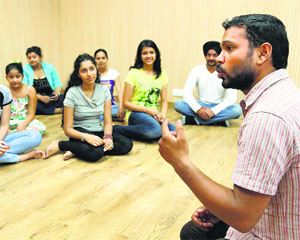 participants for a fun-filled Superb Saturday — an acting and expression workshop. The workshop was conducted by theatreperson and actor Chakresh Kumar. Kumar was accompanied by the team from his theatre group - Alankaar Group. Kumar is also one of the faculty members at My Dream Academy. The workshop saw the students enjoy a series of exercises and fun games aimed at sensitising the participants to the art of expression, creativity and explore one's body as well as self-image. The aim was also to expose them to the elements of acting in an interactive manner.
Avid participants at the My Dream Academy

Par Excellence
Drills to improve putting
Putting is a part of the game where the mind plays a huge role. The brain has two sides - the left which deals with logic, sequential thinking etc and the right side, which creates intuition, imagination, orientation in space and feel. The right side of the brain has a more important role in both short game and putting. Drills help in improving the performance of the right side of the brain. Practice can be divided into two methods - block and random. Block practice is putting a lot of balls in one place and making the same shot or putt. This is required when one is changing one's stroke or swing. Random practice is not hitting consecutive balls to the same target. Random practice is very important in putting. This is because every putt requires visualization before the stroke, which random practice creates.
GET PHYSICAL

Chisel your look
Everyone wants to look lean and have a perfectly shaped body. Little fat in the face or neck can also make one look fat. Therefore, a visible collarbone can craft to the attractive look. Excess fat in the neck is generally associated with excess fat throughout the rest of the body. In order to get rid of this fat, overall body fat reduction is a must. Besides wearing deep neck tops, one can also hide face fat by working on the collar bone. Here are some cardiovascular exercises and strength training exercises that target the muscles that sit above the collarbone.
green thumb


Pestering issue
Why to discuss insects now at this time when the plants are putting forth new growth and getting a new lease of life? Well, this is the time for insects too to be active as feeders and breeders as plenty of food is around. It is nature. Be very vigilant and take proper measures to keep them at bay lest they should feed on your plants and you lose not only a season, but fruits of your hardwork.
star track
The winsome trio
Beyonce, Miley Cyrus and Katy Perry ruled the 2014 MTV Video Music Awards, by picking up the biggest honours, including Michael Jackson Video Vanguard award, Best Video and Best Female Video, respectively.



Emraan goes international


A befitting reply


Depp is Ali's inspiration


On a positive note


Benevolent Priyanka


Special screening


Selfie fever


Attenborough brought Gandhiji alive, say Indian celebs
chatter box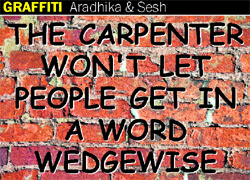 Nalini awestruck by Khiladi Kumar
Actress Nalini Negi, who is seen in television show Laut Aau Trisha, recently met the ultimate Khiladi of the Hindi film industry, Akshay Kumar, and was awestruck.



A long innings


Boys will be boys!


Meeting the Almighty!


Of real substance