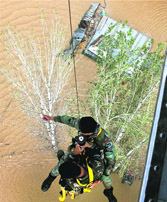 125 choppers, aircraft engaged in relief and rescue operations
Jammu, September 10
Over 125 helicopters and aircraft have been pressed into service by the Indian Air Force (IAF) to evacuate people across the flood-hit Jammu and Kashmir and provide food material to the cut-off areas of the state under the operation 'Rahat-II'. This is one of the biggest rescue operations launched by the Air Force, Air Commodore PE Patange, Air Officer Commanding, Air Force Station, Jammu, told The Tribune.

IAF men carry out winching operation to rescue flood-hit people in Srinagar on Wednesday. — PTI


SPECIAL PHOTO FEATURE
When paradise turned into hell and became a Valley of tears
The fury of floods caused unprecedented damage in Jammu and Kashmir leaving behind a trail of death and sorrow. These photographs capture the misery and the human tragedy that has beset the locals and tourists alike as armed forces provide some succour
'Nothing but death was in front of us'
Jammu, September 10
It was 10 in the night when water gradually submerged a part of the hotel where we six colleagues were putting up. As the water started touching windows of our rooms, we decided to jump as there was no other option.
World's largest copter Mi-26 joins rescue operations
Chandigarh, Sept 10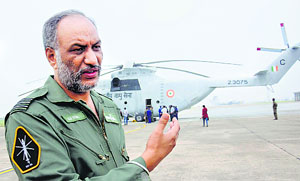 The IAF today employed the world's largest helicopter, Mi-26, for the ongoing flood relief operations in Jammu and Kashmir, with the first sortie this morning from Chandigarh to Awantipora, near Srinagar. With its ability to carry massive payloads, the Mi-26 will be employed in a strategic role to position heavy loads like hospital containers, generators, pre-fabricated bridges and construction material in inaccessible areas.

Commanding Officer of the 126 Helicopter Flight Group Captian GS Tung before proceeding with the Mi-26 chopper to Awantipora for flood relief operations. Tribune photo: Manoj Mahajan

Volunteers use plastic drums, tyre tubes to rescue people

Srinagar, September 10
While all focus is on rescue and relief operations launched by the Army, the Indian Air Force and the National Disaster Response Force, local volunteers have also stepped up their efforts to rescue people by using innovative and improvised methods.

A Kashmiri man carries drinking water on a boat in Srinagar on Wednesday. REUTERS

Left without food and shelter, Dalit family rues govt apathy
Lalyal, September 10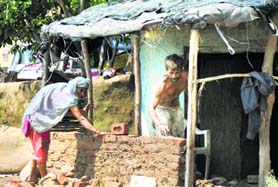 Devastated by the deluge, the family of Balbir Chand, a landless Dalit peasant, is facing possible starvation in the absence of any help from the government. "We have nothing to feed our children. Some kilograms of ration which we had stored in our hut was washed away in the flood," Balbir said while pointing towards his collapsed house.

Devastated by deluge, a Dalit family tries to pick up threads of life in Barjala village of Jammu without any 'support' from the government. Tribune Photo: Inderjeet Singh

Fresh landslides damage 100 more houses in Panchari
Panchari (Udhampur), Sept 10
The National Disaster Response Force (NDRF) and the Army personnel continued the search for 38 bodies buried under debris in the Panchari tehsil of Udhampur, even as more than 100 houses were damaged in the fresh landslides in the area.
Chief Justice Kumar reaches Jammu after 3 days of trauma
Jammu, September 10 Chief Justice of the Jammu and Kashmir High Court Justice MM Kumar today said he was "emotionally disturbed" to see the devastation triggered by floods that has so far claimed more than 200 human lives and rendered thousands homeless. He, however, lauded the relief and rescue operation launched by the Army and other agencies in Kashmir and prayed for the safety of all those trapped in flood waters.
Jammu farm varsity suffers huge losses due to flash floods
Jammu, September 10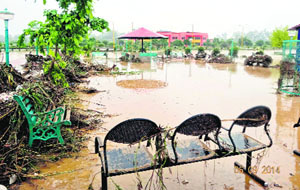 Following extensive loss to buildings, infrastructure and other property due to the recent flash floods, the Sher-e-Kashmir University of Agricultural Sciences and Technology, Jammu, has suspended its classwork till September 14. Pradeep K Sharma, Vice Chancellor, SKUAST-J, said the flash floods on the intervening night of September 5 and 6 created havoc and caused huge losses to the SKUAST-J.

Floods have caused huge losses to the Sher-e-Kashmir University of Agricultural Sciences and Technology, Jammu. A Tribune photograph

Centre approves Pakal Dul hydroelectric project in J&K
New Delhi, September 10
In a major boost to the power generation in Jammu and Kashmir, the Centre today gave its consent for the construction of the 1000 MW Pakal Dul Hydroelectric Project at an estimated cost of Rs 8112.12 crore in the state.
3 militants killed in Keran sector
Srinagar, September 10
Three unidentified militants, believed to be Pakistani nationals, were killed while trying to sneak into the Indian side in the frontier Kupwara district early today, even as the Army continued the rescue and relief operation in the flood-ravaged Valley.
Rising heart attacks among youth linked to childhood stress: Study
Jammu, September 10
A latest analytical report for public use on risk factors for heart disease prepared by Dr BB Chanana, senior interventional cardiologist and HoD, Cardiology, at Maharaja Agrasen Hospital, Delhi, said heart attack in young people was rising and was a matter of concern because it was linked directly to stress in childhood.
Panchayat body lauds Centre, Army's role
Jammu, September 10
The All Jammu and Kashmir Panchayat Conference (AJKPC), a frontal organisation of elected panches and sarpanches of the state, has appreciated the role of Prime Minister Narendra Modi led Union government in providing relief and rehabilitation to the flood-affected people of the state.
Airtel restores network in flood-hit J&K
Chandigarh, September 10
Airtel network has been restored in many critical areas across the state, including Jammu, Kargil, Ladakh and Leh. Inter-operator roaming has been configured thus allowing customers to make calls by latching onto other networks in areas where Airtel network is yet to be restored. Airtel has set up free calling stations at various relief camps across J&K. Free Talk Time worth 50 minutes has been credited to all Airtel mobile customers in Kashmir. This will help customers latch on to the network and make calls to their near and dear ones as connectivity is gradually restored. Mobile phone charging stations are being made available at tower sites restored. This will help people recharge their handsets, specifically in areas suffering from power outage. TNS
Badminton trials from September 16
Jammu, September 10
The Jammu & Kashmir Badminton Association is going to conduct selection trials from September 16 to 18 at the Police Badminton Hall, Police Lines, Jammu. The trials will be conducted to select the state team for the upcoming North Zone Inter-State Badminton Championship slated to be held at Jalandhar (Punjab) from September 23 to 25. The shuttlers are directed to report at the venue of the trials on September 16 at 8 am sharp to Balbir Jamwal, secretary, Jammu District Badminton Association, and Sat Pal Sharma, badminton coach. The state teams for men, women, boys (U/19) and girls (U/19) will be selected mainly on the performance of shuttlers in the above said trials. TNS
Jammu varsity postpones all inter-college tourneys
Jammu, September 10
The Directorate of Sports and Physical Education, University of Jammu (JU), has postponed all inter-collegiate tournaments till September 20 on the request of the physical directors/PTIs/assistant PTIs/teacher in charge sports of participating colleges. The decision was taken after keeping in view the situation created by the inclement weather conditions and closing of colleges of the Jammu province by the government. According to an official statement, fresh dates of the postponed tournaments will be communicated as and when fixed in consultation with the physical directors/PTIs/assistant PTIs/teacher in charge sports of participating colleges. TNS
Jammu teacher gets national award


Jammu, September 10
Rajni Baliya, a teacher from Kendriya Vidyalaya, Gandhi Nagar, Jammu, has been awarded the National Award for Teachers. President Pranab Mukherjee gave away the award at a function held on Teacher's Day on September 5 in Delhi. She was also invited by Prime Minister Narendra Modi for an interaction, a day before the award ceremony on September 4 at the Prime Minister's residence in New Delhi.

Tawi Trekkers gen secy to judge sport climbing championship
Jammu, September 10
The newly elected general secretary of the Tawi Trekkers, J&K, and a qualified national judge in sport climbing, Shawetica Khajuria, has been selected as a judge of the 20th North Zone Sports Climbing Championship to be held in Kanpur from September 25 to 28. The communication in this regard was received by the association from the Indian Mountaineering Foundation. TNS
Jammu passport office to cater to entire state
Jammu, September 10
The Regional Passport Office, Jammu, would render urgent passport services to the people the entire state in the wake of the unprecedented floods in Jammu and Kashmir. According to Rajinder Kumar Gupta, Passport Officer, Regional Passport Office, Jammu, the decision was taken in view of the unprecedented floods in the state and shutting down of operations of the Regional Passport Office, Srinagar. "The Regional Passport Office, Jammu, would render urgent passport services to the people of the entire state till passport services in the Valley are fully restored," Gupta said. TNS