G R O U N D Z E R O
How India should deal with new Chinese duality
Modi can be both deft and firm on foreign policy issues. He seems aware that engaging with China helps him get a better deal with the US and Japan even while he puts pressure on Xi when he shakes hands with Obama and Abe.
Raj Chengappa

India had never quite seen a Chinese President like Xi Jinping in the recent past. On his just concluded three-day visit to India, his first as China's boss man, Xi was a far cry from the stern, stiff and Mao-jacketed leaders. With his charming wife, Peng Liyuan, in tow, Xi wore a Khadi jacket gifted by Prime Minister Narendra Modi, spouted verses from Rabindranath Tagore, sat in Vajrasana to try his hand on a model of Gandhi's charkha at the Sabarmati Ashram and swung his legs like a little boy on a decorated swing. Then his wife, who is a famed Chinese folksinger and could give Michelle Obama a run for popularity, pulled off a surprise by singing the Chinese version of the Hindi classic Awara Hun.
If the Chinese President was on a charm offensive, Modi was not found wanting. The Prime Minister broke protocol by receiving Xi at Ahmedabad on his birthday, watched the sunset with the Chinese First Couple on the riverfront and then treated them to a lavish Gujarati meal. On the sidelines the two leaders found time to do business, which included signing two agreements that established a provincial partnership between Gujarat and Guangdong province and sister-city relationships between Mumbai and Shanghai and Ahmedabad and Guangzhou.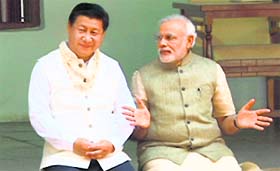 Xi and Modi at the Sabarmati Ashram in Ahmedabad. AFP
Both Xi and Modi exuded a rare self-confidence that portended well for relations between the two countries. Barely two years into his tenure, Xi has emerged as the most powerful Chinese leaders since Deng Xiaoping and some say even Mao. He has consolidated his hold on all major levers of power, including the Peoples Liberation Army (PLA), enunciated his version of the Chinese dream that called for deepening of economic reforms and loosening of state control, flexed his muscles at other nations over China's core national interests, including territorial claims, and carried out an unprecedented anti-corruption drive against some of China's top leaders.
So the expectations were high when Xi and Modi met. Yet even as the two leaders partied together in Ahmedabad, Chinese intrusions in Chumar and Demchok in Ladakh on the eve of Xi's arrival cast a long shadow over the visit. If Xi had desired to open a whole new chapter on Indo-China relations, why was the powerful PLA staging another confrontation that was certain to have his host rankled?
As significant was the fact that despite the bonhomie, officials on both sides were unable to defuse the tension and the confrontation on the border continues. Yet on India's concerns about the unfavourable trade balance with China, Xi was accommodative, announcing $20 billion Chinese investments in the next five years on infrastructure projects – an amount that roughly equalled the current deficit between the two countries.
China watchers see Xi's moves in India as being in consonance with his country's growing duality in foreign policy. While the quest for international economic engagement to fuel its domestic growth remains strong, there is growing assertiveness, even muscular approach, to protect what Xi calls China's core national interests. In China a major internal debate rages over dumping Deng's maxim of "Coolly observe, calmly deal with things, hold your position, hide your strength, bide your time, accomplish things where possible." With China's global power surging, there is a demand, particularly among the PLA, to be more assertive about its territorial concerns, whether Taiwan, Tibet, maritime disputes in the South China Sea or boundary differences with India.
Modi did the right thing by doing some plain-speaking on the border intrusion with China even while ensuring that it did not affect the growing economic engagement. Xi too held his own, outlining China's new thrust in engaging with India's neighbours, including what he called the "One Belt and One Road" proposal for interconnectivity with South Asia along the traditional land and maritime Silk Roads. Yet he assured India that China's intentions were not hegemonic, that it had a long way to go before its 1.3 billion people could live well and that "only by sticking to a peaceful development path can China realise its development goals."
Modi and Xi agreed that there was a need to have an early settlement of the boundary question and to maintain peace and tranquillity on the border. But these were anodyne statements and it is important that India continues to talk and act tough on the border while keeping China engaged on the economic front. Modi has already established good relations with Japan's Prime Minister Shinzo Abe and by month-end he will strengthen ties with the US when he has a summit with President Barack Obama.
Fresh into the job as PM, Modi is already showing that he can be both deft and firm on foreign policy issues. He seems aware that engaging with China is not a zero-sum game — it helps him get a better deal with the US and Japan even while he puts pressure on Xi when he shakes hands with Obama and Abe. Quoting a Chinese saying, Xi told an Indian audience in Delhi: "Don't do to others what you do not want to be done to yourself." Modi could remind Xi when he meets him next that "Actions speak louder than words."