Four months since the brutal killing and hanging of two girls aged 14 and 15 in Uttar Pradesh's Badaun, calls for 'open defecation free' India have only grown louder, with Prime Minister Narendra Modi himself raising the pitch. The minors from Katra village had gone to the fields to answer the call of nature on the night of May 27. They never returned.
Millions of girls across India's rural heartland share the predicament of Badaun's victims as two-thirds of the village households remain without access to toilets. The National Sample Survey Office recently showed that only 32 per cent of India's rural households had toilets; inhabitants in the rest were relieving themselves in the open.
This data underlines what Census 2011 said – more Indians have access to mobiles than to sanitation with less than half (46.9 pc) of the country's 246.6 million households owning a toilet and more than half (53.2 pc) owning a cell phone.
These are not isolated trends. A similar story repeats itself across other spaces, including the country's 10.94 lakh government elementary schools and 14 lakh anganwari centres which are equally without access to sanitation, making it that much harder for the government to meet the Millennium Development Goal of halving by 2015 the percentage of people without access to toilets.
The Prime Minister's urge to make India clean by 2019, the 150th birth anniversary of Mahatma Gandhi, is thus an imperative. After all, which country aspiring for a permanent seat in the UN Security Council can take comfort in leading the world in open defecation? Hence the BJP government's Swachh Bharat (Clean India) Abhiyaan.
PM'S CALL AND MINDSET ISSUE
In his first Independence Day address from the Red Fort, Prime Minister Modi spoke of the value of sanitation. He said he wasn't sure how people would react. "I don't know what people will think of me talking of dirt and toilets but I will talk as I come from a poor family," Modi said, setting "clean India" targets for his ministers.
"All schools should have toilets and there should be separate toilets for girls. This target should be finished in a year…. It is a shame that our women have to wait for darkness to go out in the open to defecate. Can't we build toilets for the security of our women?" the PM asked, making a smart psychological attempt to challenge age-old cultural practices that have conditioned people to defecate in the open and to treat it as normal.
Studies on the Total Sanitation Campaign (TSC), which the government had launched in 1999 to improve sanitation access across India, cite people mentioning established age-old practices as a reason for open defecation. One such study said that in 73 out of every 100 rural households where at least one member of the family practices open defecation, 66 households did so due to unavailability of toilets but six did so despite access to toilets.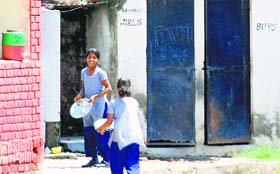 Many schools have toilets abutting classrooms or kitchens. Photo: Nitin Mittal
Registrar General of India C. Chamdramauli admits to mindset issues when referring to Census sanitation data. "Cultural and traditional reasons and lack of education seem to be the primary reasons for the unhygienic practice of open defecation. We have to do a lot in these areas," he says.
In this backdrop, Modi's stress on sanitation means a lot with experts saying it carries the weight of a strong social message – a practice Mahatma Gandhi adopted in his lifetime to challenge open defecation. Mahatma Gandhi said, "A lavatory must be as clean as a drawing room… I believe in the absolute necessity of a clean place for answering the call of nature and clean articles for use at the time and have accustomed myself to them and wish all others should do the same."
Terming the Prime Minister's involvement in the sanitation campaign as an impactful strategy, social activist Renana Jhabvala says, "The desire for everyone to have a toilet has been around for decades. The problem has been lack of enforcement of that will and lack of awareness regarding toilet use among people. Now there seems to be a will to implement things like financial inclusion through the Jan Dhan Yojana. This enthusiasm and visible focus on open-defecation-free India matters when we know sanitation can only succeed if it becomes everyone's business and a national campaign." Jhabvala's organisation SEWA works in the field of sanitation access and has gathered a vast body of evidence on what challenges the sanitation campaign.
SEWA advocates private toilets for every home and says public toilet concept just does not work except in areas like bus stations and malls where people come and go. "In other areas, community toilets don't work. We need to revisit the concept," Jhabvala says.
THE PROBLEM
Half of India defecates in the open — a practice that leads to losses worth 6 per cent of the country's GDP as per World Bank estimates. Census 2011 showed only 46.9 per cent of the total 246.6 million households had toilet facilities.
Of the remaining, 3.2 per cent used public toilets and 49.8 per cent defecated in the open contributing to not just economic losses but diseases and malnutrition, especially in children.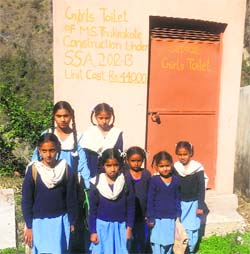 Separate toilets are particularly important for girl students. A Tribune Photo
The scenario in schools is equally grim. HRD Ministry data shows almost two in every five government elementary schools in India are either without girls and boys toilets or have non-functional lavatories. India has 10.94 lakh elementary level government schools of which 1.01 lakh have no girls' toilets; 1.52 lakh have no boys' toilets; 87, 985 have dysfunctional girls' toilets and 76,996 have dysfunctional boys' toilets. Put together, 4,18,654 schools out of 10,94,431 government schools up to Class VIII are currently without proper toilets. That comes to 38.25 per cent.
The number of students across government schools who are currently without access to school sanitation is a whopping 210.67 lakh. With total elementary level enrolment in government schools being 1990 lakh, the percentage of students without toilets as of today is 10.58, which means one in every 10 students can't use sanitation facilities while in school. That explains a high dropout rate for girl children, especially at the elementary level.
Couple lack of school sanitation with open defecation and you have a scenario where children are exposed to a bacterial brew that can potentially damage their chances of growth and cause stunting. India currently is the largest contributor to global child death burden, especially in the newborn category. Of the 2.8 million children who die in the first 28 days of birth, seven lakh are Indians.
"There are clear linkages between under-nutrition and hygiene. Research shows how lack of hygiene results in poor nutritional status of children who are then that much more vulnerable to infections and diseases," says Dr Vinod Paul, HoD, Paediatrics, at AIIMS, New Delhi.
A Naandi Foundation study on nutritional status of children under five recently showed 42 per cent of India's children were underweight and 59 per cent stunted. The report revealed shocking results for all three indices of children's nutritional status – stunting (height for age); wasting (weight for height) and underweight (weight for age). It called for health, sanitation and education sectors collaboration to improve the situation.
Studies are currently under way across the world to establish measurable links between lack of sanitation and stunting with experts arguing that exposure of children to human excreta prevents them from attaining the body weight they should.
Former Deputy Chairman of Planning Commission Montek Singh Ahluwalia had admitted, "India faces a unique developmental paradox of being in the front ranks of fast growing global economies and yet in stark contrast 40 per cent of India's children under three years of age are undernourished." In fact, India loses much of its Human Development Index value when factors like lack of sanitation are factored in.
CLEAN SCHOOL CAMPAIGN
HRD Minister Smriti Irani recently called a meeting of state school education secretaries and asked them to draft action plans to achieve the "Clean School" target by August 15, 2015.
The government has already established Swachh Bharat Kosh after PM's invitation to corporates to contribute to the campaign. TCS and Bharti have pledged Rs 100 crore each while L&T has said it would construct 5,000 toilets under Corporate Social Responsibility.
But how does this work? HRD Ministry officials say individuals willing to build toilets will be given schools of their choice and assisted by Central teams. "We will provide the design of the toilet block and cost of construction will be as per state scheduled rates. Those who don't want to build themselves can contribute to Swachh Bharat Kosh or send DDs or cheques in favour of this fund," ministry officials say.
At a recent meeting of 25 Government of India ministries, public sector undertakings pledged Rs 400 crore for the Clean School Campaign.
"Initial signs have been encouraging. We have already set our eyes on the goal of girls' toilets for every school by August 15, 2015," Irani says. Clean Schools is part of the BJP government's Beti Bachao, Beti Padhao Scheme which seeks to reduce school dropout rates for girls.
States with the highest percentage of students without access to toilets are Telangana (51.04 per cent), Andhra Pradesh (38.07); West Bengal (34.38) and Bihar (30.48).
So far as funding goes, the HRD Ministry has promised Central assistance to states which suffer deficit. It plans to raise resources through corporates and organisations within the government.
The ministry has also modelled an ideal toilet block whose design can be replicated by anyone. As per the design, the average cost of construction would work out to be Rs 1.3 lakh per unit for a girls' toilet and Rs 1.2 lakh per unit for a boys' toilet in an elementary school with some interstate variations.
"Water facility through a hand pump would cost on an average Rs 40,000 and with overhead tank and force lift system would cost Rs 80,000. Installation of overhead water tank where piped water supply is available will cost Rs 30,000," HRD officials said.
CHALLENGES
To begin with, school sanitation surveys are already being questioned by social activists working in the field of sanitation. Though HRD Ministry data shows there are no schools without toilets or dysfunctional toilets in New Delhi, NGO Social Jurist has evidence to prove otherwise.
Ashok Agarwal, Founder of the NGO, says, "The government's surveys are nothing but lies. Across Delhi, there are several municipal and government schools with dysfunctional lavatories. There are also schools where classes are held a few feet from garbage bins and toilet blocks. There are schools without water supply for lavatories. After the PM's stress on keeping toilets clean, we hear of teachers making children clean corridors and even toilets in some cases."
Another issue is availability of land to build schools toilets and connection to water sources. These gaps have repeatedly been identified by surveys conducted to assess the success of TSC launched in 1999. In 2003, the component of Nirmal Gram (open defecation free villages) was added to TSC and clean villages were awarded.
Overall, the TSC aimed to cover individual households with lavatories by 2012, schools and Anganwari Centres with lavatories by 2009 and build community sanitary complexes or women's sanitary complexes where there is not enough space for individual lavatories.
These targets have been missed. Government studies on TSC progress show 36 per cent households with toilets say they are still forced to resort to open defecation due to inadequate toilets; only 59 per cent households have lavatories covered on all sides and with a roof; only 46 per cent have reported enough availability of water for flushing.
A Rural Development Ministry impact assessment of TSC adds: "People think the government should provide a toilet with a big squatting area and superstructures. People are themselves not willing to spend anything from their pockets on these structures. In many states the unit cost of individual toilet has been revised several times. Funding for school sanitation has to be provided by the Centre, state and parent teacher associations in the ratio 60:30:10. Only 29 per cent gram panchayats admit parent teacher associations have contributed their bit. Resultantly, many schools toilets have not been constructed."
The 12th Five Year Plan document has fixed the cost of one individual toilet under TSC at Rs 10,000 though cheaper versions are available. Bindeshwar Pathak, founder, Sulabh International, who pioneers low cost toilet solutions, recently launched a drive to provide toilets to each household in Badaun, which witnessed the murder of two minors.
Though cheap sanitation solutions are available, government studies show people even in villages resist cheap solutions and seek expensive ones even if they tomorrow decide not to use the same.
Former Rural Development Minister Jairam Ramesh had once admitted, "In India there is a lack of demand for toilets. I have often seen villages where people have converted toilet blocks into storerooms. What we need is demand for sanitation. It's a mindset issue."
While challenges remain, the good thing is both the ruling BJP and the opposition Congress are on the same page on cleaning India. That explains why Jairam Ramesh and Modi both ended up making strikingly similar comments in recent past. Both said, "Toilets first, temples later."
WHY TOILETS
Govt studies have found that people in Nirmal Grams are enjoying better quality of life by way of fewer diseases caused by inadequate hygiene, reduced medical expenses and increased time for earning
Assessment of Total Sanitation Campaign, a scheme of Rural Development Ministry, showed average number of times family members in a household became ill in a nirmal gram awarded panchayats came down from 0.24 in 2006 to 0.17 now; 88 pc households with toilets feel their general wellbeing has improved and 96 pc such households admit availability of toilet led to greater sense of security among women in the house
IN SCHOOLS
Out of 10,94,431 elementary government schools, 4,18,654 don't have proper toilets
210 lakh students out of 1990 lakh students enrolled in classes I to VIII in elementary govt schools are without access to sanitation.