2,304 to vie for 90 seats as nominations come to a close
Tribune News Service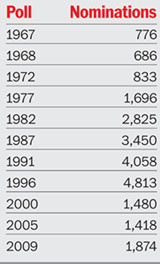 Chandigarh, September 27
Several senior leaders, including Education Minister Geeta Bhukkal and INLD's Abhay Chautala, filed their papers on the last day to file nominations for election. Over 1,352 nominations were filed today, raising the total number to 2,304, Haryana Chief Electoral Officer Shrikant Walgad said. Leaders of various political parties, including Chief Minister Bhupinder Singh Hooda, BJP chief Ram Bilas Sharma and senior INLD leader Abhay Chautala accompanied party candidates to offices of the returning officers.
The scrutiny of nomination papers would be held on September 29 and candidates could withdraw their candidature by October 1. Polling will be held on October 15 and counting of votes would be on October 19. The process of elections would come to an end by October 22, Walgad said.
Since the inception of Haryana, a maximum number of 4,813 nomination papers were filed during the 1996 Assembly election. As many as 776 nominations were filed in 1967 and 686 in 1968.
He said 833 nominations were filed in 1972, which included 815 male and 18 female candidates. He said 1,696 nominations were filed in 1977, which included 1,667 male and 29 female candidates. Similarly, 2,825 nominations were filed in 1982. He said 3,450 nominations were filed in 1987, which included 3,355 male and 95 female candidates whereas in the year 1991, 4,058 nominations were filed.
Walgad said 4,813 nominations were filed in the 1996 Assembly election, which included 4,601 male and 212 female candidates. Likewise, 1,480 nominations were filed in 2000, which included 1,384 male and 96 female candidates. He said 1,418 nominations were filed in 2005, which included 1,268 male and 150 female candidates. He said 1,874 nominations were filed during the 2009 Assembly election, which included 1,613 male and 261 female candidates.