campus notes

Principals' conference
Jalandhar: Lovely Academy organised a principals' conference under the aegis of RISE, an initiative aimed to elevate the potential of students of the state in competitive exams was held here on Saturday. Principals of all the reputed schools participated in this initiative. They discussed the challenges faced by the students, schools, and parents in realising the full potential of the school students and gave their suggestions. In the recently-held JEE-IIT, and in medical exams, a limited number of students of Jalandhar region managed to crack the examinations. Even the overall performance of the students from the state was not encouraging. Director Aman Mittal said the major problem faced by the students is the high pressure of the studies followed by the fear to sit in competitive exams. Students mostly indulge in clearing their Class X or XII exams and do not plan what to do after their intermediate exams.
Campus placement
Officials of Impinge Solutions Pvt Ltd visited the Apeejay Institute of Management Technical Campus for recruitment. The shortlisted students were interviewed by the director of the company. Richa Gupta and Supreet Sohal were selected. They have been offered package of 1.8 lakh. Dr Rajesh Bagga, Director, Apeejay Institute of Mangement Technical Campus congratulated the selected students.
BSc rank
Rajdeep Kaur of Lyallpur Khalsa College has bagged the fourth position in BSc (non-medical)-IV semester, whereas Gagandeep Kaur and Jasmeen Kaur of the same class secured the 12th positions. This information was given in a press release by the principal Dr Gurpinder Singh Samra. Sardarni Balbir Kaur, president, college governing council, congratulated the students and wished them success in life. Prof Suridner Kaur HoD chemistry and Prof Balwinder Singh were also present on the occasion.
Zonal youth festival
MGN College of Education won the overall second position in the GND University Zonal Youth Festival for 'Education Colleges' held on the university campus, Amritsar, from September 23 to 25. Students of the college Vandana in clay modelling, Ruchika and Prabh Simran Kaur in debate, Parul Sharma, Gunjan Bhatia and Neetu Thapar in quiz stood first. In group song, Pooja Sharma, Gaganpreet Kaur, Rajwinder Kaur, Perminder Kaur, Priyanka Vohra and Harpreet Kaur stood second. Manjit Kaur, in elocution, Noor Sharma, in Rangoli Gagandeep Kaur in cartooning, skit team comprising Gaganpreet Kaur, Amrita Singh, Shiwani, Neha, Taranjot Kaur and Arkaza Sahajpal and Gidha team (Jasleen Kaur, Neha, Manpreet Kaur, Gurpreet Kaur, Sandeep Kaur, Randeep Kaur, Baljit Kaur, Navreet Kaur, Harkanwal Kaur, Jasleen Kaur and Smiley Verma) stood second. In painting (still life), Manjeet Saroj stood third. In slogan writing, Parul Dua, in poster making Harjit Kaur and in sketching Ramanjit Kaur stood third. S. Jarnail Singh Pasricha, secretary MGN Educational Trust and principal Dr Amit Kauts, congratulated the participants and the faculty. Overall in charge Dr Deepa Sikand Kauts and Gurpreet Kaur congratulated the students.
Freshers' party
An annual freshers' party of DAVIET, Jalandhar, was organised at Convention Hall here on Saturday. The event was a formal welcome to the first year entrants by their seniors. Dr AL Sangal, principal, DAVIET, welcomed the new entrants. He urged them to imbibe the DAV tradition and culture. He said the DAVIET was a ragging-free campus eversince its inception. — TNS
Students of media and fashion technology department of St Soldier Group of Institutions celebrate Shaheed Bhagat Singh'sanniversary in Jalandhar on Saturday. Photo: Sarabjit Singh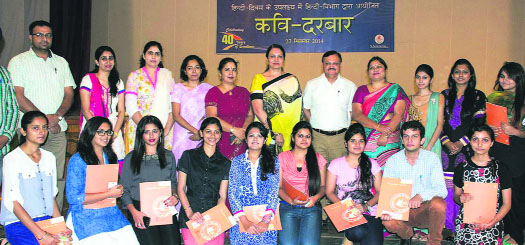 Students and staff of the Department of Hindi of the Apeejay College of Fine Art, during the Kavi Darbar on occasion of Hindi Diwas in Jalandhar on Saturday. A Tribune photograph