Shilpa Shetty's car hit, incident leads to altercation
Jalandhar, September 25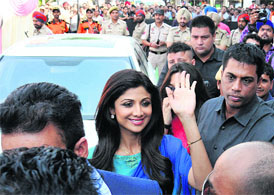 Coming to Jalandhar for the launch of a jewellery showroom today, a vehicle of actor Shilpa Shetty and her husband was involved in an accident which later led into an altercation. A Tavera vehicle, which was part of the cavalcade in which actor Shilpa Shetty and her husband Raj Kundra, along with their associates, were travelling, was hit by a Chevrolet, following which an altercation took place between the two parties at the Dhilwan toll plaza.
Shilpa Shetty at the launch of a jewellery store in Jalandhar. Tribune Photos: Malkiat Singh

Festive season
Health Dept intensifies raids on eateries in city
Jalandhar, September 25
While hectic sampling campaigns, usually conducted under the media spotlight, have been common in the pre-Diwali and Navratra drives carried out by the Health Department in the past, the department this time is keeping things relatively discreet.
Bat manufacturers hit by Jammu and Kashmir floods
Jalandhar, September 25
The recent flash floods in Kashmir that have damaged willow wood have downed the prospects of cricket bat manufacturers in Jalandhar, who had been looking forward to a spurt in demand ahead of the February 2015 ICC World Cup.

Workers busy at a bat manufacturing unit in Jalandhar. Photo: Sarabjit Singh

FIR registered against MC officials
Jalandhar, September 25
With the intervention of the Punjab and Haryana High Court, the Nakodar-based environmentalist, whose house was trespassed by Nakodar Municipal Council employees, has managed to get an FIR registered against executive officer Rajiv Oberoi, sanitary inspector Mukesh Sharma and 80 to 100 unidentified persons.
MP Mann releases music of upcoming Punjabi flick
Jalandhar, September 25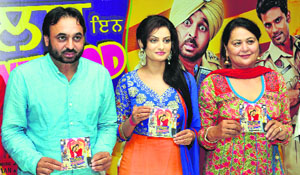 The music of the upcoming Punjabi film 'Police in Pollywood–Balle Balle' was released by the starcast of the film, including Member of Parliament from Sangrur, Bhagwant Mann, film director-cum-actress Sunita Dhir, Mani Kapoor, singer Firoze Khan and producer Rajinder Gautam here today.

MP Bhagwant Mann along with co-artistes releases a music CD of the upcoming Punjabi film 'Police in Pollywood—Balle Balle' in Jalandhar on Thursday. Tribune Photo: Malkiat Singh

Cong leaders flay SAD-BJP govt for ignoring SC community
Jalandhar, September 25
Punjab Congress leaders have strongly condemned the SAD-BJP government for ignoring the SC community in the state. Former Punjab ministers Chaudhary Jagjit Singh and Sardul Singh have said that the schemes promised for the welfare of the SC community in the election manifesto of the Akali Dal are yet to see the light of the day.
Bank officials want stern action for recovering bad loans
Jalandhar, September 25
Bank employees and officers of various bank branches in Jalandhar held a massive protest here in front of the Oriental Bank of Commerce at the call of All India Bank Employees Association and All India Bank Officers Association to demand stern action for recovering bad loans.
Activists to hold massive rally against govt today
Jalandhar, September 25
Activists of the Pendu Mazdoor Union today said all the preparations for the huge rally to be held on September 26 against the government for putting activists into jail, had been completed.
National basketball player bitten by snake
Jalandhar, September 25
National basketball team player Gurwinder Singh was bitten by a snake last night. He was taken to the local Civil Hospital in a serious condition. As per information provided by doctors, his condition is presently stable.
Big wins for Haryana in inter-state badminton championship
Jalandhar, September 25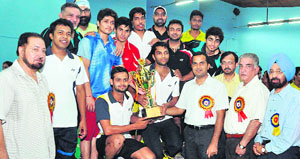 Haryana teams bagged victory in three titles in the All India North Zone Inter-State Badminton Championship, which concluded here today. While Haryana bagged three titles, Delhi bagged victory in one title in the tournament. DC Kamal Kishore Yadav was the chief guest on the last day of the championship.

Players from Haryana in a jubilant mood after winning three titles in the All India North Zone Inter-State Badminton Championship in Jalandhar on Thursday. A Tribune Photograph

Swach Bharat Mission takes off
Jalandhar, September 25
To get the message of the Swach Bharat Mission started by the Union Government from today onwards, a meeting was held under Cabinet Minister Bhagat Chunni Lal here today. Chief Parliamentary Secretary KD Bhandari, former minister Manoranjan Kalia, Mayor MC Sunil Jyoti, MC Commissioner MS Chatwal, among other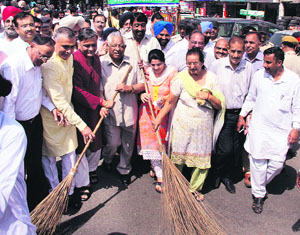 officials of the Municipal Corporation (MC) and councillors from various wards of the city were part of the meeting. MC Commissioner MS Chatwal said after the meet, about 150 safai karmcharis became a part of the initiative, which started from the Shastri Chowk. As per that, places from Hotel President to Ladowali Road were cleaned to drive home the message to people. Bhagat Chunni Lal said the mission was a very constructive initiated started by the Union Government. — TNS

MC officials and political leaders at the cleanliness drive in Jalandhar on Thursday. Photo: Sarabjit Singh

Feedback
Jalandhar Tribune invites feedback from its readers on issues of public concern relating to Jalandhar, Phagwara, Kapurthala and the nearby areas. Readers can email their views to jalandhar.feedback@gmail.com
They can also send their views to: Feedback, Jalandhar Tribune, Sector 29, Chandigarh - 160029. Letters sent by post must mention 'Feedback for Jalandhar Tribune' on the envelope and it should be signed and must contain the address and telephone number of the sender. It should not be more than 150 words.