Over 12.5 lakh families affected by floods
Srinagar, September 29
The floods in Jammu and Kashmir have affected more than 12.5 lakh families and caused damage to public and private property worth thousands of crores. The state government has written to the Prime Minister for a special package for handling relief and rehabilitation.
BJP team tours flood-hit Basholi, Billawar
Jammu, September 29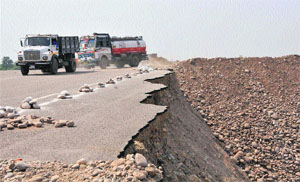 A BJP team Monday visited Kalri, Mahanpur and Sulari in Basohli and Parnala, Pallan, Phinter and Mandli in Billawar to assess the ground situation on the third day of their tour of flood-affected areas.

A portion of the road near the fourth Tawi bridge is still in a bad condition after it was damaged in the recent floods in Jammu. Tribune photo: Inderjeet Singh

PDP calls for inquiry into flood management
Srinagar, September 29
Peoples Democratic Party (PDP) patron Mufti Mohammad Sayeed today called for a high-level inquiry into the management of the floods. He said it needed to be conclusively established whether every effort was made to save Srinagar and other areas from the deluge.
Private schools in Valley report loss of Rs 4,000 cr
Srinagar, September 29
The Private Schools United Front (PSUF), an organisation representing 1,200 private schools of the Valley, today said it was ready to start the academic session and could not afford to waste further precious time of the students.
Ramban MLA visits flood-hit Doda villages
Ramban, September 29
Member of Legislative Assembly (MLA) from Ramban Ashok Kumar concluded a three-day tour to flood-affected areas Doda district.
Jammu region not on govt radar for relief
Jammu, September 29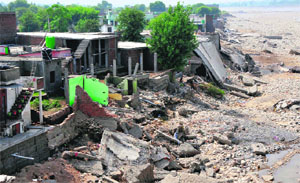 The Jammu region, which has suffered huge loss of life and property with around 90 per cent villages affected by the floods, has not featured on the radar of the Centre and the state government in terms of assistance as it should have been.

Houses damaged by the floods near the fourth Tawi bridge in Jammu. Tribune Photo: Inderjeet Singh

Rajouri flood victims provided construction material
Rajouri, September 29
As the district administration is in the process of assessing the losses to the houses, agriculture land and water mills, many NGOs, social and religious organisations have come forward to provide succour to the flood victims of Rajouri district.
JCB machine revives hope in Saddal village
Panchari (Udhampur), September 29
Hope has been revived in Saddal village in Panchari, the remote village in the Panjar panchayat buried under debris, as a JCB machine has been brought to the village. Three more JCB machines will be used to extricate bodies from tomorrow.





Navratra festivities:

Preparations being made for a "jagrata" near Gumat Chowk in Jammu on Monday. Tribune photo: Inderjeet Singh
NC seeks Central funding for rehabilitation of flood victims
Jammu, September 29
Expressing concern over colossal loss to life and property due to floods and landslides in the wake of recent torrential rains across the Jammu region, the National Conference (NC) on Monday sought a massive Central assistance for rehabilitation of flood victims and reconstruction of damaged infrastructure.
BJP team on 3-day visit to Valley from today
Jammu, September 29
A BJP team will reach Srinagar Tuesday to assess the ground situation in the Valley even though Chief Minister Omar Abdullah has expressed reservations over conducting Assembly elections at this juncture.
Mirwaiz seeks civil society help in relief
Srinagar, September 29
Stressing on the need to utilise resources and efforts for relief and rehabilitation of lakhs of flood victims 'for the sake of humanity', moderate Hurriyat chairman Mirwaiz Umar Farooq Monday called upon civil society to play an active role in removing obstacles in flow of international aid into Kashmir.
Agriculture in Valley severely hit by floods
Srinagar, September 29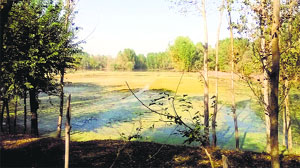 Though the flood waters spared the house of Ghulam Nabi Dar, a farmer in the Sonawari belt of north Kashmir, his paddy fields were inundated and the crop this season totally lost. Apart from losing the crop, Dar has also lost the fodder for his livestock as it has been also muddied by the flood waters. Like Dar, there are countless farmers across the Kashmir region whose standing crops have been washed away by the recent floods.

An inundated paddy field in north Kashmir. A Tribune Photograph

Devastated by floods, people long for prized possessions
Srinagar, September 29
As the devastating floods washed away all the belongings of the people in the posh colonies of Srinagar, the flood victims long for the memories they left behind while running for survival.
Floods cast shadow on Eid celebrations
Srinagar, September 29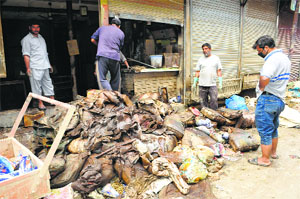 Even three weeks after the unprecedented floods ravaged the Valley, thousands here are not sure if they will be in a position to celebrate Eid-ul-Azha a week from now. Scores remain homeless in Srinagar after losing virtually all their possessions after waters from the Jhelum flooded their houses. Traders who too lost everything are not sure when they can bounce back.
Shopkeepers in Srinagar taking out the damaged stuff from their shop. A Tribune Photograph

95% power supply in state restored
Srinagar, September 29
Power supply across the state has been restored to 95 per cent and soon the entire supply will be restored, the power Development Department (PDD) said here today.
63 SBI branches in Valley restored
Srinagar, September 29
The State Bank of India (SBI) has made 63 out of their 67 branches fully functional in the Valley. A SBI spokesperson today said only four branches located in inundated areas of Badshah Chowk, Badami Bagh, Jawahar Nagar and Rajbagh in Srinagar city were yet to be made operational.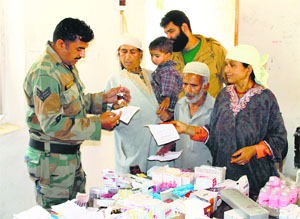 getting succour:

Flood victims at a free medical camp organised by the Army at Litter village in Pulwama district of south Kashmir on Monday. Tribune Photo: Amin War
Illegal constructions coming up in flood-hit Valley
Srinagar, September 29
While encroachments on the banks of the Jhelum and illegal constructions along various water bodies are being largely blamed for the devastating floods in the Valley, illegal constructions have again started coming up in flood-hit areas of Kashmir.
Bar to rehabilitate 100 flood-affected families
Srinagar, September 29
The Bar Association has decided to adopt 100 "deserving" flood-affected families for their rehabilitation.
Govt hopeful Centre will approve flood spill channel project
Srinagar, September 29
The Jammu and Kashmir government today expressed hope that the Centre will approve its Rs 2,200-crore project for construction of a second flood spill channel that will be able to handle the kind of water discharge witnessed during the recent floods which claimed more than 280 lives and destroyed property worth thousands of crores.
SPO-turned-LeT militant arrested
Srinagar, September 29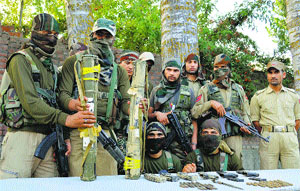 The police Monday arrested an absconding Special Police Officer (SPO) of the Sopore area in north Kashmir who had allegedly joined the Lashkar-e-Toiba. SPO Mohammad Shafi Dar of Nowpora in Sopore went missing during duty in Sopore last month and took his service rifle. The police said he had later joined Lashkar.
Arms and ammunition recovered from a militant hideout in Kupwara district on Monday. Tribune photo: Amin War

'Sur Tarang' organised at KL Saigal Hall
Jammu, September 29
Aarohi Kala Sangeet Vidhalya today organised musical programme "Sur Tarang" at KL Saigal Hall. Darmesh Nargotra was the chief guest, while Ashutosh Sharma was the guest of honour on the occasion.
Accident case: DGP's daughter granted absolute bail
Jammu, September 29
Judicial Magistrate, Jammu, Susheel Singh today granted absolute bail to Pooja, daughter of K Rajendra, Director General of Police, J&K. She was earlier given interim bail on September 26.
ASCOMS medical team heads for Srinagar to help flood victims
Jammu, September 29

The Acharya Shri Chander College of Medical Sciences (ASCOMS) and Hospital has set up a medical relief centre on the Yatri Niwas premises of Shri Sanatan Dharam Partap Sabha, Lal Chowk, Srinagar, to provide medical aid to the people of flood affected areas.
The Acharya Shri Chander College of Medical Sciences and Hospital, Sidhra, Jammu, flags off a medical team and supplies to Srinagar. A Tribune photograph

Clay modelling, elocution competitions held at Jammu varsity
Jammu, September 29
The Department of Students Welfare, University of Jammu, today organised clay modelling, elocution (extempore) and installation competitions under the ongoing "Display Your Talent" 2014-15 at Brig Rajinder Singh Auditorium and Ground Floor Hall.
Students participate in the clay modelling competition during the "Display Your Talent" event at the University of Jammu on Monday. Tribune photos: Inderjeet Singh
Cleanliness drive launched at AF station
Jammu, September 29
The Air Force station, Jammu, today launched a cleanliness drive under the Union Government initiative "Swachh Bharat Abhiyaan".
Army gives sports kits to students
Jammu, September 29
A Rashtriya Rifles Battalion of the Army, based at Thanamandi, distributed sports kits among the students of Government High School, Hatta Seri.
PG Dept win kho-kho tourney
Jammu, September 29
The PG Department defeated the SPMR College of Commerce by two points in the final to win the Inter-Collegiate Kho-Kho (men) Tournament played at the University of Jammu here today.