M A I N N E W S
Relief for farmers as Centre eases rice moisture norms
Sarbjit Dhaliwal
Tribune News Service
Chandigarh, October 7
The Union Government today directed the Food Corporation of India (FCI) to accept rice for the Central pool with moisture level up to 15 per cent, but only after a value cut.
The decision was taken at a meeting between Punjab Food and Supplies Minister Adesh Partap Singh Kairon and Union Minister for Food and Public Distribution Ram Vilas Paswan in New Delhi. Punjab Food and Supplies Secretary DS Grewal accompanied Kairon. The decision would be applicable to Haryana and other states supplying rice to the Central pool.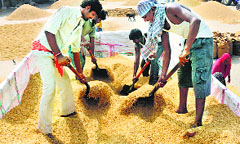 The Centre has agreed to accept rice with moisture level up to 15%
A few weeks ago, the Union Government had announced to accept rice with maximum moisture level up to 14 per cent instead of 15 per cent. Thereafter, Punjab rice millers staged an indefinite strike and refused to stack paddy on the premises of their mills. This forced Kairon to approach the Centre and get the order amended.
Grewal said Kairon told the Centre that it would not be possible to supply rice to the Central pool with 14 per cent or less moisture level because during winter, especially from October to February, rice grains gathered moisture at an exceptionally high rate. Paswan, who accepted Kaironís plea, directed the authorities concerned to issue the amended notification.
Paswan also allowed each gunny bag to be filled with 37.5 kg paddy instead of 40 kg. The Centre had recently asked the state government to fill a gunny bag with 40 kg paddy against the earlier provision of 35 kg. Farmers had told Kairon that the gunny bags supplied to stack paddy were not adequate to hold 40 kg paddy after which the decision was revised.
Sources said a Joint Secretary-level official of the Union Government would visit the state soon to inspect filling of gunny bags and submit a report to the Centre. However, till further orders, gunny bags will be filled with 37.5 kg paddy.
The Centre has also allowed the appeal against the rejection of rice offered for the Central pool by rice millers after 15 days of rejection. The appeal would be liable in a Central Governmentís laboratory in Delhi. Earlier, there was no provision for such an appeal against the rice rejected by the FCI lab. Before final acceptance for the Central pool, the quality of rice, including breakage of grains, their discolouration and moisture level, is tested at FCI labs.