M A I N N E W S
Sidhu pads up again, bats for BJP in Haryana
Parvesh Sharma
Tribune News Service
Siwan (Kaithal), October 7
Former BJP MP Navjot Singh Sidhu today ended his self-imposed "political exile" after being denied a ticket from Amritsar in the Lok Sabha polls by addressing party workers in the Siwan area of Haryana.
He addressed a rally in Ramleela ground of Siwan to support BJP candidate Kulwant Bazigar from Guhla Cheeka constituency.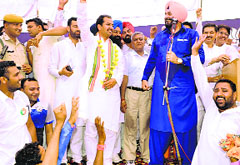 Navjot Singh Sidhu at a rally in Kaithal on Tuesday. Tribune photo
"I have restarted my political career today from here. This place is like a temple for me and I have a lot of respect for you all in my heart," he said.
Sidhu said: "Garib di izzat rakhni hai, pagri sambhal jatta, kamal de phull wala button hi dabna hai (Preserve the reputation of the poor and maintain your turban's pride by pressing the lotus button in the forthcoming Assembly elections)."
"Bhagat Singh and many others sacrificed their lives to secure voting rights. You do not have any right to disrespect all martyrs by wasting your votes on corrupt parties. Vote for the BJP. Thoko taali (Clap)," the cricketer-turned-comedy judge said.
His 30-minute speech had a mix of humour, threats, promises and criticism of all political opponents.
"Sidhu tuhanu parnam karda hai, mera sir jhukda hai tuhade agge. Kiyonki jhukte wo hai jinme jaan hoti hai, akda to murde karte hai (I salute you all. I bow to you as only alive can do that, whereas inflexibility is the sign of dead," he said, terming Congress leaders dead.
"You tested Bhupinder Singh Hooda in the state and Manmohan Singh at the Centre for 10 years, but got only 'Babaji ka thullu'. It's time for change. You all must elect the BJP government in Haryana," he said.