Dial 104 round the clock for healthcare advice
Amritsar, October 14
The Punjab Government has started a round-the-clock helpline number "104" to assist the people, particularly those living in the rural and interior areas, in getting information on health problems and giving them access to a qualified doctor.
DHO tells hoteliers to get licences
Amritsar, October 14
Members of the Amritsar Hotel and Restaurant Association (AHARA) interacted with officials of the Punjab Pollution Control Board (PPCB) and the Health Department at a meeting held here today.
'Qayeda', a satire on class differences, unsatisfactory political system

Amritsar, October 14
Depicting socialist politics, exploitation of the working class by the established rule and the common man stuck in a class warfare, the play, "Qayeda", opened to a full house at Punjab Natshala, in its second show. Directed by Rajendra Singh, NSD graduate and head of the Dastak Theatre Group, the play was a satire on the class differences and the dysfunctional political system of the country.

Artistes perfom the Punjabi play, 'Qayeda', at Punjab Natshala in Amritsar. A Tribune photograph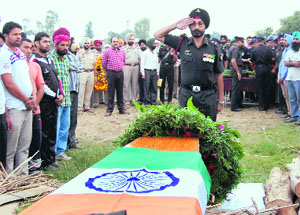 Rashtriya Rifles jawan cremated
Amritsar, October 14
Twentyseven-year-old Gursahib Singh of the Rashtriya Rifles was cremated with full state honours at his native village, Bhakna Kalan, near Attari today after he laid down his life for the country during an encounter with terrorists in Kashmir.


Last respects being paid to Gursahib Singh at Bhakna Kalan village near Attari on Tuesday. photo: vishal kumar

swachh bharat abhiyan
Members of NGO clean rly station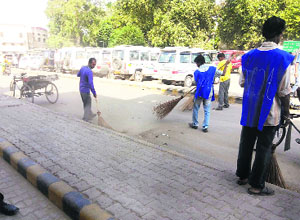 Amritsar, October 14
Volunteers of the NGO, Voice of Amritsar, participated in a cleanliness drive at the railway station and foot over bridge outside the station, held under the Swachh Bharat Abhiyan. The campaign was lead by Seenu Arora, president of the NGO, members Dr Rakesh Sharma, Mandeep Singh, Indu Aurora and Shubhi Arora. It was the third time that Voice of Amritsar (VOA) had made an effort to clean the area along with the other members of the NGO.
Volunteers of the NGO Voice of Amritsar clean a road in Amritsar. A Tribune photograph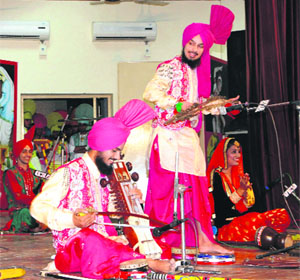 Zonal Youth Festival:

Students play folk instruments at Guru Nanak Dev University in Amritsar on Tuesday. Photo: Vishal Kumar
GNDU Syndicate meeting held
Amritsar, October 14
Approval to various appointments, ordinances for new courses, extension in the service of retired teachers and approval to various PhD theses in various faculties were the main agenda of the meeting of the Syndicate of Guru Nanak Dev University (GNDU), which was held today.
Former Pro-VC dead
Amritsar, October 14
An active educationist and litterateur, Dr Inderpal Singh, former Pro-Vice Chancellor, Guru Nanak Dev University, passed away after a short illness. He is survived by a son and daughter.
City police donate for flood victims
Amritsar, October 14
The Amritsar Police have extended a helping hand to victims of the flood-hit Jammu and Kashmir valley.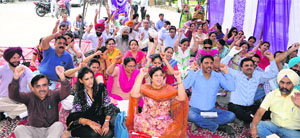 Teachers protest govt's education policy
Amritsar, October 14
The Punjab and Chandigarh College Teachers Union (PCCTU) held agitation against alleged government apathy towards higher education today.

Members of the Punjab and Chandigarh College Teachers Union hold an agitation opposite Guru Nanak Dev University in Amritsar on Tuesday. Photo: Vishal Kumar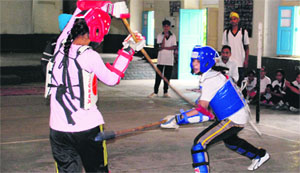 Hosts win silambam event in Punjab School Games
Amritsar, October 14
The hosts, Amritsar, won the team events in Under-14 and Under-17 categories of silambam game on the second day of the Punjab School Games, held at PBN School, here today. In both categories, Gurdaspur and Tarn Taran stood second and third, respectively.
Players in action during a silambam match at school games in Amritsar on Tuesday. PHOTO: RK SONI