Three-day Zonal Youth Festival inaugurated at GNDU
Tribune News Service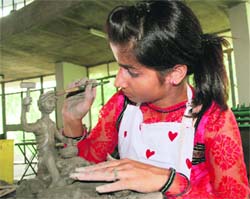 A student of fine arts exhibits her talent in the clay modelling competition during the Zonal Youth Festival that began at Guru Nanak Dev University in Amritsar on Tuesday. PHOTOs: RK SONI
Amritsar, October 7
The 3-day Zonal Youth Festival of D-Zone comprising affiliated colleges from Kapurthala and Nawan Shahr districts was inaugurated here today at Dashmesh Auditorium of Guru Nanak Dev University.
As many as 400 student-artists are participating in 20 contests in various fields such as music, theatre, dance, literature and fine arts. This festival will conclude on October 9.
Prof CL Khetrapal, distinguished Professor, Centre of Biomedical Research (CBMR), Lucknow, and former Vice Chancellor of Lucknow University inaugurated the festival by lighting the candle.
Dr Amarjit Singh Sidhu, Dean, Students' Welfare and Dr Renu Bhardwaj, Professor in-charge of Examinations were the guests of honour. Dr Jagjit Kaur, director, Youth Welfare, welcomed the chief guest and student-artists. She gave details of the activities of the youth festival.
Prof Khetrapal said cultural activities along with formal studies were equally important for a balanced and complete personality.
"Students should participate in more and more such activities. I appreciate the students' talent, especially rendering of shabads and bhajans. The national level achievement of the university in the field of culture is remarkable," he said.
Dr Sidhu and Dr Renu also presented their views on the occasion.
Dr Jagjit Kaur honoured the chief guest and others with mementoes. Today, the festival was started with group shabad/bhajan, followed by group song Indian, one act play, vaar gayan and kawishere.
Tomorrow, the competitions for costume exhibition, skit, mimicry, poetical symposium, rangoli, fulkari, folk song, geet gazal and mime will be organised.
On the last day on October 9, the competitions for quiz, group dance and giddha, followed by prize distribution function, will be held.