on the frontline
Politics of poll schedule
It's not easy to comprehend the politics of Kashmir. Those who read a message of imminent defeat for the ruling National Conference in the Election Commission's near certain announcement of the schedule for the Assembly polls in the coming days or victory for the other parties need to rethink over this. It is neither.
Mufti: No alternative to Indo-Pak dialogue


Srinagar, October 19
Peoples Democratic Party patron Mufti Mohammad Sayeed on Sunday said the situation along the borders in the state required reviving the process of reconciliation. "The hostility between the two countries has hit the people of J&K the hardest and the incidents on the borders and the Line of Control should keep reminding the two countries the inevitability of sitting across the table to find a just and pragmatic solution."
Unauthorised housing colonies mushroom in city: Govt report
Jammu, October 19
A Ministry of Urban Development report has mentioned that the increasing activities in the old city has resulted in "mushrooming of unauthorised housing colonies" in many areas of the winter capital.
Budgam girls to stitch 10,000 'pherans' for flood victims
Srinagar, October 19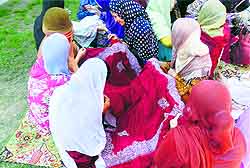 After the recent floods left thousands of people in the Valley homeless, a group of girls in Budgam district have embarked upon a project to stitch at least 10,000 'pherans' for the flood victims. These girls have been employed by the Incredible Arts Kashmir, a group of social workers training for stitching and weaving indigenous clothing and embroidery.

Helping hand: Girls stitch 'pherans' for flood victims in Budgam district. A Tribune photograph

Minister tours Kulgam, takes stock of post-flood situation
Srinagar, October 19
Minister for Roads and Buildings Abdul Majid Wani today conducted an extensive tour of the Devsar constituency of Kulgam district in south Kashmir to take stock of the post-flood situation and restoration of damaged infrastructure under the Roads and Buildings sector.
Rights body distributes relief material
Jammu, October 19
The International Human Rights Organisation (IHRO), J&K, today distributed relief among the flood victims at Surinsar and Bishnah respectively. The relief, including clothes, ration, water bottles, etc…, was distributed by the president of the IHRO, Punjab.
Pandits press for suitable relief, rehabilitation
Srinagar, October 19
Rendered homeless after the recent floods, the non-migrant Pandits are demanding relief and suitable rehabilitation. Spokesman of the Hindu Welfare Society Kashmir (HWSK) Chunni Lal said around 65 families were living in pathetic conditions on the premises of the Durga Nag Trust in the Sonwar area of the city.
Central team assesses damage in Reasi distict
Katra, October 19
A high-level Central team today toured the Dera Bawa and Chassana area of Reasi district, where 20 villagers lost their lives in the first week of September due to floods and landslides.
Story of floods through eyes of boatman
Srinagar, October 19
Bollywood director Imtiaz Ali has made a short film on the recent floods in the Valley. He has roped in a boatman, Habibullah Bhat, to narrate the woeful tale of destruction caused by the floods in Kashmir.
Kargil without power for 7th day
Jammu, October 19
The power supply in Kargil town and other parts of the district remained affected for the seventh consecutive day today following a technical snag in the 44 MW Chutak Hydroelectric Plant.
Chorus grows for disbanding Custodian Department
Jammu, October 19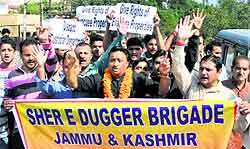 District BJP vice-president Karan Singh today said the state Custodian Department had no relevance and it should be "disbanded". "There is no justification in continuing with the Custodian Department and as such it should be immediately disbanded," Karan Singh said.


Activists of Sher-e-Dugger Brigade protest in Jammu on Sunday. Tribune Photo: Inderjeet Singh

Nearly 700 cases of breast cancer reported every day: Expert
Jammu, October 19
Dr Sachin Gupta, senior consultant, medical oncology, Max Super Specialty Hospital, Mohali, today said though the awareness about breast cancer has improved in the past 20 years, it remains one of the most common diseases in India.
Casual workers continue to observe strike
Jammu, October 19
The hunger strike by casual, need based, ITI trained, CP workers of the Public Health Engineering (PHE) Department entered into day four today.
Vishwakarma procession taken out in winter capital
Jammu, October 19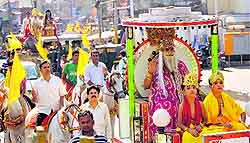 The Pradesh Vishwa Karma Sabha today took out a procession of Bhagwan Vishwakarma Maharaj in the city. The religious procession passed through several areas of the city before culminating at Gurha Morh, Bakshi Nagar, Vishwakarma temple complex.


Devotees participate in a procession to mark Vishwakarma Jayanti in Jammu on Sunday. Tribune Photo: Inderjeet Singh

Governor, Union Minister discuss rehab efforts
Srinagar, October 19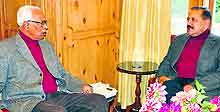 Union Minister of State for Science and Technology and Earth Sciences Jitendra Singh called on Governor NN Vohra at Raj Bhawan here today.


Governor NN Vohra and MoS Jitendra Singh during a meeting at Raj Bhawan in Srinagar on Sunday. A Tribune photograph

Sahitya Akademi holds symposium on Shiv Nath
Jammu, October 19
The Shatiya Akademi, New Delhi, held a symposium on the life and works of late Shiv Nath, a renowned scholar, critic and historian here today.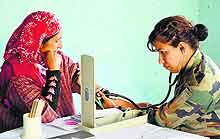 Army holds medical camp
Srinagar, October 19
A medical camp has been organised by the 46 Rashtriya Rifles at Fatehgarh in Baramulla. Residents of Fatehgarh and nearby areas were provided treatment, free of cost medicines and specialist advice at the camp.

An Army doctor examines a woman at a medical camp in Baramulla district on Sunday. Tribune photo: Amin War

Bear injures man in Ganderbal
Srinagar, October 19
A resident of central Kashmir's Ganderbal was injured in a bear attack near his home in a second such incident in two days, the police today said.
Woman electrocuted
Srinagar, October 19
A woman died due to electrocution at the Khonmoh Industrial Estate in the city here, the police today said.
Missing man found dead in Kupwara forest
Srinagar, October 19
The police today said it has started an investigation into the death of a man, who was missing since August this year, whose body has been recovered in a jungle in north Kashmir's Kupwara district.
New KU VC congratulated
Srinagar, October 19
Jammu University Teachers Union president Sunil Sahi and his team compromising Manoj Chauhan, Abhinav Sharma and Pawan Singh Bhau congratulated newly appointed Vice Chancellor of Kashmir University Khurshid Iqbal Andrabi on his arrival at Kashmir University and assured their full support.