M A I N N E W S
Haryana's first BJP CM Khattar sworn in; 9 ministers inducted
* Modi, Shah present at gala ceremony
* First Cabinet meeting of new govt today
Geetanjali Gayatri
Tribune News Service
Chandigarh, October 26
Manohar Lal Khattar, an RSS veteran and BJP's non-Jat face, was sworn in as the 10th Chief Minister of Haryana at a grand function at Panchkula on Sunday.
Khattar, who shares close rapport with Prime Minister Narendra Modi, is leading the first BJP government in the state since it was created 48 years ago.
Governor Kaptan Singh Solanki administered the oath of office to Khattar and his nine ministers in the presence of top BJP leaders, including Modi and chief architect of party's victory in Haryana, Amit Shah.
Also present to mark the historic occasion for the BJP were 'margdarshaks' LK Advani, Murli Manohar Joshi, nine Union Cabinet ministers, including Rajnath Singh, Sushma Swaraj and Chief Ministers of five BJP-ruled states.
A first-time MLA, Khattar is the first Punjabi to become the Haryana Chief Minister. Khattar, who contested from Karnal, is also the fifth non-Jat CM of the state and the first in last 18 years.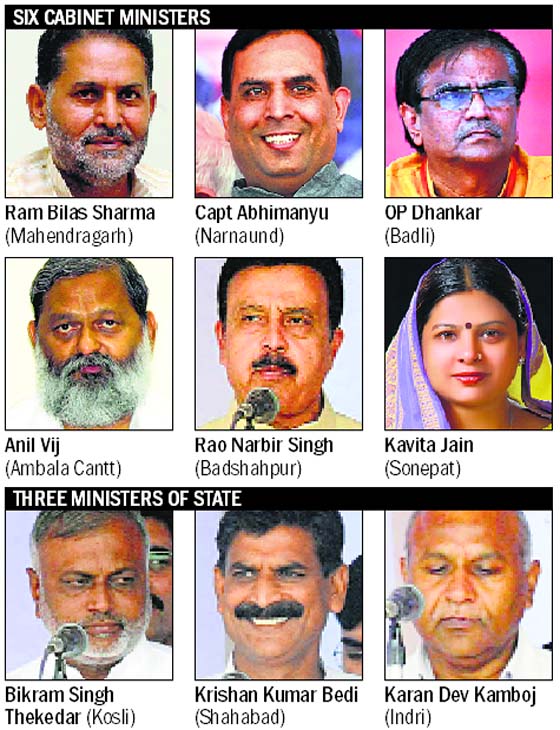 The nine ministers sworn in today include six Cabinet ministers and three ministers of state. The Cabinet ministers are: Ram Bilas Sharma, Capt Abhimanyu, Om Parkash Dhankar, Anil Vij, Rao Narbir Singh and Kavita Jain.
The three MoS are: Bikram Singh Thekedar, considered a Rao Inderjit loyalist, Krishan Kumar Bedi and Karan Dev Kamboj. With a non-Jat as Chief Minister, the BJP will have to replace Ram Bilas Sharma, now a minister, as its president. It's likely to field a Jat leader to balance the power equation between Jats and non-Jats. However, with 'suitable boys' Abhimanyu and Dhankar being inducted into the Cabinet, it remains to be seen who the BJP top brass will handpick to head the party.
Khattar (60), wearing a half-sleeved kurta and a red Nehru jacket, took oath at the 'auspicious' time (11:23 am) and greeted Modi — seated on the adjoining stage with his Cabinet colleagues — from a distance with folded hands.
Most ministers chose to take oath went back to their seat without the customary handshake with the Chief Minister. After five-time MLA from Ambala Cantt Anil Vij took oath, Khattar stood up and extended his hand to greet him. Vij, however, left Khattar embarrassed as he didn't even bother to look at him.
Done up with flowers of various hues, the three stages at the venue seated the dignitaries including Chief Ministers Vasundhara Raje Scindia (Rajasthan), Shivraj Chauhan (Madhya Pradesh), Raman Singh (Chhattisgarh) and Anandibhen Patel (Gujarat).
Punjab Chief minister Parkash Singh Badal, running an alliance government with the BJP in the adjoining state wasn't given much 'importance' by top BJP leaders, indicating strains between the two allies. Though Shah stood up to greet the Shiromani Akali Dal leader supremo, Badal was confined to a 'corner' seat.
After the ceremony ended with the national anthem, Khattar and his team queued up before Modi with some of them shaking hands or touching the feet of senior party leaders.
Khattar kissed Modi's hand as an expression of his gratitude while Sharma, wearing a saffron jacket, touched Swaraj's feet. Capt Abhimanyu and others shook hands with the various Central leaders.
The first Cabinet meeting of the new Haryana Government will be held tomorrow. It will decide when the Assembly would meet to administer oath to other members after which the Governor will address the House. Thereafter, the Speaker and the Deputy Speaker will be elected. Sources said the government could recommend a two-day session beginning October 29.
Missing Hooda
Outgoing CM Bhupinder Singh Hooda was marked absent. Hooda claimed he wasn't invited. A government spokesperson said an invitation was sent to Hooda's Rohtak house on October 25 at 1 pm.
Bigger venue
The BJP opted out of Haryana Raj Bhawan for swearing-in to accommodate party leaders and supporters. The function was thus held at HUDA Ground, Sector 5, Panchkula.
Abhay's 'wrong' move
INLD Legislature Party leader Abhay Chautala was stopped at the gate that led to the stage where PM Modi and his Cabinet colleagues were seated. He was later taken to the stage where all MPs were seated.