Eight weeks on, 90% flood-hit shops still to resume business
Srinagar, October 31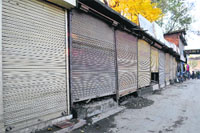 Eight weeks after the floods, around 90 per cent shops at nerve centre Lal Chowk and other prime marketplaces of the summer capital that had remained submerged are yet to resume normal business.



Closed shops at Lal Chowk in Srinagar on Friday. Tribune Photo: Amin War
Bandipora youth offers ray of hope to flood-hit population
Srinagar, October 31

In times of despair when some of the veteran businessmen in the Valley have shut their establishments losing all hope, a 26-year-old youth, Javid Parsa from north Kashmir's Bandipora district, has launched his venture, "Kathi Junction" at Jehangir Chowk today.




The food outlet opened by 26-year-old Javid Parsa at Jehangir Chowk in Srinagar on Friday. A Tribune photograph
People's miseries stir Valley poets, hit out at admn
Srinagar, October 31
Picking up the pieces of their lives after being hit by the worst floods in the past six decades, Valley poets have started giving vent to their emotions through their poems.
Prices of vegetables skyrocket after floods
Srinagar, October 31
Residents of Srinagar city are aghast over the authorities concerned for failing to check the prices of essential commodities after the floods.
Durbar shuts down in Srinagar, to reopen in Jammu on Nov 10
Srinagar, October 31
The Civil Secretariat and other government offices were closed Saturday as part of the biannual Durbar Move. These would be reopened in Jammu, the winter capital, on November 10.
PDP nominates Muzaffar Baig's nephew for Baramulla segment
Srinagar, October 31
The Peoples Democratic Party (PDP) today named Muzaffar Hussain Baig's nephew as its candidate for the north Kashmir's Baramulla Assembly seat thus ending speculation over the return of the parliamentarian to the state politics.
Awareness programme held for voters
Katra/Doda, October 31
With the state gearing up for Assembly elections, the district administrations in Reasi and Doda are keen on exploring new possibilities to ensure greater voter participation.
Nagrota makes news again with launch of Mufti's poll campaign
Jammu, October 31
Nagrota has emerged as a key constituency with former Chief Minister and Peoples Democratic Party (PDP) patron Mufti Mohammad Sayeed deciding to formally launch his party's election campaign in Jammu province from this seat.

Safeguard JK's interests, Mufti urges voters
Srinagar, October 31
Peoples Democratic Party patron Mufti Mohammad Sayeed today said the upcoming Assembly elections in J&K were not just about bringing a change in governance but would also mark the beginning of a process for political, economic and social transformation in the state.
Congress, PDP make it easy for NC in Kishtwar Assembly segment
Jammu, October 31
With a straight fight expected between the National Conference and the BJP on the Kishtwar seat in the coming Assembly poll, both the Peoples Democratic Party (PDP) and the Congress have nominated weaker candidates for the segment to consolidate support in favour of sitting NC legislator and Minister of State for Home Sajjad Ahmad Kichloo.
Omar to head NC's campaign committee
Srinagar, October 31
With an eye on the coming Assembly poll, the National Conference today constituted the election campaign committee headed by party's working president Omar Abdullah.
Doda villagers protest power outages
Doda, October 31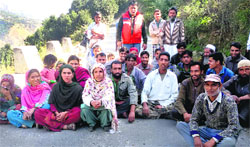 Enraged over no power supply for the last three days at Shiva village in Doda district, villagers today staged a protest against the Power Development Department, the district adminis-tration and MLA Abdul Majid Wani.




Villagers stage a protest in Doda on Friday. A Tribune photograph
SC: Can't order further flood relief in poll-bound state
New Delhi, October 31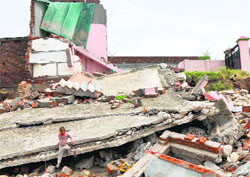 The Supreme Court today expressed its inability to issue further orders for providing relief to the flood-hit victims of J&K in view of the Election Commission's model code of conduct for the five-phase Assembly polls from November 25 to December 20.





Houses damaged by the recent floods in the Jammu region. a tribune FILE Photo
Lone teacher running the show at Rajouri school
Rajouri, October 31
A government middle school at Gaipanyas village in the district is being run by a single teacher that too a contractual one, sources have said.
Prof MPS Ishar never tendered his resignation
Jammu, October 31
Former Vice Chancellor of Jammu University, Professor Mohan Paul Singh Ishar, who demitted VC's office yesterday, had never really tendered his resignation from his post.
Schools in Valley shut from 1st week of Dec
Srinagar, October 31
Nirmal Sharma, Secretary, School Education Department, said the forthcoming Assembly polls in the state would not shorten the academic session in Kashmir schools.
JU officials call on acting VC
Jammu, October 31
Members of the Jammu University Officers Welfare Association (JUOWA) today called on the acting Vice Chancellor of the university Prof RD Sharma.
Talk on stress management at AFWWA celebrations
Jammu, October 31

The week-long Air Force Wives' Welfare Association (AFWWA) celebrations ended Saturday. Deepanjali Bakshi, president, AFWWA, addressed the "Sanginis" of the Air Force Station in Jammu city, said a Defence spokesperson.



AFWWA members during the function in Jammu. A tribune Photo
CRPF holds health camp in Pulwama
Pulwama, October 31
The 182 Battalion of the Centre Reserved Police Force (CRPF) organised a medical camp in Tahab village in south Kashmir's Pulwama district on today.
887 examined at medical camp
Jammu, October 31
An NGO, Shanti Path Trust (SPT), Trikuta Nagar, in association with the Department of Ophthalmology, Government Medical College and Hospital (GMCH), Indira Gandhi Government Dental College (IGGDC), Director, Indian System of Medicines (ISM), Swami Viveka Nand Charitable Hospital (SVCH) and Jan Chetna Rural Development Forum/Rural Development Forum Bhatyari (local NGOs) organised a free medical and dental camp at Bhatyari village in Jandrah tehsil.
Hundreds participate in 'Run for unity'
Jammu, October 31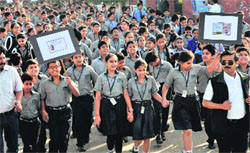 As no official programme was organised by the state government for the "Run for unity", the nationwide campaign on the birth anniversary of Sardar Vallabhbhai Patel, it remained a private affair with only schoolchildren and Bharatiya Janata Party (BJP) activists taking part in the event here.

Students participate in the "Run for unity" on the occasion of Sardar Vallabhbhai Patel's birth anniversary in Jammu on Friday. Tribune photo: Inderjeet Singh
Malaysian dance group mesmerises residents
Jammu, October 31
Jammu witnessed a performance by artistes of Malaysia on Thursday. Organised by the Indian Council for Cultural Relations (ICCR), Union Ministry of External Affairs, with the support of the J&K Police, performance by foreign artistes mesmerised the audience.
2 Lashkar militants held in Srinagar
Srinagar, 31 October
The Jammu and Kashmir Police today claimed to have busted a Lashkar-e-Toiba module by arresting two suspected militants of the outfit from the summer capital.
5-kg IED recovered, defused in Shopian
Pulwama, October 31
A day after the Shopian visit of the Director General of Police, security personnel averted a major tragedy by detecting and defusing a five-kg improvised explosive device (IED).