1984 riots
30 yrs of commissions & omissions
Why it is relevant even after three decades to talk of the denial of justice to the victims of the anti-Sikh riots. Apart from justice, punishment is meant to act as a deterrent, so a message goes that no one is above law.
HS Phoolka
Human rights lawyer who has been fighting legal battles for the anti-Sikh riot victims.

In January 1985 in an interview to a leading magazine on the anti-Sikh riots, then Prime Minister Rajiv Gandhi stated: "Inquiry would not help as it would rake up issues that are really dead". He was commenting on the demand for inquiry into the massacre of 3,000 Sikhs in the Capital of India and about 7,000 across the country.
For Rajiv Gandhi the issue was "dead" within two months of the massacre that took place in day light on the streets of Delhi. Between the noon of November 1 and November 3, a Sikh was killed every minute. During these 2,880 minutes, 2,733 (official figures) Sikhs were killed in Delhi alone.
The Home Minister had given a statement in Parliament that 600 Sikhs were killed across India. In response to this statement, Atal Bihari Vajpayee, then Leader of the Opposition, had released a list of 2,700 killed in Delhi alone. Over 50,000 people were languishing in relief camps.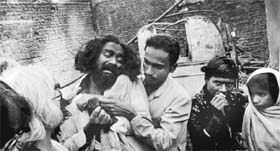 FIRST PAIN: A victim photographed during the 1984 riots. The picture was taken from an exhibition organised by the Forgotten Citizens-1984 in Amritsar on October 21, 2012. AFP
Probe begins
Six months later, the Rajiv Gandhi government agreed to appoint a Commission of Inquiry as a part of political negotiation between Sant Longowal, then Akali Dal president, and Rajiv Gandhi. For any democratic government, enforcing the rule of law should be paramount, but for the Rajiv government it was only a political move to appoint a Commission of Inquiry.
The terms of the Mishra Commission of Inquiry, which was constituted with a sitting Supreme Court Judge, J Ranganath Mishra, were not the usual terms of reference which are to find out how the massacre happened; who took part in it; who are to be prosecuted; role of law-enforcing agencies; and action to be taken against them. In short-to fix accountability for the death of innocent citizens. On the contrary, the only term of reference of the commission was to enquire into "allegations if the violence was organized".
We requested Akali Dal leaders to get the terms of reference changed, but for reasons best known to them, this did not happen. The commission began its proceedings with these flawed objectives. Human rights groups were left with no choice but to participate in these proceedings.
An umbrella organisation of human rights groups was constituted for this purpose named the Citizen's Justice Committee (CJC). With Justice SM Sikri, former Chief Justice of the Supreme Court, as its president and I as secretary. The Mishra Commission started its proceedings in July 1985 and submitted its report in August 1986. The report was published and tabled in Parliament in February 1987. In his report, Mishra stated that it was not a part of his terms of reference to identify any person. These findings came as a bombshell as after holding a long and tedious inquiry for over a year, he simply recommended the formation of three other committees to do the real job.
Earlier, the Police Commissioner had deputed Additional Police Commissioner Ved Marwah to inquire into the role of the police. Ironically, the allegation of police complicity of the Commissioner of Police and Senior Additional Commissioners were assigned to an inquiry by an officer junior to them, nonetheless Marwah did conduct the inquiry as mandated.
Rahul Bedi, a journalist, had filed a writ petition in the Delhi High Court in the third week of November 1984 on how two seniormost Additional Commissioners of Police and a Deputy Commissioner of Police ignored the information given to them by him [Rahul Bedi] about the Trilokpuri massacre, which had resulted in the killing of 400 Sikhs. The government took the stand before the High Court that the Ved Marwah inquiry had been constituted and therefore the court should not entertain the writ petition. Unfortunately, going by the assurance of the government, the court dismissed the petition.
In October 1985, Marwah completed his inquiry, however, he was directed not to submit the report. It became clear why, when he later informed the media that he had identified many police officers for complicity and gross negligence. He was also directed to hand over all his evidence and papers to the Mishra Commission, who would identify the guilty police officers. Marwah passed on all papers to the Mishra Commission. However, certain important papers out of that record are missing. When I asked Justice Mishra in his chamber about those papers, he informed me that those had been destroyed by the police under instructions of the government.
Mishra in his report refused to do his job and identify the guilty whereas Marwah, who identified guilty law enforcers, was asked to discontinue his work. Yet, regarding the killings in Kanpur, Mishra held then District Magistrate Brijendra Yadav responsible for the killing of 125 Sikhs in Kanpur. An Army officer, Captain Bareth, had submitted his report to the Mishra Commission that Yadav stopped the Army from taking any action against the mob which was indulging in killing, looting and arson in the presence of the Army. The Army wanted to take action but Yadav ordered it not to. The Mishra Commission recommended action against Yadav, but interestingly, Yadav got three promotions after that and retired from the post equivalent to the Chief Secretary.
Curiously, Justice Ranganath Mishra became the Chief Justice of the Supreme Court and was made a Rajya Sabha MP by the Congress after retirement.
In February 1987, when the Mishra Commission report was tabled in Parliament, almost two years and four months had passed since the carnage, but even the number of citizens killed was not known. We had submitted a list of 3,878 before the commission but Mishra recommended the appointment of another committee to ascertain the number of killings.
The Ahuja Committee was appointed to do this job. Ahuja submitted its report in August 1987 and put the figure at 2,733 in Delhi alone. It took the largest democracy in the world three years to even put a figure on its citizens who had been murdered in a span of just two days.
More committees, little action
The other committee appointed on the recommendation of the Mishra Commission was the Kapoor-Mittal Committee to inquire into the role of the police which was really the unfinished task of Ved Marwah. In 1990, this committee identified 72 police officers for connivance and gross negligence and recommended forthwith dismissal of 30 police officers without any inquiry. None of these officers has been dismissed and not even a major penalty has been awarded to any one of them. This committee also found the allegations of Rahul Bedi correct and had recommended action against Sewa Dass and Nikhil Kumar. Far from action, they were promoted, not once but thrice.
Among the three police officers named by Rahul Bedi were DCP Sewa Dass who got three promotions and retired as Special Commissioner of Police and Additional Commissioners HC Jatav and Nikhil Kumar. Nikhil Kumar also got three promotions and retired as DGP. Later, he became a Congress MP.
The other committees were to recommend the registration of cases. Three successive committees were appointed to complete this task-Jain-Banerjee Committee, Poti-Rosha Committee and Jain-Aggarwal Committee. These committees recommended registration of cases, but their reports were not fully implemented.
The Dhillon Committee was appointed to recommend measures for the rehabilitation of victims. This committee recommended that business establishments which had insurance cover but were not given insurance claim on the technical ground that riots are not covered under the policy, should be paid compensation. The government did not accept this recommendation and all such insurance claims were rejected in spite of having insurance cover.
The ninth committee-Narula Committee- was appointed in December 1993 by the Madan Lal Khurana government and this committee recommended the registration of cases against HKL Bhagat, Sajjan Kumar and Jagdish Tytler. The recommendations were not fully implemented.
The 10th committee was the Nanavati Commission, which was appointed in January 2000. It submitted its report in February 2005. On its recommendation, cases were registered against Sajjan Kumar and Jagdish Tytler, and compensation was announced. The Prime Minister package amounting to Rs 717 crore was declared. One of the clauses of the package was to give employment to the children of victims, which has not been implemented yet, and almost Rs 200 crore from the said amount is yet to be distributed. Of this, the Modi government has declared Rs 166 crore to be distributed to victims by giving them Rs 5 lakh for each person killed. Under the law, punishment and compensation both are a must, one is not a substitute for the other.
In February 2014, the Arvind Kejriwal government appointed an SIT to reopen and reinvestigate 237 cases which had been closed by the police as "untraced" and never sent for trial to the court. After Kejriwal's resignation, this SIT was stalled by the UPA government and now continues to be stalled by the NDA government.
Punishment as deterrent
Why is it relevant even 30 years later? Punishment to the guilty is meant to deliver justice and also to act as a deterrent for the future. A message needs to go that no one is above law in this great democracy.
But for our successive governments, this issue is not on their agenda. For Rajiv Gandhi's Congress government it was "dead" since January 1985 itself, and now for the BJP-Akali government, it has been "dead" since the last five months. They have not taken any step to secure punishment for guilty and to deliver justice.
When we talk about time having elapsed, I remember Simon Wiensental, the famous "Nazi hunter" and a victim of the Holocaust, who followed Nazis for 63 years (1942-2005) till his death for the atrocities committed by them against Jews. Ustasha DinkoSakic, a Nazi commandant, was prosecuted and sentenced 50 years after the World War, as crimes against life have no limitation in any country. We will pursue justice with the same spirit, for it is innocent citizens who are dead, not the law.

What the probe panels recommended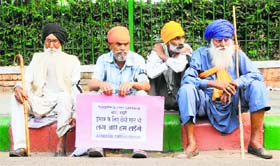 Victims under the banner of All India Sikh Conference seek justice in New Delhi on Friday. Tribune Photo: Mukesh Aggarwal
Justice GT Nanavati Commission: It enhanced cash compensation to victims, but no criminal cases were registered. It indicted several Congress leaders.
Ved Marwah Commission: Nearly completed inquiry, but was directed not to proceed further as Ranganath Misra Commission had been appointed.
Misra Commission: Records of the Marwah Commission were transferred to it, but it was alleged Marwah's handwritten notes containing vital information were not given to the commission. It stated it was not part of the term of reference to identify any person and recommended the formation of three committees.
RC Shrivaastav Committee: Looked into police mechanism to prevent disturbances. Suggestion for three more police sub-divisions in Delhi and 25 police stations was accepted, and Rs 31 crore sanctioned.
Dhillon Committee: Headed by Gurdial Singh Dhillon, it recommended businesses that had insurance but were not compensated as riots were not covered by insurers should be compensated. The government did not accept it; suggestion on cash compensation was accepted.
RK Ahuja Committee: Put the death toll in Delhi at 2,733.
Kapoor-Mittal Committee: Appointed to probe into the conduct of the police. While Kapoor submitted a general report, Mittal identified a dozen police officials who had done a creditable job and recommended action against 72 police personnel.
Jain-Banerjee Committee: It recommended cases, but none was registered. Sajjan Kumar's co-accused obtained a stay on the committee's functioning.
Potti-Rosha Committee: It recommended the registration of cases against Sajjan Kumar and examined over 1,000 affidavits and recommended 30 cases for prosecution. Sajjan Kumar secured anticipatory bail. The members resigned.
Jain-Aggarwal Committee: Recommended 48 cases, including against Congress leaders HKL Bhagat, Sajjan Kumar, Dharamdas Shastri and Jagdish Tytler. It wound up in 1993 with no action taken.
Narula Committee: Wanted cases against Bhagat, Sajjan, and Tytler.
Only 30 convictions in 30 years


Death toll in Delhi
As many as 2,733 people died at the hands of frenzied mobs in the Capital of the country.
Conviction rate
A mere 13 cases of murder have seen convictions and only 30 persons have been convicted in the past 30 years.
Cases registered, and closed
In Delhi, 587 cases were registered, of which 237 were closed by the police and marked as "untraced" (legalese for no progress in investigation). A Special Investigation Team formed by Arvind Kejriwal during his short stint as the Chief Minister of Delhi was meant to reopen every such case. "Of these 30 persons convicted, almost all are now on bail or their convictions have been condoned by higher courts," says Jarnail Singh, author of the book "I Accuse... The Anti-Sikh Violence of 1984".
'Why no action?'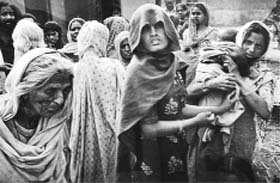 The Kapoor-Mittal Committee, appointed in February 1987 to inquire into the delinquencies and conduct of the police, recommended action against 72 police personnel and the dismissal of six officials, but nothing has happened. "Why?" asks author Jarnail Singh, who lives in Lajpat Nagar, New Delhi.
Compensation, less for some
In 1984, the compensation for those killed was Rs 10,000. In 1987, another Rs 10,000 was added. In 1996, Bhajan Kaur won a case against the Delhi Administration and Rs 3.3 lakh was given, but only to Delhi victims. In 2006, Rs 3.5 lakh was given as relief following the Nanavati commission report. The Modi government has announced another Rs 5 lakh. Meaning, affected families in Delhi would get Rs 12 lakh for each of their dead and those outside Delhi would get Rs 8.7 lakh.
No balm
In case of injuries, each victim was given Rs 2,000 in 1984. Another Rs 1.25 lakh was paid after the Nanavati Commission's recommendation.
Property loss
In 1984, property losses were compensated with Rs 10,000 in case of total loss and Rs 5,000 in case of partial damage. It was enhanced to Rs 90,000 and Rs 45,000, respectively, following the Nanavati Commission report.
Compiled by Ajay Bannerjee