Kapurthala ROB to be ready in a week
Jalandhar, November 14
With just the finishing part remaining, the PWD is set to make the railway overbridge (ROB) ready for opening at Wadala Crossing between Jalandhar and Kapurthala by the next week.



The ROB connecting Jalandhar and Kapurthala, which is nearing completion at Wadala level crossing in Kapurthala. Tribune photo: Sarabjit Singh
From schools
Children's Day function held
A state-level Children's Day function was organised at the Red Cross Bhawan. Deputy Commissioner KK Yadav presided over the function. The event was hosted by the District Child Welfare Officer. Bhangra, group song and poem recitation competitions were held and prizes were awarded to the winners.
Health Dept seals scanning machine
Jalandhar, November 14
The district Health Department today sealed the scanning machine of the BSF Hospital at Jalandhar Cantonment under the Pre-Conception and Pre-Natal Diagnostic Techniques (PCPNDT) Act after it was found unregistered with the department.
NGO demands crackdown on 'satta' mafia
Jalandhar, November 14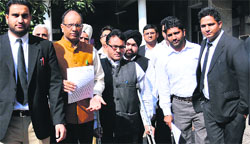 Helpline, a social organisation, today opened front against the flourishing trade of illegal lottery draws in the city. Members of the organisation submitted a memorandum to the Police Commissioner and urged him to take immediate action in this regard.

Activists of NGO Helpline submit a memorandum to the Police Commissioner in Jalandhar on Friday. Tribune Photo: Malkiat Singh
Retd bank cashier's wife looted of gold chain
Jalandhar, November 14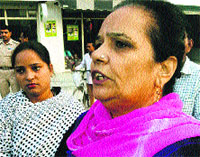 The wife of a retired bank cashier was looted of her gold chain by some unidentified bike-borne persons near Nakodar Chowk today. The crime was committed in a busy market in full public view, but nobody was able to chase the snatchers. The victim, Manju, a resident of the Urban Estate locality, said she, along with her husband, Pawan Kumar, a retired cashier from the Bank of Baroda, were on their way to home on their bike when two bike-borne men arrived at the place and after driving their bike parallel to theirs suddenly pounced on her.
Manju, the victim. A Tribune Photograph
Cops conduct checking at Bhargav Camp
Jalandhar, November 14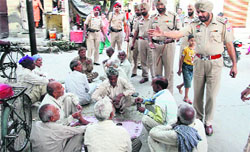 The Bhargav Camp police led by Assistant Commissioner of Police (West), Ravinder Pal Singh Sandhu, today conducted a search operation-cum-awareness drive to build confidence among the residents of the area and to persuade them to inform the police about criminal activities and drug trade.

ACP (West) RPS Sandhu along with his team conducted a search operation in Jalandhar on Friday. Photo: Sarabjit Singh
Residents stage protest outside police station
Jalandhar, November 14
Members of a family staged protest outside the police station (police division number eight) alleging that the police had registered a fake case against them and demanded that the case be cancelled.
Miraculous escape for schoolchildren
Jalandhar, November 14
Twenty five students of St Soldier Public School, situated at Chabewal in Hoshiarpur, had a miraculous escape after the tyre of the bus they were travelling in burst on a road near Adampur. A few students sustained minor injuries and were sent to their homes after giving them first-aid.
Lahan recovered from car
Jalandhar, November 14
The Kartarpur police today recovered 4.50 lakh ml of lahan from a car. However, the car-borne miscreants managed to escape from the spot. Police sources said they had received information that a huge quantity of lahan was kept in a car standing near the cinema and the car-borne men were waiting for clients to deliver the consignment.
Feedback
Jalandhar Tribune invites feedback from its readers on issues of public concern relating to Jalandhar, Phagwara, Kapurthala and the nearby areas. Readers can email their views to jalandhar.feedback@gmail.com
They can also send their views to: Feedback, Jalandhar Tribune, Sector 29, Chandigarh - 160029. Letters sent by post must mention 'Feedback for Jalandhar Tribune' on the envelope and it should be signed and must contain the address and telephone number of the sender. It should not be more than 150 words.