Better jalandhar: Regularisation of marriage palaces—II

Issue licence only if parking space is available
Deepkamal Kaur
Tribune News Service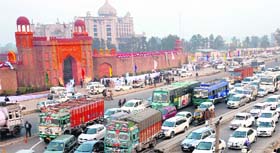 Jalandhar, November 10
Slow pace of the action by the administration against illegal marriage palaces in city and its periphery defying parking, fire and environment norms has come as a major problem for the residents dwelling around them.
Even as there are clear-cut bylaws spelling out the number of toilets, fire exits, covered area, parking area, landscaping, having no entry and exit points of the palace on the scheduled roads and national highways, getting building plans approved, Change of Land Use (CLU) cleared and getting NOCs from six departments including PWD, forests department, PSPCL, District Town Planner, fire department and concerned civic body, the owners have till date not bothered to ensure compliance.
"There are two marriage palaces just adjoining my house in Model Town. There are times when both these palaces are booked at the same time. The congestion caused by vehicles leads to so much of a problem that we are not even able to reach our houses. The blaring music too makes our life miserable," said Tarlok Singh, a resident of Kapurthala.
"The marriage palaces which fall on highway or in residential colonies are a big nuisance. Since they are run by influential people, they manage to prevent themselves from any action against them by using their money and muscle power. But the law is the same for everyone and should not be violated at the cost of affecting the lives of others," said Surinder Mittal, a resident of Phagwara.
"The number of four-wheelers has been souring and almost all families attend a marriage going on a car. Further, even the sizes of the cars have started increasing. So, clearly having proper parking provision should be a must for all marriage halls, hotels and banquet halls, said Mahinder Kaur, a housewife.
"A fire clearance is prime. There are palaces and hotels having kitchens in the basements. There is every chance of fire spreading from such compartments. Most palaces also have a single exit where as there should be multiple exits to prevent any casualty during such an emergency situation," said Kanika, a teacher.
"Even as JDA has shown some concern regarding unauthorised palaces, the Municipal Corporation staff has not taken any action against them. This clearly shows the intention of the town planning department. All such palaces, which do not comply with norms, should be sealed which should be opened when a palace submits it in writing that he will make the necessary infrastructural changes in a requisite timeframe," said Manoj Arora, PPCC member.
"The civic bodies should issue a licence to the marriage palaces only if they have requisite parking provision. Any congestion caused on highway can lead to a fatal accident or a traffic jam. There can be emergency vehicles like ambulances, cops or people waiting to catch a train or a plane who may be caught in traffic. All such circumstances have to be seen," said Rajat Mohindru, a BJP leader.
"We lag much behind other developed countries of the world on this front. If we go abroad, they do the booking at a palace after calculating the number of likely guests and verifying the car parking capacity of the venue. In India too, we have tough laws but there is no implementation. We need administrative officers like former DC of Nawanshahr Krishan Kumar who wield their power without caring an iota about anyone's affluence or contacts," said MP Singh Goraya, a social activist.
Officialspeak
I need some time to thoroughly look into the background of all such cases. We will initiate required action after looking into all pros and cons
— Gurpreet Singh Khehra, Chief Administrator, PUDA and Municipal Commissioner