Better jalandhar: Road mishaps—I

Lives being lost as safety equipment missing
Nikhil Bhardwaj
Tribune News Service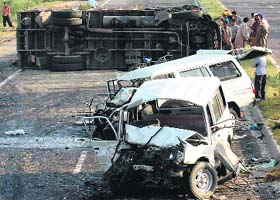 Jalandhar, November 16
If the report of the Punjab police is to be believed, 10 lives are lost in road mishaps in the state every day. In 2010, 3,324 people had lost their lives in road mishaps and the figure jumped to 9,764 between 2012 to June 2014.
Though in terms of severity of road accidents, Punjab comes third after two hill states, it stands first in the severity of road mishaps among states located in the plains.
Since September, around 20 fatal accidents have been reported in the state.
Traffic experts feel that mere challaning of vehicles or erecting nakas will not bring discipline on the road until or unless traffic cops do not show the will to improve traffic engineering. Several traffic cops said they were told by their seniors to issue maximum challans so that they could win accolades of their bosses.
Cops sans speed radars, no challan for years
Overspeeding is said to be main cause of road accidents. Since the city police have no speed radar to check overspeeding, they failed to penalise the violators. Transport Minister Ajit Singh Kohar said he was aware of the issue and the Transport Department would provide speed radars to the police soon.
Sources said in 2010, the police had received 17 breathalysers and a speed radar. A speed radar was given to the police for demonstration only but it was taken back in a few days. On an average, the city police is challaning around 100 persons for drunken driving.
Road safety panel's recommendations yet to take off
After the special committee formulated by the Deputy Commissioner, to look into the traffic violations by school buses banned ferrying of children in auto-rickshaws, these still ferry schoolchildren.
The committee had recently held a meeting with school principals, auto-rickshaw drivers and representatives of the Transport Department over the safety of schoolchildren. Though the High Court has banned the use of three-wheelers for ferrying schoolchildren, the committee gave two to three months relaxation to auto-rickshaws. "It was decided at the meeting that three-wheelers ferrying school kids will be replaced with four-wheelers, especially designed for the purpose. Even a four-wheeler manufacturing company had agreed to provide new vehicles to auto-rickshaw drivers at affordable installments. The company had also agreed to buy old three-wheelers at genuine rates. Over 150 auto-rickshaw drivers had agreed to the committee's suggestions.
SC guidelines on school buses not followed
School buses should be painted yellow. "School bus" must be written at the rear and front of the bus. If it is a hired bus, "On school duty" should be clearly indicated. The bus should have a first-aid box. The bus should be fitted with a speed governor of a specified standard. Windows of the bus should be fitted with horizontal grills. There should be a fire extinguisher in the bus. The name of the school and telephone number must be written on the bus. Doors of the bus should be fitted with reliable locks. To keep the school bags safely, there should be a space fitted under the seats. There must be a qualified attendant in the bus to attend to children. Any parent/guardian or a teacher may also travel in the bus to ensure these safety norms. The driver should have at least 5 years of experience of driving heavy vehicles. A driver who has been challaned more than twice in a year for offences like red light jumping, violation of lane discipline or allowing unauthorised person to driver cannot be employed. A driver who has been challaned even once for the offence of overspeeding, drunken driving and dangerous driving, cannot be employed. As per Section 2(47) of the Motor Vehicles Act, 1988, an educational institution's bus is a transport vehicle and therefore requires a permit to ply on the road.
No lessons learnt
On November 14, 25 students of St Soldier Public School at Chabewal in Hoshiarpur had a miraculous escape after the tyre of the school bus burst on the road near Adampur. Several students had sustained minor injuries. As per the Supreme Court guidelines, a school bus must have speed governors installed in it but the Adampur police had not paid heed to check if the guidelines were followed by the bus or not. When contacted, Adampur ASP Vivek Sheel Soni said it was the duty of the DTO to check if the school bus had followed the guidelines and the police had no role in it.
Similarly on November 7, 24 school children of BST Public School had a miraculous escape after the bus in which they were travelling was hit by a speedy car. Aarush (4), a student of Innocent Hearts School, had died after he fell from the running school bus due to the negligence of the driver on August 1. Here too, speed governors were not installed.
NGO spreading awareness on road safety
Harman Sidhu, would have been living a healthy and prosperous life in Canada if he had not met with a road mishap while en route to Renuka Lake in Himachal Pardesh. His life came to a standstill as his body was crippled but he didn't give up and contributed to lessening road mishaps. He started an NGO, ArriveSAFE, in 2003.
The NGO is spreading awareness among the masses about the traffic norms in collaboration with the district administration and the traffic police. He also acted in two documentaries: "Collision Course" and "India's Motoring Revolution", by the BBC.
"I am living in constant pain since my accident in October 1996. The sudden emptiness and a strong desire to save others from such a fate forced me to think about road safety. I met my mentor Amitabh Dhillon whose motivational talk is the driving force behind my pledge," he said on the sidelines of a function to observe World Day of Remembrance for Road Traffic Victims at the Police Lines today.
City residents feel unsafe on road: Survey
The ArriveSAFE had conducted the survey "Mobility and Safety – Your Say" to know the residents' views.
In the survey, 85 per cent of the respondents said as a pedestrian or cyclist, they did not feel safe on the city roads and 72 per cent feel use vehicles instead of walking because of safety concerns. About 77 per cent said they would prefer public transport to personal vehicles if an organised and efficient public transport system was made available to them. Presently, footpaths are being used for the parking of vehicles. There are no designated paths for NMVs (non-motorised vehicles like cycles and rickshaws)
Around 82 per cent of the respondents are against the widening of the roads as this would mean more traffic and pollution. About 90 per cent of the respondents do not want to see the increase in the traffic.
Sudhir Gota, transport specialist at Clean Air Initiative Asia Centre, Philippines, said that the traffic engineers had realised that the building of roads did not reduce congestion but only served to increase it.
National Urban Transport Policy
Bringing about a more equitable allocation of road space with people, rather than vehicles
Priority to the use of public transport. This can be achieved by reserving lanes and corridors exclusively for the public transport and non-motorised modes of travel.
Priority to non-motorised transport. To promote this, safety concerns of cyclists and pedestrians need to be addressed and facilities like resting stations should be made available.