Omar 'poorest' candidate from Beerwah
Srinagar, November 21
Chief Minister Omar Abdullah owns no land in the state and is the 'poorest' candidate to contest for the Beerwah constituency while his key rivals who have filed their nominations so far are both 'crorepatis'.
AMM opposes military action to resolve K-issue
Srinagar, November 21
The Awami Mutahida Mahaz (AMM) today released its election manifesto in the city. It ruled out 'military solution' to the Kashmir issue and demanded restoration of the pre-1953 position of the state, a reference to the autonomy of the state. The manifesto, titled "Towards a democratic alternative platform", asserts that the people of the state were facing "various stressful problems which had roots in the political uncertainty and the presence of harsh anti-people laws and Acts".
NC, BJP hope to cash in on religious divide
Kishtwar, November 21
The Kishtwar Assembly constituency is going to the polls on November 25 in the first phase of the Assembly elections in the state along with 14 other constituencies. This time there is a straight contest between NC candidate Sajjad Ahmed Kichloo and BJP candidate Sunil Sharma on this seat. The PDP is also trying hard to come into the contest and is banking on secular votes, but voters say the NC and the BJP are the two major parties.
Polls round the corner, but campaigning not visible
Srinagar, November 21
With few days to go for the first phase of polls in Kashmir, the election fervour is missing in flood-hit Srinagar, with people busy in recovering from the damages caused. Buntings and hoardings are missing in parts of Srinagar.
Parties flout code, engage minors in poll activity
Chanderkot (Ramban), Nov 21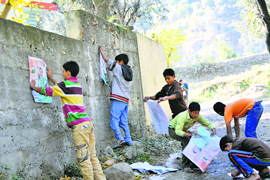 Despite warnings by the Election Commission, political parties are brazenly violating the model code of conduct in Doda belt and engaging minors in the electioneering process. Abdul Latif, a Class V student, and his half a dozen friends were busy pasting posters on boundary walls before the arrival of Congress president Sonia Gandhi at Chanderkot which falls under the Ramban Assembly constituency.

Minors put up posters of Congress chief Sonia Gandhi at Chanderkote in Ramban. Tribune Photo: Inderjeet Singh

Varsity, college teachers jump on poll bandwagon

Srinagar, November 21
Academics and politics do not mix for many, but for several university and college teachers of Jammu and Kashmir contesting elections and joining political discourse could be the only way to clear "dirt" in politics. Two professors, from Jammu and Kashmir universities, and a few other college teachers have jumped into the election fray as candidates of national and regional parties and Independents.



Tourism Minister and Congress leader Ghulam Ahmad Mir with party candidate for the Anantnag segment Hilal Ahmad Shah after he filed his nomination papers in Anantnag district on Friday. Tribune Photo: Amin War

BJP expels Pawan Gupta
Jammu, November 21
State president of the Bharatiya Janata Party (BJP) and member of Parliament (MP) Jugal Kishore Sharma in consultation with party high command has decided to expel Pawan Gupta from the primary membership of the party with immediate effect.
'NC, BJP playing polarisation game in Doda'
Jammu, November 21 Congress candidate for the Doda Assembly seat Abdul Majeed Wani today said both NC and BJP leaders in Doda were playing a dangerous game of polarising the civil society on the basis of caste and religion.
2 candidates get notice for code violation
Reasi, November 21
BJP candidate from Reasi Ajay Nanda and Karnail Singh, an Independent candidate, were today served show cause notice for allegedly operating vehicles without the requisite permission. They have been asked to explain as to why action should not be taken against them for violating Model Code of Conduct.
Ex-MP garners support for Cong
Jammu, November 21
Senior Congress leader and former MP Madan Lal Sharma today said Sham Lal Sharma must be voted to the Legislative Assembly to strengthen and watch the interests of the Jammu region. Addressing a series of public meetings in the Akhnoor constituency, Madan lauded Sham Lal's role in upgrade of schools and bringing a major share of the administrative units to the Akhnoor constituency.


---
Vaishno Devi varsity must take steps to meet emerging challenges: Guv
Katra, November 21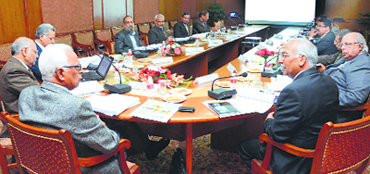 Governor NN Vohra today emphasised the need for developing Shri Mata Vaishno Devi University to trigger growth and excellence in identified key areas of teaching and research to match the emerging challenges in the educational arena.

Governor NN Vohra chairs the 22nd Executive Council meeting of Shri Mata Vaishno Devi University in Katra on Friday. A Tribune photograph

Enrolment takes a dip at secondary level in schools across state
Jammu, November 21
As per the Unified District Information System for Education (UDISE) data 2013-14, there is a difference of 33.25 per cent in the gross enrolment ratio (GER) between the upper primary level and secondary level in Jammu and Kashmir. The GER at the upper primary level is 96.7 per cent, whereas at the secondary level it is 63.45 per cent.
Translate poet Iqbal's ideas into action, says Kashmir varsity VC
Srinagar, November 21
Mehraj-ud-Din, officiating Vice-Chancellor of the Central University of Kashmir (CUK), on Thursday asked students and youth, to translate the thoughts, views and ideas expressed by poet and philosopher Muhammad Iqbal into action. The CUK observed Iqbal Day on the birth anniversary of the noted poet.
Army's efforts prevented major disaster at Uri power plant
Srinagar, November 21
The Army on Friday said its men were at the forefront to douse the fire that broke out in the 240-MW hydropower station, Uri-II, in north Kashmir on Thursday. While the fire damaged the underground powerhouse which is likely to remain shut for nearly two months, the major critical components of the project have been saved.
Tral encounter: Slain militant a Lashkar commander, police
Srinagar, November 21
The J&K Police today said one of the militants killed in south Kashmir's Tral yesterday was a commander of Lashkar-e-Toiba and was behind various violent incidents. Three militants of Lashkar were killed in a brief gunfight in Tral area, 40 km from here, when they fired at a naka party of the Police and the CRPF in Tral Bala, who retaliated, triggering an encounter. One SLR, carbine, pistol, grenades and other ammunition was recovered from the slain militants.
Flood fallout: SMC pegs losses at Rs 240 crore
Srinagar, November 21
The floods have caused huge devastation to the summer capital. The officials of the Srinagar Municipal Corporation (SMC) claim that the department has suffered loss of infrastructure worth Rs 240 crore. The state had suffered massive damage to its public infrastructure and the initial assessments of the government suggested that it would need at least Rs 5,000 crore to rebuild the same.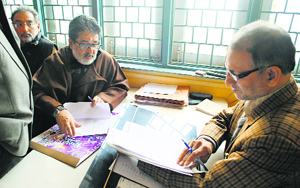 Zafar Meraj files papers from Habbakadal
Srinagar, November 21
Journalist-turned-politician Zafar Meraj, who was recently named by Peoples Democratic Party (PDP) as party candidate from Habbakadal, filed his nomination papers today. Meraj was accompanied by PDP leader and party candidate for the Rajpora constituency in south Kashmir Haseeb Drabu.

PDP leader Zafar Meraj files his nomination in Srinagar on Friday. Photo: Yawar Kabli

Students distribute woollens to old age home inmates
Jammu, November 21
The PG Department of Home Science and NCC cadets of 2nd J&K Girls Battalion from Government College for Women (GCW), Parade, visited the old age home at Amphalla and distributed woollen caps, gloves, socks and biscuits among the inmates.
Charak holds door-to-door campaign in Bishnah
Jammu, November 21
Former minister and senior Congress leader Gulchain Singh Charak held corner meetings at Chak Bana and Nougran villages, which were attended by a large number of villagers, sarpanchs, panchs, local leaders and party workers.
National school badminton championship begins
Jammu, November 21
Director General of Police (DGP) K Rajendra declared the five-day 60th National School Games (NSG) U-14 Badminton Championship (Boys and Girls) open at the University of Jammu here today.
ABVP to campaign for women rights, security
Jammu, November 21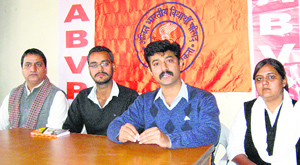 The Akhil Bharatiya Vidyarthi Parishad (ABVP) has conducted its 60th National Conference in Amritsar recently. Office-bearers of the Jammu and Kashmir unit of the ABVP, namely Dr Virender Koundal, state president, Rahul Dev, state secretary, Pawan Sharma, state organising secretary, and member Suhasini Vasisatha were present during a media briefing today.

State ABVP president Virender Koundal addresses mediapersons in Jammu. A Tribune photo

Congress appoints Shahnawaz campaign committee convener
Jammu, November 21


State president of the Pradesh Youth Congress, J&K, Shahnawaz Choudhary has been appointed convener of the campaign committee of the Congress for the J&K Assembly elections-2014. His appointment was approved by Sonia Gandhi on the recommendations of Rahul Gandhi, vice-president, AICC, and in charge, Youth Congress, and Ambika Soni, general secretary, AICC, and in charge, J&K.
Yamuna House wins skit competition
Jammu, November 21
Saluting the Indian Army for sacrifices and achievements, an inter-house skit competition was organised by Delhi Public School (DPS), Jammu, on the school premises here. Brig (retd) SS Sambyal was the chief guest on the occasion. The competition was judged by experts, namely Joy Paul Gill and Jacob Mattoo.
Humanity Public School wins dance contest
Jammu, November 21
An inter-school dance competition was organised by the Unique Dance Institute at Police Auditorium, in which 200 students from 12 schools participated. In the competition, 12 girl students of Humanity Public School performed lavni dance, which was appreciated by the audience. The school secured first position in the competition. The dance was choreographed by Deepak Mehra and assisted by Kanchan. The costumes and makeup was done by Rekha Mehra and Amita Choudhary. — TNS
Snapshots
'Baig's statement on Art 370 misleading': NC candidate for the Pulwama constituency Ghulam Nabi Ratanpori filed his nomination for the Pulwama constituency here on Friday. He said PDP leader Muzaffar Hussain Baig's statement on Article 370 was misleading.
BJP promises to develop Rajouri: BJP candidate from the Rajouri constituency Talib Hussain on Friday said if elected to power he would develop Rajouri as a model constituency.
Army holds medical camp
Jammu, November 21
To provide impetus to the ongoing wefare programmes of war veterans, villagers and their families, the Army today organised a medical and dental camp at Devachan Choglamsar village in Ladakh. A total of 89 patients were examined and medicines were given free of cost to them. — TNS