Missing the writing on the wall
About 15 per cent of the school-going population in India is dyslexic. A remedial education programme must be integrated in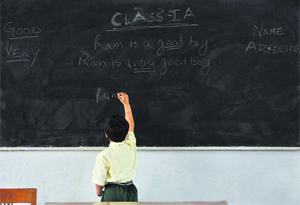 the school system for a child to overcome it. What is needed is sensitivity, patience and some crusaders
Priyanka Singh
The statement "Your child is dyslexic" can bring to halt the world of any parent, largely due to ignorance. Dyslexia is not a debilitating disease to be alarmed of. With some help from trained educators, the challenge can be got around though with some effort.
---
Arts
A glance at Shimla's history
The recently inaugurated photo gallery at the Indian Institute of Advanced Study gives a glimpse into the glorious past of Shimla. The exhibition also kick-started the year-long golden jubilee celebrations of the premier institute
Ashok Sharma
The inauguration of a mega photo gallery recently in the Viceregal Lodge has set in motion the year-long golden jubilee celebration of the founding of the Indian Institute of Advanced Study (IIAS), Shimla. Before Independence, the Viceregal Lodge had been the summer seat of 13 Viceroys of India.
---
Fitness
good health
Foods that your skin loves
It is rightly said that beauty is an inside job! Putting your best face forward may be as simple as choosing to include specific foods with powerful anti-aging, anti-inflammatory, and healing properties in your diet. Whether you have aging skin, dry skin, wrinkles, rosacea, puffiness or acne, there are certain foods that you can eat to help your skin look its very best.
Dental woes of a diabetic person
Dr Sandeep Sharma
Diabetes is a major health concern. Its severity is compounded when it leads to other health issues like heart ailments. But oral problems arising out of high sugar levels can be as problematic as any other disease. So diabetics also need to take care of their oral health.
---
SOCIETY
Of war and captivity
The Chinese captured this young Army officer in 1962 but they could not capture his spirit
Brig A. J. S. Behl (retd)
Things were heating up between Chinese and Indian forces in NEFA now called Arunachal Pradesh in August/September 1962. Exchange of fire between the Chinese and Indian forces was becoming almost a daily feature. There was an urgent requirement of additional artillery fire support in 7 Infantry Brigade Sector. To meet this requirement, Army Headquarter decided to send one troop of guns from 17Para Field Regiment to NEFA. I, as a young officer, was a part of this troop.

2015's top 5 flavour trends
---
TRAVEL
A walk along the monastic island
One of the prettiest islands in Germany, Reichenau is also known for its three world heritage Romanesque churches dating between 9th and 11th century, besides its 120 farms engaged in cultivating vines and vegetables
Tanushree Podder
A short, tree-lined avenue from the mainland led up to an incredibly green island. Fresh, orchard- scented air filled the lungs. Vineyards, greenhouses and fields loom as one drives into Reichenau. The tiny island is dotted with innumerable vineyards, which led it to be known as the Wine Island. It is also known as the 'Vegetable Island' by the locals since the area under vegetable plantation is larger than the area used for habitation. The churches on the island have earned it a place on the list of Unesco Heritage sites.

Globetrotting
---
ENTERTAINMENT
Diverse tales from many lands
For lovers of good cinema, the 45th International Film Festival of India, Goa, is the place to be. Many award-winning films are scheduled to be screened at the premier fest
Saibal Chatterjee
Much anticipated new titles from both established masters and promising newbies, besides three major retrospectives, are among the cinematic riches being showcased at the 45th International Film Festival of India, being held in Goa.
'Competition has no place in creativity'
With three chartbusters in a row, any other man would be walking on cloud nine. But singer Sukhwinder Singh, who is not new to success, firmly believes that arrogance can only hamper the creative pursuit
Nonika Singh
Don't be fooled by his simple persona. Bollywood's ace playback singer Sukhwinder Singh of "Chaiyya Chaiyya" and "Jai Ho" fame runs deep. Even though he is riding high, what with three hit songs ("Bismill", "Radhe Radhe" and "Happy Budday") in a row, when he talks it's not some man high on the adrenalin rush of success. Rather philosophically, almost in a mood of contemplation, he shares what it takes to be a good playback singer.